---
US, UK To Share Nuclear Submarine Technology With Australia In "Historic" Military Pact Against China
After breaking news of the the historic pact between the US, UK and Australia earlier, we have now gotten confirmation and additional information about the pact.
As the SCMP confirmed, the US, Britain and Australia announced on Wednesday a "historic" security alliance to strengthen military capabilities in the Pacific, which will share advanced defense technologies and give Australian forces nuclear submarine technology  further extending Washington's drive for military cooperation that has angered China (although we are confident Gen Milley has already shared said nuclear technology with China so their anger will probably be contained).
President Biden, U.K. Prime Minister Boris Johnson and Australian Prime Minister Scott Morrison appeared virtually together to announce the partnership. "This is about investing in our greatest sources of strength, our alliances, and updating them to better meet the threats of today and tomorrow," Mr. Biden said. "It's about connecting America's existing allies and partners in new ways and amplifying our ability to collaborate." All three leaders stressed that the new submarine would be nuclear-powered and not armed, keeping in line with nuclear nonproliferation measures. None of them mentioned China in their remarks.
The pact builds on the longstanding alliance between the three to share intelligence, deepen cooperation and help Australia as China's influence grows.
The new agreement, announced Wednesday by leaders of the three countries, was described by administration officials as a way to line up common interests in the Asia Pacific.
As noted earlier, the partnership The partnership is called AUKUS, an acronym for Australia, United Kingdom and the US and will have a number of components, chief among them the development of the nuclear submarine capability for Australia. Others include security cooperation in cyberspace, artificial intelligence, quantum technologies and undersea capabilities, administration officials said Wednesday.
While officials declined to say the effort was intended to counter China, describing it as an effort to engage three allies together strategically in an important region, let's be honest: the effort is intended to counter China whose response to this new venture will be most curious and certainly one that will not help ease the global inflationary wave . The announcement comes shortly after the withdrawal of troops from Afghanistan last month, which was described as part of a broader effort by the Biden administration to focus on issues in the Indo-Pacific, including China.
"This partnership is not aimed, or about any one country, it's about advancing our strategic interests, upholding the international rules based order and promoting peace and stability in the Indo-Pacific," one official said. "This is about a larger effort to sustain the fabric of engagement and deterrence in the Indo-Pacific."
Meanwhile, a spokesman for the Chinese embassy in Washington urged the U.S. and others to "shake off their Cold War mentality and ideological prejudice."
"Exchanges and cooperation between countries should help expand mutual understanding and trust," the spokesman said. "They should not build exclusionary blocs targeting or [harm] the interests of third parties."
While the U.S., the U.K. and Australia already take part in common security arrangements, and all three participate in the Five Eyes alliance, an intelligence-sharing arrangement that also includes Canada and New Zealand the new security structure provides for the technology cooperation needed to share nuclear submarine technology and other common efforts in a region where China poses growing security concerns.
The U.S. and U.K. are starting an 18-month period of consultation on helping Australia develop the nuclear submarine capability. That would eventually allow Canberra to conduct faster, stealthier submarine missions of longer duration than conventional submarine technology allows.
The U.S. has shared its technology in developing such a capability only with the U.K. White House officials declined to say how long it would take Australia to build a nuclear submarine but said Australia's conventional submarines fall short of the stealth, range, speed and maneuverability needed to confront nations like China.
* * *
Earlier:
President Joe Biden is expected Thursday to deliver remarks on a major new "national security initiative" which ultimately appears aimed at countering China. Citing sources in the White House, Politico is reporting the US alongside allies Australian and Britain will unveil a landmark new security pact for sharing advanced defense technologies.
In particular, nuclear submarine technology is expected to top the list for the tech sharing initiative. As Politico writes, "The trio, which will be known by the acronym AUUKUS, will make it easier for the three countries to share information and know-how in key technological areas like artificial intelligence, cyber, underwater systems and long-range strike capabilities."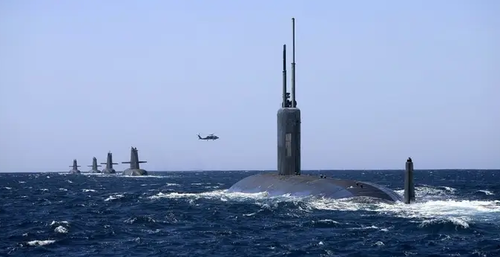 It's being further suggested that the pact is likely to result in Australia abandoning a $90 billion submarine deal with France - which was already for years fraught with tensions over soaring costs and production delays. 
According to The Sydney Morning Herald the anticipated "AUUKUS pact" was the likely subject of federal ministers being called to an urgent "top secret" meeting in Australia's capital: 
In Australia, federal cabinet ministers were called to a top-secret meeting in Canberra on Wednesday ahead of the announcement. Some members of cabinet were granted border exemptions to urgently fly to Canberra for the hastily arranged meeting, sources familiar with the development said.
The White House announcement of the US-UK-Australia pact is expected for Thursday afternoon, at a moment Aussie Foreign Minister Marise Payne and Defence Minister Peter Dutton are in Washington D.C. for annual Australia-US Ministerial Consultations. Likely they will be at the White House with Biden for the statement. Prime Minister Scott Morrison is expected to simultaneously make his own statement addressing the Australian public on the new agreement.
Though there's likely to be no explicit mention of China, it's clear Washington is continuing to deepen its support to Indo-Pacific allies with an aim to curtail China's influence, and interestingly at comes as Australia is locked in its own trade war with China, with Beijing over the past couple years curbing Australian beef imports and levying huge punitive tariffs on barley, wine, and other commodities. 
"There's nothing explicitly mentioning China in the three-way deal, the people said, but both noted that the subtext of the announcement is that this is another move by Western allies to push back on China's rise in the military and technology arenas," Politico underscored in its report.