---
Mexico Now Has The World's 6th-Deadliest Outbreak, Passing Spain: Live Updates
Summary:
Mexico passes Spain as world's 6th deadliest outbreak
Miami-Dade makes mask wearing mandatory in public
Texas reports record jump in cases, most deaths in 6 weeks
Pennsylvania 4th state to see record jump in COVID-19 cases
North Carolina reports record jump in COVID-19 cases
Cali orders 19 counties to close
Trump does U-turn on masks
California orders 19 counties including LA to close restaurants dining for 3 weeks
Apple closes another 30 stores
Atlanta Airport closes
California reports another record jump
Houston ICUS at 102% capacity
Nevada reports third-highest daily total yet
NY releases Wednesday numbers
Arizona reports another record daily case count
NYC delays return of indoor dining
Florida reports daily cases for last 24 hours
Goldman says 40% of US has rolled back economic reopening or put them on hold
Oxford scientist warns vaccine by end of year far from guaranteed
Pfizer vaccine headline sends futures higher
US reported 48k+ new cases yesterday
Australia locks down 300k in Victoria
Brazil imposes travel ban as deaths near 60k
Tokyo reports most cases since state of emergency lifted
German infection rate below R for 7th day
* * *
Update (2030ET): Mexico's death toll just hit 28,510, surpassing Spain as the world's sixth-deadliest outbreak as officials reported another 741 new deaths. Mexican public health officials reported 5,681 new cases on Wednesday, bringing the national case tally to 231,770. Whistleblowers at hospitals around Mexico City, the epicenter of Mexico's outbreak, and elsewhere have accused the government of conspiring to suppress the true number of deaths.
* * *
Update (2015ET): Following Apple's third wave of store closures announced earlier today, McDonald's has just instructed its franchisees to close indoor dining across the US.
McDonald's Corp. is pausing the resumption of all dine-in services in its U.S. restaurants as the coronavirus outbreak flares up in areas across the country.

The halt will last for 21 days, the fast-food chain said in an internal letter that was viewed by Bloomberg. Locations that have already reopened their dining rooms should consult guidance from local and state officials on whether to roll back services, according to the letter, which was signed by Joe Erlinger, McDonald's U.S. president, and Mark Salebra, head of the National Franchisee Leadership Alliance.
* * *
Update (1800ET): Miami-Dade just joined the city of Jacksonville by independently mandating the wearing of masks in public.
MIAMI-DADE TO REQUIRES MASKS IN ALL PUBLIC SPACES
* * *
Update (1650ET): In a repeat of yesterday's action, more dire data has arrived out of Texas which just reported another record jump in new cases - its second daily record in a row - along with the most single-day deaths in 6 weeks.
TEXAS NEW VIRUS CASES TOP 8,000; DEATHS JUMP MOST IN 6 WEEKS
The new daily total was 8,076, a full 1,000 cases higher than yesterday's total.
Texas reports 8,076 new cases today, another record. pic.twitter.com/TxRMdwq22m

— Patrick W. Watson (@PatrickW) July 1, 2020
* * *
Update (1530ET): PA just became the latest state to order people to wear masks outside the home after the state reported its largest one-day jump in COVID-19 cases, driven largely by an increase in Philadelphia and the surrounding counties. Only a dozen states or so now don't require people to wear masks in public.
Meanwhile, US virus cases climbed 1.8% on Wednesday, slightly slower than yesterday's 1.9%, which is also the 7-day average.
* * *
Update (1510ET): North Carolina just became at least the third US state to report a record jump in new COVID-19 cases on Wednesday by reporting its highest day of confirmed COVID-19 cases, with another 1,843. Elsewhere, the new case totals were fairly high. Louisiana reported 2,041 new coronavirus cases, Tennessee 1,806 and Alabama 917.
The news comes as the Guardian reports on 'cover-ups' at slaughterhouses in North Carolina, as companies quietly report COVID-19 cases infecting workers at the plant, but it's unclear how - or even if - those cases are being counted toward the statewide total.
Meanwhile, President Trump just followed Mike Pence by publicly declaring support for mask wearing, with the president saying he supports wearing masks in public, though he refused to commit to wearing one - even as Chuck Grassley pushed him to - and added that mask-wearing shouldn't be mandatory. During an interview with Fox Business Wednesday afternoon, Trump made a few other more conciliatory comments, like voices support for a higher minimum wage (he said he would soon have an announcement and that he 'disagrees with more Republicans' on the issue) while also express support for Jerome Powell, saying he had grown more comfortable with the Fed chairman's performance (and why not? the central bank is doing everything that Trump wants it to do).
In addition to ordering restaurants in LA County to cease offering indoor dining for three weeks, the state of California is also ordering an additional 18 counties to close restaurant dining.
* * *
Update (1426ET):   California Gov Gavin News just ordered all LA Restaurants to close for three weeks, though he said those that are able can continue serving takeout and delivery.
Gov. Newsom to Order Immediate Closure of LA Restaurants For Next Three Weeks https://t.co/xOyoIYyG7A #california #bar pic.twitter.com/Z6XbC0891F

— Angel City Buzz (@Angel_City_Buzz) July 1, 2020
Meanwhile, Apple just announced that it's closing another 30 stores as the US outbreak worsens. The new closures will bring its total closures in the US in recent weeks to 77. Alabama, California, Georgia, Idaho, Lousiana, Nevada, and Oklahoma will see Apple store closures tomorrow. Other stores in Florida, Mississippi, Texas, and Utah are closed as of Wednesday. Apple has 271 stores in the US, meaning nearly 30% of its stores have been shut.
* * *
Update (1400ET): Atlanta's Hartsfield-Jackson Airport has closed its TSA checkpoint after employee tested positive.
ATLANTA AIRPORT CLOSES TSA CHECKPOINT AFTER TSA EMPLOYEE TESTS POSITIVE FOR CORONAVIRUS - CBS46
* * *
Update (1345ET): California just reported another record jump in total virus cases, with nearly 1,000 new cases reported on Tuesday, a day that often sees a bump in new cases following the weekend backlog. The number is about 50% higher than Monday's total. The state's last record total, nearly 9k cases in a day, was reported 2 days ago on June 29.
NEW: CA #coronavirus daily case count smashes record again, reaching 9740 in a single day. The previous high was 7149 set 1 week ago.

In the past day, 110 people died as a result of #COVID19. California has not seen that many deaths since April when 115 died in a single day.

— Ana Cabrera (@AnaCabrera) July 1, 2020
CALIFORNIA POSTS RECORD 9,740 NEW VIRUS CASES; 4.4% DAILY JUMP
CALIFORNIA REPORTS 110 ADDITIONAL COVID-19 DEATHS
It brought the state's case total to 232,657. The more notable daily total is the number of deaths reported on Tuesday; the 110 deaths is more than double yesterday's total.
* * *
Update (1310ET): Houston's Texas Medical Center, which operates four hospitals in the city, just reported that its COVID-19 ICU capacity is at 102%, meaning patients are beginning to be diverted to its "overflow" care facilities (including a stadium). That's up from 97% capacity yesterday.
HOUSTON-AREA ICUS REACH 102% OF CAPACITY: TEXAS MEDICAL CENTER
Meanwhile, as the MSM, including the Associated Press, that bastion of 'neutral unbiased reporting', continues to push the 'nobody was infected at the protests' narrative, we'd like to remind the world of this local news report from two weeks ago.
Roughly two weeks ago, Shamone Turner and her friends, joined a large demonstration for George Floyd. An estimated 60,000 people were in attendance, marching from Discovery Green to Houston's City Hall.

"I actually got sick the day after the march," said Turner. "I could not move out of the bed. I was in the bed just sighing."

According to Turner, several of her friends with her at the march also tested positive for the Coronavirus. Turner says they were all wearing masks.

"I definitely don't regret getting the COVID, because I was out there doing the right thing for the right cause," said Turner.
The number of confirmed COVID-19 cases and hospitalizations continues to climb across Texas.
Just some food for thought...
...meanwhile, here's a chart of the curves for each of the worst offending states.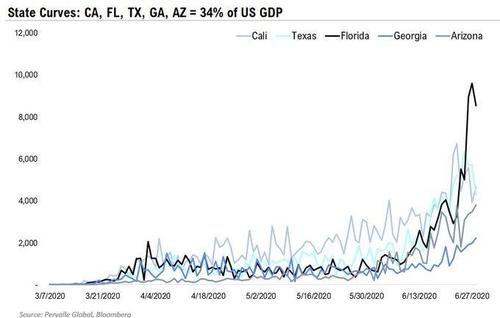 * * *
Update (1300ET): Nevada state health officials just reported the state's third-largest daily total yet, with 645 new cases reported Wednesday, bringing the case total to 19,101. 4 more deaths were reported, bringing the statewide total to 511. A total of 331,318 tests have been performed statewide since the outbreak started.
Clark County, which includes Las Vegas and some of the surrounding area, remains the biggest hotspot in the state.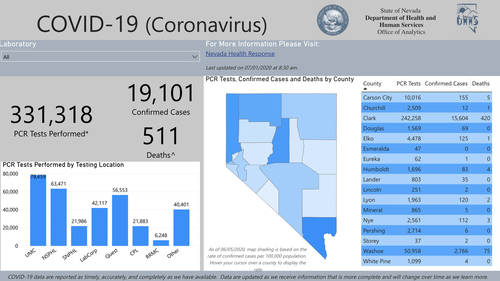 * * *
Update (1150ET): New York Gov Andrew Cuomo just released the state's latest numbers. Today's 11 deaths is higher than the 5 seen yesterday.
Today's update on the numbers:

56,710 tests were performed yesterday. 625 tests came back positive (1.1% of total).

Total hospitalizations fell to 879.

Sadly, there were 11 COVID fatalities yesterday. pic.twitter.com/brF7hs0q7a

— Andrew Cuomo (@NYGovCuomo) July 1, 2020
After confirming that NYC won't begin indoor dining next week, the governor added that he's expanding testing even further to include "all" New Yorkers, as "new problems" have been identified in New York City. As for the timing for indoor dining in NYC, Cuomo said indoor dining will be banned "until the facts change" and/or "until it's safe and prudent".
He blamed the decision on a 'partial lack of individual compliance' and a 'partial lack of local enforcement'...too bad he can't just say 'the protests'.
Beginning today we are expanding our testing criteria statewide to ALL New Yorkers.

There is enough capacity.

Get tested.

— Andrew Cuomo (@NYGovCuomo) July 1, 2020
Sounds like more hollow pandering to us.
* * *
Update (1130ET): Arizona has reported a second-straight record tally of daily infections, and a record daily death toll, adding to fears that deaths might be climbing with a lag. Cases climbed by 4,878 (+6.2%). while deaths rose by 88.
ARIZONA REPORTS RECORD ONE-DAY INCREASE IN VIRUS CASES
These numbers bring the state's totals to 84,092 COVID-19 cases and 1,720 fatalities. The previous single-day highs were 4,682 yesterday and 79 deaths from June 24.
The market isn't taking the double daily record (cases AND deaths) too well.
KTAR News says the daily reports in Arizona present data after the state receives statistics and compiles them, which can lag by several days. They don't actually represent the activity over the past 24 hours. After closing bars, gyms and other establishments earlier this week, Gov Ducey said he expected case counts to keep increasing for several weeks before the impact comes about. But any increase in deaths is bound to alarm public health officials.
Nearly 5,000 people are hospitalized in Arizona, though the rate by which this number has been increasing appears to be slowing, cases have been on the rise for weeks without a break, as the chart below (from the state's website) shows.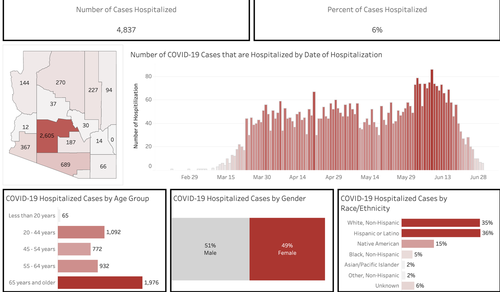 * * *
Update (1030ET): Just yesterday, we shared a factoid from WaPo claiming that almost zero US states are seeing COVID-19 cases decline; instead, states like NY, NJ & Connecticut have seen daily figures plateau, prompting some officials to worry as cases surge across the south and West, with just 4 states accounting for 50% of new cases.
So, as expected, NYC Mayor Bill de Blasio confirmed on Wednesday that NYC would delay the return of indoor dining, which was scheduled to happen July 6.
"Honestly, even a week ago, honestly, I was hopeful we could. But the news we have gotten from around the country gets worse and worse all the time," he said during the opening of the briefing.
Meanwhile, Citigroup, a major NYC-headquartered bank, announced Wednesday that it would delay plans to bring workers back into the office. NYC is expected to enter Phase 3 of its reopening plan on July 6, though de Blasio couldn't yet commit to a timeframe for reopening indoor dining.
De Blasio said during his press briefing that the "postponement" was due to the unfortunate and avoidable surge in new cases around the US. He later clarified that while social distancing laws will be 'enforced', NYPD and the state police won't be involved in that since NYC has "learned from its mistakes" (remember that video of the cops beating the crap out of that guy in the village?)
Watch the rest of his statement below:
Join us at City Hall. https://t.co/jev38NqcYy

— Mayor Bill de Blasio (@NYCMayor) July 1, 2020
Florida just reported its latest daily case numbers.
FLORIDA COVID-19 CASES RISE 4.3% VS. PREVIOUS 7-DAY AVG. 5.7%
The upward momentum in Florida's daily case counts has slowed over the past few days, though the state remains one of the biggest contributors of new cases. Gov. Ron DeSantis again said he wouldn't impose a mandatory mask-wearing mandate state wide.
DeSantis said reversing reopening wasn't necessary since most of those being infected are younger people who bear a lower risk.
"Most of the folks in those younger demographics, although we want them to be mindful of what's going on, are just simply much, much less at risk than the folks who are in those older age groups," DeSantis said.
In Jupiter, Florida, a rehab center confirmed that 38 patients and 30 employees had tested positive for the virus, according to the Palm Beach Post. Elsewhere in Jupiter, the Courtyard Gardens of Jupiter assisted living home has transferred out 15 patients who have tested positive, according to state data.
Blue checks are already whining about how de Blasio's delay creates the need for a restaurant bailout.
Kind of incredible that an entire restaurant can take the place of one single parking spot pic.twitter.com/yLIly7qOT4

— Rebecca Fishbein (@bfishbfish) June 30, 2020
And no doors present to hit cyclists in the bike lane, what a concept

— Rebecca Fishbein (@bfishbfish) June 30, 2020
Also I do know this is not an entire restaurant, was simply commenting on how much stupid space cars take up. Restaurants & staff are hurting & the gov't insists on opening up instead of bailing them out, so please consider donating to a relief fund: https://t.co/2YvI8H92YD

— Rebecca Fishbein (@bfishbfish) July 1, 2020
Though others are taking things a step further and asking the important, if uncomfortable, questions.
Without a bailout of the restaurant industry, I'm curious what the ethical don't-go-to-bars-and-restaurants crowd thinks is the solution to support service industry workers who rely customers to make a living.

— Max Tani (@maxwelltani) July 1, 2020
It's not really clear who should be doing the bailing out here (City Hall? the Trump Administration? Albany?) but we imagine these professional journalists haven't thought that far ahead.
* * *
Update (0955ET): Cementing a pattern that we've seen repeatedly since the great race for a mass-produced COVID-19 vaccine began (with the US government selecting several trials to aid directly via its "operation warp speed" program), every time an extremely preliminary headline prompts a rally in stocks, another headline from a scientist expressing caution arrives a few minutes later to push stocks back down.
OXFORD SCIENTIST DEVELOPING POSSIBLE COVID-19 VACCINE SAYS DO NOT ASSUME VACCINE BY THE WINTER, BE PREPARED FOR THE WORST
And just like that...stocks aren't happy.
* * *
Update (0900ET): Despite claiming it would wait to publish study results in a journal, the latest results from one of Pfizer's COVID-19 vaccine trials been released, and stocks predictably spiked higher, following a report from Stat News, that bastion of ever-reliable trial updates.
Like prior vaccine news-inspired leaks, we wouldn't be surprised to see this rally fade as traders peruse the Stat News report, which was based on a non-peer-reviewed paper published to the website Medrx.
An experimental Covid-19 vaccine being developed by the drug giant Pfizer and the biotech firm BioNTech spurred immune responses in healthy patients, but also caused fever and other side effects, especially at higher doses.

The first clinical data on the vaccine were disclosed Wednesday in a paper released on MedRXiv, a preprint server, meaning it has not yet been peer-reviewed or published in a journal.

The Pfizer study randomly assigned 45 patients to get one of three doses of the vaccine or placebo. Twelve receive a 10 microgram dose, 12 a 30 μg dose, 12 a 100 μg dose, and nine a placebo. The 100 μg dose caused fevers in half of patients; a second dose was not given at that level.

Following a second injection three weeks later of the other doses, 8.3% of the participants in the 10 μg group and 75% of those in the 30 μg group developed fevers. More than 50% of the patients who received one of those doses reported some kind of adverse event, including fever and sleep disturbances. None of these side effects was deemed serious, meaning they did not result in hospitalization or disability and were not life-threatening.
The company is hoping to get permission to start a larger phase 3 trial as early as August. Pfizer's CEO told CNBC's Meg Tirrell last week that he had the first batch of trial results in-hand.
* * *
Arizona became one of the first states to lift coronavirus-related restrictions back in May as the number of daily cases were just passing their peaks in the northeast and the other hard-hit states. But its decision earlier this week to reverse course and close bars, gyms etc. seemed to mark a turning point for the battleground state. Dr. Fauci's warnings about 100k+ new cases per day has clearly rattled the GOP, leading to VP Mike Pence urging all Americans to wear masks while in public (if local regulations asked them to do so).
The US reported more than 40k new cases yesterday (remember, cases are reported with a 24 hour delay) for the fifth day out of six, as we noted last night.
Confirmed coronavirus infections in the US increased by 48,096 to 2.61 million on Tuesday, a rise of 1.9%, more than the 7-day daily average, per BBG.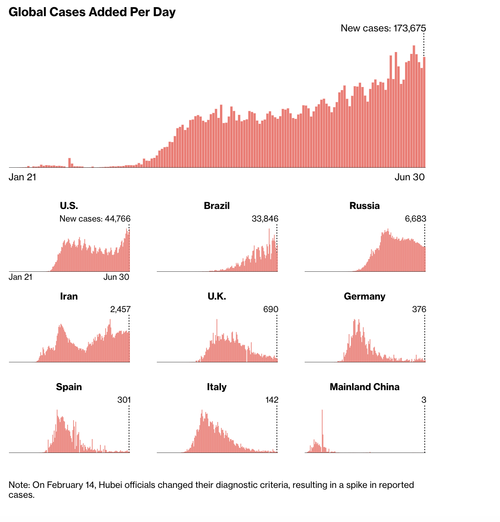 According to the latest update from Kevin Systrom's COVID-19 tracker, the state with the highest "R" rate (a measure of the rapidity of the virus's spread) is Nevada, with Florida and Texas not far behind.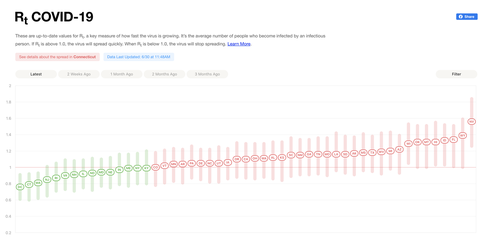 According to the Washington Post, the states with the worst outbreaks per capita roughly corresponded with "R Live"s calculations.

Source: WaPo
A map of infections and outbreaks shows how badly the southern US has been hit.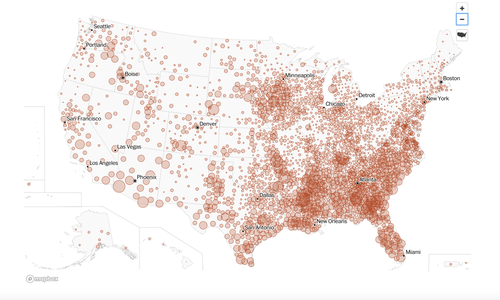 Perhaps the biggest news on Wednesday morning is that the total number of COVID-19 cases globally has hit 10,498,090 while deaths have reached 511,686 deaths and more than 5.3 million have recovered.
Though it appears the virus is growing less lethal as infections tilt toward young people.
Perhaps the biggest news overnight is a report that Australia's Victoria State will lock down 300,000 people in the suburbs of Melbourne in the 1-month lockdown that was reported earlier this week.
In Japan, Tokyo confirmed 67 new cases on Wednesday, a new high since the emergency order in the prefecture was lifted. In Europe, Spain reopened its border with Portugal (and vice versa) and Greece has reopened its borders to some foreign travelers (while the EU's list of travel guidelines stakes effect, which calls for member states to bar travelers from the US, but allow travelers from China). Germany's coronavirus infection rate remained below the critical "1" threshold for the 7th straight day on Wednesday following a concerning spike last week that saw a cluster of new cases at a meat processing plant in the country's most populous state drive that "R" rate to just shy of 3.
The US, meanwhile, has reportedly bought up virtually all the stocks for the next three months of remdesivir, one of the two drugs that have shown some efficacy at treating the virus (though a much cheaper and more widely available steroid has proven effective at lowering mortality in very sick patients), the Guardian reports. The decision leaves none for the UK, Europe or most of the rest of the world.
In Brazil, President Bolsonaro has imposed a travel ban on foreigners entering the country as the country's death toll, the second-worst in the world after the US, is nearing 60,000. Brazil suffered 1,280 more deaths it reported yesterday, bringing the country's confirmed death toll to 59,594, according to health ministry data.The total number of confirmed cases rose by 33,846 to reach 1,402,041, the worst outbreak in the world outside the US, though the US has once again started to expand the gap.