---
Twitter Again Accuses Trump Of COVID-19 'Misinformation As Surgeon General Warns Some States May Cancel Thanksgiving: Live Updates
Summary:
Twitter disputes veracity of Trump tweet on testing
Newark independently returns to partial lockdown
Surgeon General issues Thanksgiving warning
Netherlands tops 300k new cases
Czech Republic, Belgium and Denmark weigh new measures
NYC Mayor de Blasio allows students to opt into hybrid learning
Cuomo rips White House again
Dr. Fauci says US still in first wave of virus
US sees 7-day average for cases hit new record
Hospitals across US near capacity
Utah hospitals ask Gov to approve new triage plan
French official warns France seeing 100k new cases per day
Malaysia extends lockdown
Hong Kong focuses COVID efforts on public transit
UK approves new rapid test
AstraZeneca trial data shows vaccine effective on elderly
* * *
Update (1440ET): Unsurprisingly, Twitter has taken issue with a tweet from President Trump that we shared below.
In accordance with Twitter's new policy of labeling "misinformation" as such instead of engaging in straight up Beijing-style suppression, the team in San Francisco issues a clarification on the company's "moments" feed, claiming scientists and journalists dispute the account.
President Trump's claim that increased testing is leading to the rise in US COVID-19 cases is unsubstantiated, according to journalists and fact-checkers. https://t.co/uP2OCUfco0

— Twitter Moments (@TwitterMoments) October 26, 2020
The 7-day average of US mortality has returned to its highest level in a month, while hospitals across the country groan under the load, but the fact remains, according to the data, it appears the improvement in testing has contributed substantially to the rise in cases across the US.
But just in case you forgot those 225,000 deaths from the virus were all President Trump's fault, well, Twitter is here to remind you.
* * *
Update (1300ET): The Surgeon General has just issued a warning to 12 states about gatherings over the Thanksgiving holiday.
A note of caution if you live in IA, ID, KS, MO, MT, ND, NE, OK, SD, TN, UT, or WI- things aren't looking up for thanksgiving dinner, but there's still plenty of time to turn it around.

🦃 Wear masks
🦃 Wash hands
🦃 Watch distances

➡️ Increase your chances for a safe 🦃 day! pic.twitter.com/iuPb2oSaCq

— U.S. Surgeon General (@Surgeon_General) October 26, 2020
It comes on the heels of Dr. Fauci telling Americans that cancelling Thanksgiving gatherings is the right thing to do in regards to public health.
As discussion turns back to whether families can safely gather for the holidays, here are some things to keep in mind.
The first is that the surge in COVID-19 cases is largely being driven by testing.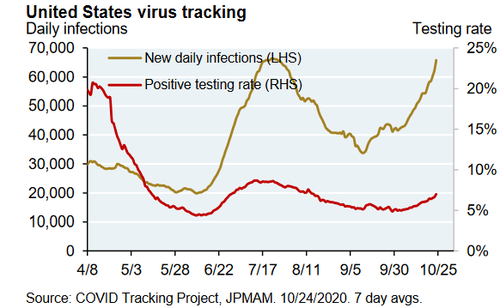 President Trump has a point when he says that the US numbers are being driven by a surge in testing.
Cases up because we TEST, TEST, TEST. A Fake News Media Conspiracy. Many young people who heal very fast. 99.9%. Corrupt Media conspiracy at all time high. On November 4th., topic will totally change. VOTE!

— Donald J. Trump (@realDonaldTrump) October 26, 2020
That's not the case everywhere; in Europe's worst-hit countries, cases are truly expanding at an extremely rapid pace.
Meanwhile, as several European countries tease more restrictions, Morgan Stanley has taken a shot at modeling the reopening of the American economy.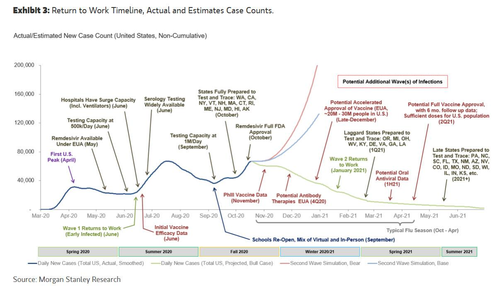 A few minutes ago, Bloomberg and other newswires reported on the decision by Newark NJ Mayor Ras Baraka to restrict hours of non-essential businesses and mandate testing for municipal employees, part of a plan to return to a quasi-lockdown as NJ leads the US in terms of viral spread once again.
* * *
Update (1240ET): As we head into Monday afternoon on the East Coast of the US, Belgium is reportedly weighing a new lockdown, Denmark has topped 1,000 new daily cases for the first time, and the Czech Republic - the worst-hit country in Europe in terms of cases/population - is warning that more restrictions might be on the way.
Italian new cases numbered at 17,012, a decline from the week before. The country's positivity rate increased by 0.7 percentage point to 21.6%, while 991 people sought treatment in a hospital, bringing the total hospitalized number to 12,997. In the ICU, officials added 76 new cases to bring the total to 1,284.
141 deaths were counted, raising the total to 37,479.
The @WHO gives COVID-19 update as a second wave swells across parts of the Northern Hemisphere https://t.co/BiwqMBKJCD

— Reuters (@Reuters) October 26, 2020
New York Governor Andrew Cuomo criticized White House Chief of Staff Mark Meadows for the second straight day over his remark claiming that COVID-19 can't be controlled. Meanwhile, in NYC, Mayor Bill de Blasio affirmed that students in NYC schools would be allowed to switch from all-remote learning to a blended program for two weeks beginning on Nov. 2. The city has proved that schools are safe, with a positive testing rate of less than 1%, Mayor de Blasio said.
* * *
New COVID-19 cases declined on Sunday following the Friday-Saturday peak both in the US, and globally. With the US adding roughly 61,000 new cases (according to JHU), bringing the US total to 8,637,108. Globally, the world broke above 43 million confirmed COVID-19 cases, with roughly 377,000 new cases reported yesterday alone.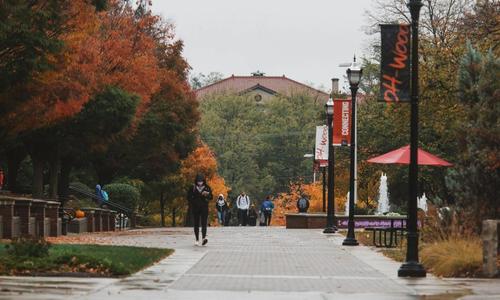 However, the US average of new COVID-19 cases is now at its highest point since the start of the pandemic, as the US added more than 480,000 new cases (481,372 per JHU) after Friday and Saturday both saw new cases top 80k.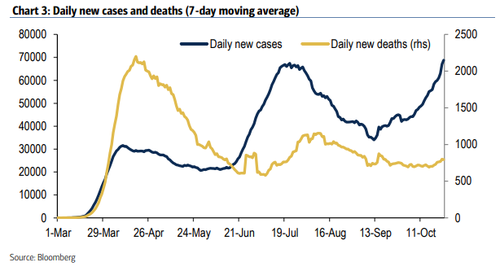 Currently, there are more than 41,000 COVID patients hospitalized in the United States, a 40% rise in the past month, and unlike during the first wave, which hammered urban areas, the second wave is spreading out to more smaller towns with fewer resources, which can translate to less effective care. In Kansas City earlier this month, ambulances were reportedly turned away from hospitals that ran out of room. Field hospitals are currently opening in Salt Lake City and Milwaukee.
In Utah, hospitals are preparing to start rationing care as patients flood its ICUs. That's reportedly the prediction of a top hospital association official, who has reportedly conveyed his warning to Utah Gov. Gary Herbert. The new criteria, which would require the state's approval, creates a new triage program for doctors to decide who can stay in the ICU, and who will be sent back to a regular bed, per the Salt Lake Tribune.
Perhaps the biggest news overnight was the first trickle of Phase 3 trial data from AstraZeneca, a leak that seemed suspiciously well-timed, coming just days after US regulators finally gave the vaccine being developing in partnership with Oxford the green light to restart its US trials. The report should be taken with a large grain of salt; none of this is tantamount to conclusive evidence that the candidate will provide lasting immunity.
In Asia, news broke on Sunday that China had discovered its largest outbreak in months in the far-flung province of Xinjiang. One day later, authorities are reporting another 26 asymptomatic cases.
China's Xinjiang province reported 26 new asymptomatic coronavirus infections between 1600 Sunday and 1600 Monday in Kashgar prefecture, China Central Television reported.
In other news, SCMP reports that Malaysia has just extended its partial lockdown in Kuala Lumpur, its capital city, as well as the surrounding state of Selangor, from two weeks to four.
Jean-Francois Delfraissy, the chair of the scientific team advising French President Emmanuel Macron, warned that the country is probably seeing roughly 100,000 new cases a day (more than 2x the current rate) as the coronavirus pandemic steers the nation into a "very difficult, or even critical situation." He added that "this second wave will definitely be stronger than the first." For context, France reported its 4th consecutive daily record of new cases on Sunday.
In the UK, pharmacy chain Boots is set to launch a 12-minute COVID-19 swab test in some of its stores, while it has begun to offer private pre-flight testing for those traveling abroad.
Here's some more COVID-19 news from Monday morning and overnight:
South Korea reported an uptick in new coronavirus cases despite a lower number of tests, over the weekend, as a cluster of infections in nursing homes in the greater Seoul area emerged. The country added 119 more cases, increasing the total caseload to 25,955, according to the Korea Disease Control and Prevention Agency (Source: FT).
Hong Kong will focus its testing efforts on taxi and bus drivers over the next fortnight, as it seeks to control the coronavirus pandemic (Source: FT).
WHO director general Dr. Tedros said some countries in the northern hemisphere are facing a "dangerous moment" after US infections hit a record for the second day (Newswires).
Australia's state of Victoria, the country's new coronavirus hot spot, reports zero cases for the first time since June (Source: Reuters).