---
Hubei Reports 116 New Coronavirus Deaths, 4,823 Cases; Over 160,000 Tracked
Summary:
Norwegian Cruise Line denies report of passenger being tested for coronavirus
Hubei province reports 116 new deaths and 4,823 new cases, bringing the total count to 1,486 deaths and 65,213 cases
Wuhan residents report hearing loud noises followed by helicopters
Japan reports first virus death
Australia quarantines cruise ship
President Xi says China will minimize impact from virus
Chinese leadership scapegoats local officials
EIA joins OPEC in warning about upcoming drop in oil use, the first in a decade.
HHS Secretary says CDC will announce another confirmed COVID-19 case in US on Thursday
21 people in Spain released from quarantine
US admin reportedly questioning China's reporting
White House reportedly "doubts" China's coronavirus numbers
CDC warns more infections possible after first US case confirmed in Texas (15th overall)
2 Russian women attempt escape from quarantine
EU could close border if outbreak worsens
Kudlow says US "disappointed" in China virus response
Shanghai reports 300+ more cases
* * *
Update (1945ET): Norwegian cruise lines has denied that a passenger on a cruise ship docked in Sydney Harbor has been taken for testing, according to Yahoo News Australia.
The Australian reported it understands a Singaporean man arriving in Sydney on the Norwegian Jewel was being tested by NSW Health after he fell ill with a respiratory complaint.

However in a statement to Yahoo News Australia, a Norwegian Cruise Line spokesperson denied any patients have displayed coronavirus symptoms.

"We have no guests with any respiratory-related illness on board. The vessel remains in operation, and all guests on board are in good health," a spokesperson said.

"There are various false, inflammatory media reports regarding the ship. There is absolutely no truth to those stories." -Yahoo
* * *
Update (1850ET): Hubei province reports 116 new coronavirus deaths and 4,823 cases, bringing the overall official count to 1,486 deaths and 65,213 confirmed.
The new confirmed cases include 3,095 patients who were "clinically diagnosed" following the province's new counting methodology was implemented Wednesday. Eight of the 116 deaths were clinically diagnosed.
690 patients were discharged over the last 24-hours, with 214 of those being clinically diagnosed cases. Of the 36,719 hospitalized patients, 7,953 are critically ill and under isolation treatment at designated medical institutions. There are currently 6,169 suspected cases, 3,689 cured, and 5,352 under isolation.
A total of 166,818 contacts are still being tracked, while 77,685 are under medical observation.
The below charts reflect the new figures. Keep in mind that yesterday's record increase of 14,840 patients was likely due to a massive catch-up after clinically diagnosed cases were added to the definition.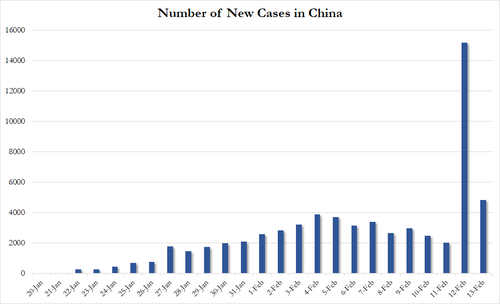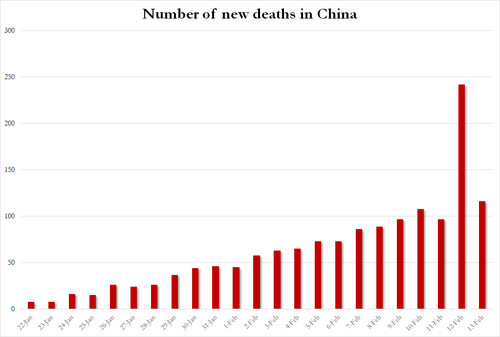 * * *
Update (1820ET): Another incident involving a cruise ship with possibly infected passengers is unfolding - this time in Sydney. What would be the fifth cruise ship to face some level or quarantine (or some other form of trouble) - since the outbreak went global two weeks ago is currently being held under a quarantine order in Sydney Harbor.
New South Wales health officials said a passenger on board is being tested for COVID-19. The passenger is a Singaporean man who 'fell ill' with a 'respiratory illness'.
That doesn't sound good...but many similar cases have been conclusively dismissed as negative (despite the difficulty with China's testing equipment) even after showing some similar symptoms. Those symptoms certainly aren't a guarantee of infection. But it's definitely concerning.
Australia recently extended its travel ban for any non-Australians who have traveled through China recently.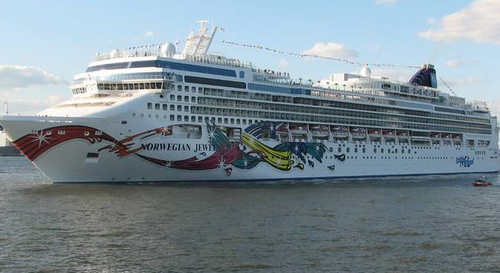 Australia has confirmed 15 cases of coronavirus, but all of them contracted it in China. And only one of those has been confirmed to be human-to-human. A cruise ship under quarantine for the ninth day in Yokohama has confirmed 175 cases of the virus among the passengers and crew, making it the site of the largest COVID-19 outbreak outside mainland China.
Though Hong Kong allowed a ship to depart in just four days after a brief quarantine and no confirmed cases, passengers aboard the Yokohama, having been trapped in their cabins for nine days, have gone completely stir crazy, and many have been in contact with the western media, giving interviews about the pervasive feelings of terror, bewilderment and paranoia.
The ship, the "Norwegian Jewel" (we're sensing a theme here with these cruise ship names) reportedly arrived in Sydney this morning, according to the Australian, and several other domestic newspapers. It has a max capacity of 2,376 guests and 1,060 crew.
* * *
Update (1740ET): Could this be the source of the 'loud noise' we mentioned earlier?
Reports on Power grid explosion in China. pic.twitter.com/Uo9uLUsXrN

— Russian Market (@russian_market) February 13, 2020
(h/t to @Russian_Market, who has been bringing us videos gleaned from Chinese social media for days.
* * *
Update (1545ET): Residents of Wuhan reportedly heard loud noises at approximately 1pm local time on Thursday, which shook  windows and floors of nearby residents, followed by what appears to be nearly a dozen helicopters.
北京时间2月13日今天下午1时左右,武汉市多地居民包括江夏、光谷、徐东、南湖、东西湖等地均听到巨响,微博网友说玻璃和地板都在抖动,巨响后一直有飞机飞过。 pic.twitter.com/Bs4fDvEMYC

— 關堯 · Alston Kwan (@Alston_Kwan) February 13, 2020
* * *
Update (1400ET): President Trump just reportedly said during a radio interview that he believes China is handling the outbreak "professionally."
This after a slew of frustrated messages from his administration and officials including Larry Kudlow.
* * *
Update (1320ET): Following last night's admission that local officials in Wuhan were undercounting the number of cases, a reporter appears to have found evidence that more than 300 unreported cases are active in Shanghai, as well as 1 previously unreported death.
#BREAKING: Shanghai has banned people and cars from entering the city starting at 00:00 on February 14 in order to put the #CoronavirusOutbreak under control. At least 300 cases of such infection have been confirmed in Shanghai. And at least one died from the disease in the city. pic.twitter.com/h8AKfTxAPK

— Ezra Cheung (@ezracheungtoto) February 13, 2020
So China is tightening the lockdown in Shanghai to hide the truth about the outbreak? That's unconfirmed for now.
* * *
Update(1250ET): Not long after reports claimed the White House is widely skeptical of Chinese numbers, Trump's top economic advisor Larry Kudlow appeared on television to say the US is "disappointed" in how China has handled the virus response, and that the Trump administration wishes there was more clarity.
Specifically, the US was most hurt by China's refusal to accept an American team of experts from the CDC, who offered to help.
The US economy would be at 3% growth if not for the virus, he added.
* * *
Update (1230ET): As Beijing insists that it's safe for foreign nations to soon lift their travel restrictions on China, CNN reports that the European Union is considering closing its borders if the outbreak really escalates.
They cite a Croatian health official, who said the plan is in the works, though he strongly suspects that it won't be necessary.
The WHO has said that level of restriction isn't necessary, but that' hasn't stopped Russia from closing part of its border and other countries restricting travel by Chinese.
* * *
Update (1215ET): For the second day in a row, the CDC has warned that more confirmed cases of COVID-19 in the US are inevitable, especially as the testing of ~800 evacuees from Wuhan continues.
After confirming the US's 15th case at Lackland Air Force Base in San Antonio, officials warned that "there may be additional cases" identified during this period.
The 15th patient was a "solo traveler" from China who has been quarantined "since arriving at Lackland Air Force Base from Wuhan.
They remain in isolation at a local hospital.
Officials assured the public that there's no risk to the local community, according to CNN.
"We are right in the middle of that incubation period so it is not surprising" that the individual developed symptoms, McQuiston said.

"For the most part the people in quarantine are not doing much associating with each other," McQuiston said.
Across the ocean in Russia, two women being held under quarantine over fears they might have contracted the virus managed to escape, citing the appallingly poor conditions of their medical detention, according to the NY Post.
Both of the women were hospitalized with flu-like symptoms after returning the Hainan region in southern China that is popular with Russian tourists because of its tropical environment.
In honor of US stocks turning green, we'd like to share this memorable clip of hazmat-suit-wearing person spraying an office down with disinfectant as China continues to slow lurch back to work.
VIDEO: #China

"It's just a flu, Don't worry everything is Fine!"

Shocking video from China shows Disinfectants being sprayed inside offices in China.

If you will not die due to #Coronavirus. You will definitely die due to Lung Cancer. #Coronaoutbreak pic.twitter.com/ii5QeN5A10

— Wars on the Brink 🅙 (@WarsontheBrink) February 13, 2020
Remember, it's just like the flu - except much, much worse.
If it was really so mild, would authorities be treating anybody even suspected of having the virus like this?
Once upon a time, somebody goes out shopping, and then...
At Tianmen in #Hubei, One of the many scenes in #China during #CoronavirusOutbreak.
湖北天门:从前,有个人,出门买个菜,就回不了家了。 #COVID2019 #Coronavirus #coronaviruschina #武汉肺炎 #武漢肺炎 #新冠肺炎 #新冠病毒 pic.twitter.com/Ji7b4o4Pii

— 曾錚 Jennifer Zeng (@jenniferatntd) February 13, 2020
But as the lockdown begins to lift in Beijing, here's how people are reacting to...well...being around other people.
Disinfection stations. Security guards in hazmat suits. Beijing today in its battle to beat the #coronavirus. #China @CNBC pic.twitter.com/vOxsPN3sFL

— Eunice Yoon (@onlyyoontv) February 13, 2020
* * *
Update (1150ET): Citing a senior White House official, CNBC reports that the White House doesn't have "high confidence" in the coronavirus numbers coming out of China.
On the coronavirus, a senior administration official tells me the US does "not have high confidence in the information coming out of China." This official says "China continues to rebuff American offers of assistance."

— Eamon Javers (@EamonJavers) February 13, 2020
The U.S. does "not have high confidence in the information coming out of China" regarding the count of coronavirus cases, a senior administration official told CNBC.

The official also noted that China "continues to rebuff American offers of assistance."
The current thinking is there must be a reason why they won't allow the CDC to send over personnel to help with the virus response.
Meanwhile, Jennifer Zeng tweeted out video of migrant workers being forced to sleep outside because of the draconian lockdown.
At Kunshan in #Jiangsu province. Migrant workers have no where to go after they returned. Residential communities don't accept outsiders, or can they rent house from anywhere.
江苏昆山,小区不让进,房子不让租。外来务工者流落街头。 #COVID2019 #Coronavirus #武汉肺炎 pic.twitter.com/6rqScUlY94

— 曾錚 Jennifer Zeng (@jenniferatntd) February 13, 2020
How much longer until President Trump demands evidence that the virus wasn't bioengineered?
* * *
Update (1015ET): Following last night's debacle over China reporting, Fox News' Edward Lawrence reports that administration sources say they believe China is under reporting the number of coronavirus cases by at least 100,000 in China.
Administration sources say they believe China is under reporting the number of #coronavirus cases by at least 100,000 in China. Also sources say the administration believes China is "severely" under reporting the number of deaths from the virus.

— Edward Lawrence (@EdwardLawrence) February 13, 2020
Additionally, Lawrence notes that administration sources say scientists working on how the coronavirus spread are having difficultly getting to the sight on where the first case happened.
Administration sources say scientists working on how the coronavirus spread are having difficultly getting to the sight on where the first case happened. That could help scientists determine if it's spread by contact or also airborne. #Coronavirus

— Edward Lawrence (@EdwardLawrence) February 13, 2020
We suspect Chinese authorities will do their best to keep any "help" from the west at arm's length for fear of discovering the truth behind this deadly outbreak.
Jennifer Zeng meanwhile tweeted a video of migrant workers in Jiangsu province being reduced to sleeping in the streets or woods thanks to the lockdown.
* * *
Update (0950ET): Health and Human Services Secretary Alex Azar said Thursday morning that the CDC is preparing to announce another confirmed coronavirus case in the US later in the day. That would be the 15th case in the US.
The announcement hit US stocks just minutes after the open.
In Europe, CNN reports that 21 Spaniards who returned from Wuhan on an evacuation flight have been released from Gomez Ullah Hospital in Madrid. The Spanish Health Ministry said the individuals had finished their quarantine stretches.
* * *
Update (0915ET): Even China's state-controlled press is beginning to sound alarmist as it becomes increasingly clear that the epidemic is anything but 'contained'.
How contagious is the deadly #coronavirus? It could take a mere 2 seconds for someone to contract it in areas with high concentration of the virus if they're not wearing protective gear: Wang Guiqiang, doctor of infectious diseases in Beijing. #COVID19 pic.twitter.com/NxhsXjqXhO

— The Business Source (@GlobalTimesBiz) February 13, 2020
Meanwhile China's CDC has reportedly declared 'War Time Status' to authorize war-time conditions on quarantine, supplies, management and, of course, control & discipline.
War Time Status Declared by #Beijing CDC to ensure wartime standards for enforcement of awareness, quarantine, material supply, management and control, disciplines, etc. #COVID2019 #Coronavirus #武汉肺炎 #新冠肺炎
北京市疾控中心党委发布战时状态令https://t.co/2P7lgQcpy4

— 曾錚 Jennifer Zeng (@jenniferatntd) February 13, 2020
If you thought the lockdowns were bad, it looks like Beijing is about to get pretty creative as it tries to walk the balance of pushing the public to get back to worked and protecting them from the virus.
In Xiaogan, in Hubei Province, two young men were forced to kneel in the street after violating restrictions of traveling outside.
In Xiaogan ,Hubei , young men forced to kneel on the street because they should not go out, one of the many scenes in #China during #CoronavirusOutbreak #COVID19 湖北孝感,出门乱跑当街罚跪。#武汉肺炎 #新冠肺炎 #新冠病毒 pic.twitter.com/FfFzOVp4Cm

— 曾錚 Jennifer Zeng (@jenniferatntd) February 13, 2020
Reuters adds that Huanggang, another city in Hubei, that it will tighten epidemic controls by "sealing residential complexes and only allowing essential vehicles on roads."
Patients quarantined in China's hospital jails are clearly hoping that their patriotic socialist principles of valuing the common good over individual liberty will see China through.
这个快恶心死我了。真是嫌他们死得不够快吗?#武汉肺炎 #新冠肺炎 #新冠病毒 https://t.co/XYI8szVo8Z

— 曾錚 Jennifer Zeng (@jenniferatntd) February 13, 2020
In other news, the EIA warned earlier that the COVID-19 outbreak would cause the first drop in oil use in a decade.
Chart showing changes in world oil demand since the outbreak of the new #coronavirus in Chinahttps://t.co/ai4lYMLdKH pic.twitter.com/nvmMzu1Ydp

— AFP news agency (@AFP) February 13, 2020
* * *
Update (0750ET): News out of China is presenting yet another lesson in contrasts.
In his latest remarks, President Xi said his government is striving to hit China's development targets, and that the government will "definitely be able to minimize impact from the virus," according to Chinese state media that has been relayed to English-language newswires.
He also pledged to maintain the development momentum of China's economy.
Meanwhile, over in Macau, the government of the beleaguered casino paradise is planning to hand out vouchers to residents allowing to buy food to try and help boost local consumption once the outbreak starts to subside, Bloomberg reports.
They can only be used at local restaurants and businesses over the next 3 months.The government is also planning to reduce some taxes and fees to help people recover (a rare example of fiscal stimulus directed at main street).
Here's a video report published on NHK's site (please excuse the excess text):
Notably, the woman's death had nothing to do with the 'Diamond Princess' - the cruise ship quarantined in Yokohama.
* * *
Update (0650ET): After last night's 'undercounting' bombshell on the mainland, investors really needed to see some reassuring headlines about the coronavirus outbreak to push equity markets back into the green.
This is definitely not that.
Japan has confirmed its first coronavirus death, the third confirmed virus death outside mainland China, according to domestic broadcaster NHK. The other deaths occurred in the Philippines and Hong Kong.
The woman who died was in her 80s, and living in Kanagawa Prefecture, just outside Tokyo.
* * *
Last night, we wrote the following in conclusion to our report on the dire numbers coming out of Hubei. Essentially, we predicted that President Xi was cranking up the Party's scapegoating machine and getting ready to blame the undercounting of coronavirus cases and deaths on local officials.
Who could have seen that coming? The stock market wanted so badly to believe the Chinese data... bonds and commodities knew better.

But of course, smart traders who were paying attention yesterday might have been able to deduce that something was up. Beijing dismissed some of the top health officials in Wuhan and Hubei earlier this week, and last week it administered administrative punishments to hundreds of lower-level bureaucrats.

They have already been set up to take the fall for President Xi and his inner circle. Let the scapegoating begin.
Earlier in the week, Chinese media and the South China Morning Post, a newspaper in Hong Kong, reported that the Communist Party was preparing to punish the two top party officials in Hubei over their botched response to the Covid-19 outbreak. Of course, local officials have repeatedly claimed that their hands were tied by the national party, as President Xi and his inner circle were paranoid about the news getting out and jeopardizing China's ambitious growth targets.
But unfortunately for the party leadership, the outbreak didn't simply go away. Instead, it has evolved into a global plague and caused the deaths of nearly 1,500 people in just a few weeks, putting the SARS outbreak, which terrorized China and the international community in 2002 and 2003, to shame.
But that doesn't matter. Because on Thursday morning, the Communist Party officially fired the top party officials in the province over his handling of the epidemic. Party Secretary of Hubei Province Jiang Chaoliang is being relieved of his position, to be replaced by Xi loyalist and current Shanghai mayor Ying Yong, according to the New York Times.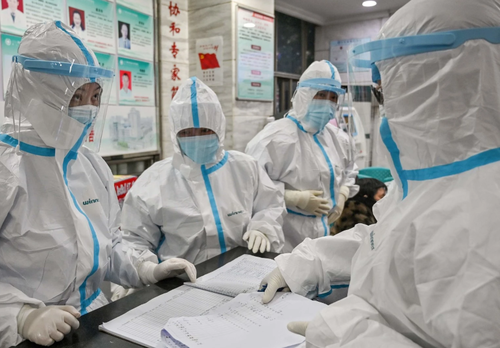 Ma Guoqiang, the top party official in Wuhan whose name is probably familiar to those who have been closely following the situation in the city, has also been fired. He will be replaced by Wang Zhonglin, currently the party secretary of Jinan, a city in China's east.
Xi couldn't have set this is up more perfectly: The public has been clamboring for local officials to pay for botching their handling of the outbreak. Several stirred up anger by appearing in public without masks, or with their masks worn incorrectly. But by far their largest transgression - at least in the eyes of China's tightly controlled public - was the decision to punish Dr. Li Wenliang, the opthamologist who tried to warn the city about the virus, but was punished for his efforts, and later died fighting the virus. Dr. Li has become a martyr across China, and the Communist Party needed to find a way to distance itself from his death, or risk more widespread "instability."
They've succeeded.
Yesterday, we reported that the number of people confirmed to have the coronavirus in Hubei, which is at the center ofthe outbreak, soared by 14,840 on Wednesday thanks to a change in China's testing and classification standards  after turning away thousands of deathly ill patients in Wuhan. That brought the total in the province to 48,206, while the total worldwide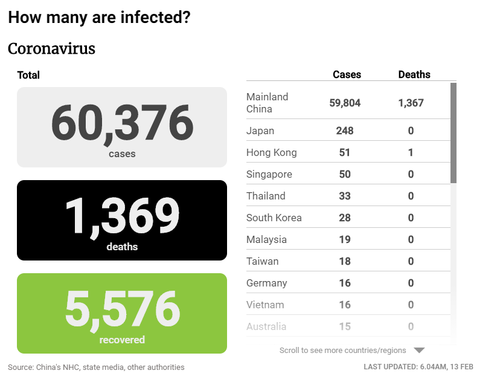 Across China, the number of confirmed deaths is approaching 1,400, with still only a couple of deaths outside China.