---
Beijing Readying "Retaliation List" After US Names 6 More Chinese Outlets As Foreign Missions
On Wednesday the US State Department designated six more Chinese media outlets as "agents of China's government," forcing them to have to register officially as foreign missions if they want to keep operating on US soil under the Foreign Missions Act. This brings the total number of Chinese media outlets considered "foreign missions" or essentially agents of a foreign power to 15.
"We simply want to ensure that American people, consumers of information, can differentiate between news written by a free press and propaganda distributed by the Chinese Communist Party itself," Pompeo said. "Not the same thing," he bluntly concluded. 
Predictably, an angry reaction was swift out of well-known Chinese state media pundits, foremost among them Global Times editor Hu Xijin, who denounced that "The US has gone too far."
The US has gone too far. The move will further poison working environment of media outlets in each other's country. As long as Chinese media outlets suffer actual harm, Beijing will definitely retaliate, and US media outlets' operation in HK could be included in retaliation list. pic.twitter.com/xTSDyRHpx6

— Hu Xijin 胡锡进 (@HuXijin_GT) October 21, 2020
He vowed that "Beijing will definitely retaliate" and that additionally this would likely take the form of targeting American outlets operating in Hong Kong.
Xijin further suggested a "retaliation list" is being prepared by Beijing authorities.
When earlier this year Washington designated the first nine Chinese state-run outlets, Beijing retaliated by expelling about a dozen US media correspondents from Chinese soil. They were mostly from the big three outlets of the NY Times, Washington Post, and Wall Street Journal.
To ensure greater transparency of the Chinese Communist Parties influence in the U.S., I designated six additional People's Republic of China's propaganda entities as foreign missions. The American people deserve to know what these outlets are and for whom they work.

— Secretary Pompeo (@SecPompeo) October 21, 2020
The State Department has now added the following six outlets:
Pursuant to authorities under the Foreign Missions Act, the State Department is issuing today a new determination that designates the U.S. operations of Yicai Global, Jiefang Daily, Xinmin Evening News, Social Sciences in China Press, Beijing Review, and Economic Daily as foreign missions.  These six entities all meet the definition of a foreign mission under the Foreign Missions Act in that they are "substantially owned or effectively controlled" by a foreign government.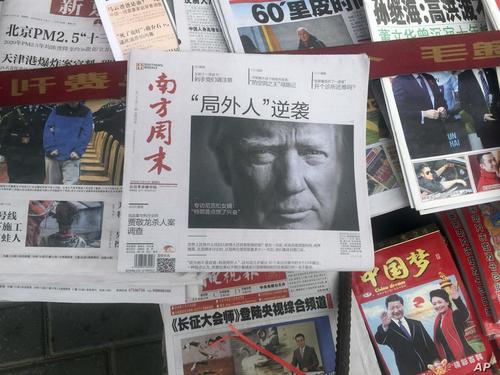 * * *
Here's the running list as it stands now... 
Designated Feb. 18:
Xinhua News Agency 
China Global Television Network
China Radio International
China Daily Distribution Corporation
Hai Tian Development USA
Designated June 22:
China Central Television
China News Service
The People's Daily
The Global Times
Designated Oct. 21:
Yicai Global
Jiefang Daily
Xinmin Evening News
Social Sciences in China Press 
Beijing Review
Economic Daily