---
Biden Approves Pumping Another $1.3BN In Arms Into 'Stalemated' Ukraine War
The Biden administration will announce yet another $1.3 billion in military aid for Ukraine at a moment Zelensky's counteroffensive has stalled and was recently even put on "pause". 
"The United States will announce a new pledge to buy $1.3 billion worth of military aid for Kyiv in its conflict with Russia in the coming days, two U.S. officials said," Reuters reports Tuesday. This fresh package will reportedly include new air defenses, counter-drone systems, exploding drones and ammunition, according to a US official speaking to Reuters.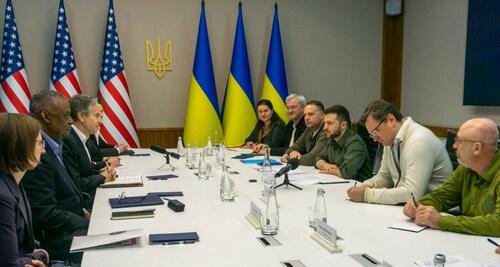 Reflecting months of headlines of dwindling US weapons supplies, and severe arms shortages among the Western allies generally, the funds have been authorized under the Ukraine Security Assistance Initiative (USAI) program - which means in this case the Biden administration will buy weapons from the arms industry (and not pull them from direct from Pentagon stocks).
The report continues to detail: "Also included are two different types of loitering munitions, the Phoenix Ghost drone made by AVEVEX, a private company in California, and the Switchblade, made by AeroVironment Inc." - the latter system being a 'suicide drone' which is small and less expensive than conventional UAVs.
Elon Musk commented Tuesday in response to the Reuters headline, "Would be nice for the public to have some clue how the money is spent!"
The remark is in reference to growing concerns of lack of oversight and accountability when it comes to the tens of billions in funds and arms being pumped into Ukraine. 
Hawks in Congress have consistently blocked serious efforts at imposing serious oversight and accountability on Ukraine aid. Over the last year, there have been multiple reports alleging as well as documenting that foreign arms meant for Ukraine have shown up as far away as Scandinavia countries and even more recently the Middle East. 
As 'Ukraine fatigue' has long set in among Western populations, Washington has been doubling down...
Zelensky needs something big to happen to change the course of the war before more Americans reach this conclusion👇🏼 https://t.co/KxJRZphgDl

— Max Abrahms (@MaxAbrahms) July 18, 2023
US officials such as Treasury Secretary Janet Yellen have urged global partners to redouble their efforts in support of Ukraine, which has been met with some resistance especially among BRICS countries.
Loading...