---
Biden Team Shares More Info On Day-One "Pathway To Citizenship" For Millions Of Illegals
As the MSM continues to pump stories about the possibility of a military-led insider attack at Wednesday's inauguration - with nary a mention of the millions of jobs still missing from the pre-pandemic days, or the millions more still on pandemic unemployment assistance and other benefits - Joe Biden and his team are doling out more details about the Biden team's Day One immigration blitz.
We first noted a couple of days ago that the incoming Biden Administration is planning to implement new immigration reform that includes an eight-year path to citizenship for millions of illegals and long-term protected status for DACA recipients, among other details. According to ABC News, Biden will also switch up the border-control policies to rely more on technology and less on the Trump Administration's strategy of treating the porous southern US border as a crisis.
Biden intends to send the bill to Congress immediately after his inauguration, all part of his 10-day blitz of new policies.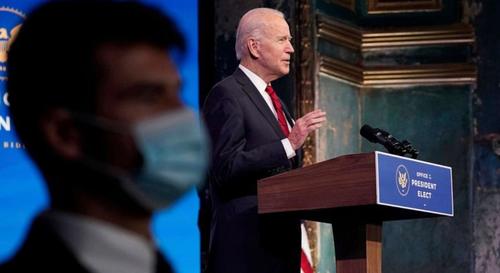 The Biden team tried to paint his policies as a continuation of his "work" as VP back in the Obama Administration. But the reality is the path of citizenship for millions - not just the DACA "Dreamers" - is far more radical than anything Obama managed to accomplish. Members of Biden's team told ABC that the VP worked on addressing the "root causes of migration from Central American countries" during his time as VP, when there was, infamously, a crisis of unaccompanied minors arriving at the southern US border.
For those living in the US without legal status as of Jan. 1, Biden's plan would provide a pathway to citizenship allowing for five years of temporary protected status, and the opportunity to earn a green card upon meeting the requirements like paying taxes and passing a background check. So, as long as migrants work, pay taxes, and don't have a history or, say, gang involvement, they would have a pretty good shot at winning permanent legal status.
For the record, Biden hasn't always spoken so highly of his "accomplishments" regarding immigration policy during the Obama years:  during the Oct. 23 presidential debate, he said "[W]e made a mistake. It took too long to get it right."
Biden's VP Kamala Harris also spoke about the administration's immigration policy in a recent interview, previewing the eight-year pathway to citizenship, along with expanding protections for DREAMers and DACA recipients.
"These are some of the things that we're going to do on our immigration bill, and we believe it is a smarter and a more humane way of approaching immigration," Harris said during an interview last week.
While we recognize it's not quite as high-priority for Biden, we look forward to eventually hearing his team's plan to crack down on the burgeoning amount of drugs, including fentanyl-laced heroin, meth and cocaine, millions of tons of which flow into the US each year, killing tens of thousands of Americans.