---
Biden Agreed To Putin's Request For Future Talks On Halting NATO Eastward Expansion: Kremlin
update(5:37pm): The Kremlin indicated there were no "breakthroughs" in the morning's Biden-Putin virtual meeting, which lasted two hours, and focused on the brewing Ukraine crisis - which we noted is perhaps to a large degree a wholly manufactured crisis. However, there were "constructive" strides made. Crucially the two leaders agreed to initiate lower-level government-to-government talks on Russia's "red lines" - according to the Kremlin. 
The Russian side is also saying Biden agreed to discuss Putin's proposal for legal guarantees preventing any further NATO expansion eastward. Here's a further breakdown of official Kremlin states following the call, according to Bloomberg:
Leaders agreed to hold lower-level discussions soon on Russia's "red lines": no further expansion of NATO alliance or threatening weapons toward Russia; talks will also cover Putin's proposal for binding security guarantees on that issue
"Putin said you Americans are worried by our battalions on Russian territory thousands of kilometers from the U.S., while we have genuine concerns about our security, Russia's security."
US agreed to let Russia inspect diplomatic facilities in US confiscated in recent years
Putin proposed that both sides "zero out" restrictions on diplomatic operations imposed in recent years
Putin told Biden that Russian forces on its own territory aren't a threat to anyone
"Our president said sanctions aren't a new thing, they've been used for a while and they don't give any positive effect either for the U.S. or Russia" Leaders didn't discuss the possibility of an in-person meeting
- Kremlin Aide Ushakov: No Breakthroughs Following Putin, Biden Talks And It's Hard To Expect Any Sudden Breakthroughs For Now
- Asked If Putin Gave Biden Assurance That Russia Would Not Attack Ukraine, Said That Was Not What The Discussion Was About

— LiveSquawk (@LiveSquawk) December 7, 2021
To recap the US side, Biden was said to have warned Putin of a "strong response" coming in the scenario of a Russia military escalation in Ukraine. However, the "crisis" of the Russian troop build-up within its own borders - though reportedly with an eye on Donbass - seems to have abated for now.
* * *
update(1:34pm): Biden and Putin spoke for two hours - their second such call since July - and coming amid widespread media and official accusations that Russia is mustering troops near Ukraine, possibly planning an "invasion".
But the call began on a jovial enough note with a grinning US president giving "killer" Putin a hearty "hello" to kick things off, in contrast to the sensational and hyped headlines that the rival powers are poised for war. Biden literally chuckled out loud, as if reuniting with a long lost old pal... "good to see you again!"
Biden doesn't sound like a man gunning for a war, to be fair. pic.twitter.com/PEKDnhenl7

— Bryan MacDonald (@27khv) December 7, 2021
According to the relatively brief White House readout of the call, Biden warned Putin of a "strong response" coming in the scenario of a Russia military escalation in Ukraine. 
"President Biden voiced the deep concerns of the United States and our European Allies about Russia's escalation of forces surrounding Ukraine and made clear that the U.S. and our Allies would respond with strong economic and other measures in the event of military escalation," the statement said.
Previously the US administration warned of fresh severe economic sanctions being prepared by Washington and European allies should Russia attack Ukraine.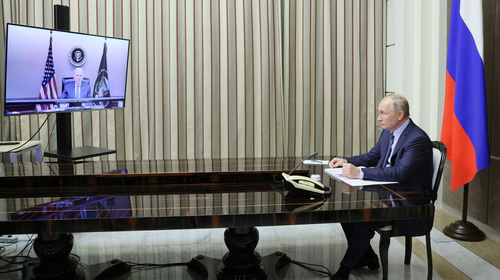 "President Biden reiterated his support for Ukraine's sovereignty and territorial integrity and called for de-escalation and a return to diplomacy," the White House readout said further. 
They further discussed U.S.-Russia dialogue on Strategic Stability, and touched on issues of cybersecurity and ransomware, and additionally the question of Iran nuclear talks in Vienna was touched on.  
Meanwhile, both the Pentagon and CIA have been downplaying the hype, which has also been fueled by consistent accusations and finger pointing out of Kiev...
Amid the drumbeat to war, Bill Burns says CIA hasn't definitively concluded that Russia will invade Ukraine. https://t.co/UxpcyKOSaq

— Chuck Ross (@ChuckRossDC) December 7, 2021
So far, the "drumbeat to war" appears more of a media manufactured event, also with the strong contribution of bored think tank analysts and administration foreign policy hands. After all, if nothing happens (increasingly looking to be the case)... the narrative then becomes "look what Biden did" to "thwart Putin" - or something like that.
Meanwhile, what's also at stake...
US OFFICIALS TOLD CONGRESS THEY HAVE UNDERSTANDING WITH GERMANY TO SHUT NORDSTREAM IF RUSSIA INVADES UKRAINE - CONGRESSIONAL AID
* * *
As Dave DeCamp of AntiWar.com previews, President Biden will warn Russian President Vladimir Putin that the US is prepared to move more troops and military hardware near Russia's border on NATO's "eastern flank" if Russia invades Ukraine, an unnamed senior administration official told reporters on Monday.
Biden and Putin will speak on Tuesday amid heightened tensions over Ukraine. The US has been warning that Russia is planning to move into Ukraine based on a troop buildup in the region, but Moscow strongly denies that it is planning an invasion.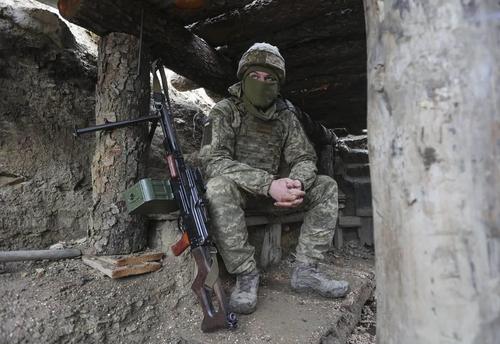 On Friday, The Washington Post reported that US intelligence has found Russia is planning to invade Ukraine in early 2022. But the administration official who spoke with reporters Monday said the US wasn't sure if Putin was really planning an invasion.
"We do not know whether President Putin has made a decision about further military escalation in Ukraine. But we do know that he is putting in place the capacity to engage in such escalation should he decide to do so," the official said.
Russia has been pointing to the increase in US and NATO activity near its borders and in the Black Sea as the source of tensions.
If the US moves more troops to the region, Russia would likely respond in kind. Biden is also reportedly considering sanctions on Russia to "deter" Moscow from invading Ukraine.
The mighty hummer. The Russians are trembling. https://t.co/1Oq5tACEXW

— Leith Bou Phadel (@leithfadel) December 6, 2021
Notably, the US is only threatening to sanction Russia or move more troops into the region as opposed to intervening militarily to fight the Russians. In earlier statements, Biden and other US officials have been vague about what Washington's response to a Russian invasion would be, warning "consequences" and committing to Ukraine's "sovereignty."