---
Biden Willing To Let Germans Freeze In Blowing Up Pipeline: Seymour Hersh Interview
Pulitzer Prize winning journalist Seymour Hersh in a fresh interview with Germany's Berliner Zeitung newspaper which follows up on his bombshell reporting How America Took Out The Nord Stream Pipeline, has provided more context to the Biden White House's decision-making behind the brazen, high-risk covert op.
"The President of the United States would rather see Germany freeze than [see] Germany possibly stop supporting Ukraine," Hersh asserted.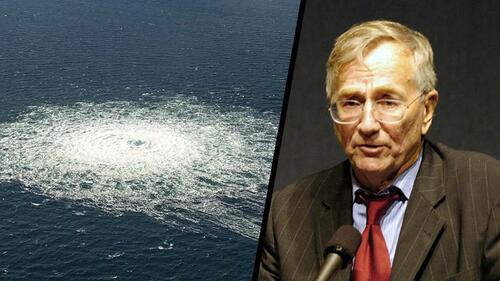 He explained that in reality the Ukraine conflict was "not going well for the West" and that it's important to remember that Stream 2 "was put on hold by Germany itself, not international sanctions, and the US was afraid Germany would lift sanctions because of a cold winter."
That's when the legendary investigative journalist emphasized: 
"The point is that Biden has decided to let the Germans freeze this winter. The President of the United States would rather see Germany freeze than [see] Germany possibly stop supporting Ukraine."
Hersh has also in a fresh update to his Substack teased that more details are coming based on his sources. "Stay tuned," he said. "We are only on first base…" - writing that: 
"There may be more to learn about Joe Biden's decision to prevent the German government from having second thoughts about the lack of cheap gas this winter."
In the meantime, Russia says it is preparing to convene a special meeting of the U.N. Security Council to discuss the case of the Nord Stream sabotage...
⚡️Russia is preparing a special meeting of the UN Security Council on the topic of explosions at Nord Stream — Lavrov pic.twitter.com/ahBdopCSwp

— War Monitor (@WarMonitors) February 15, 2023
The Russian mission to the United Nations said on Wednesday it is planning this meeting for Feb.22, and it comes after Moscow has demanded answers from the Biden administration related to allegations and reporting revealed by Hersh.
While so far the mainstream media has by and large been completely silent on Hersh's findings, Reuters has belatedly acknowledged it as follows on Wednesday:
U.S. investigative journalist Seymour Hersh wrote in a blog that an attack on the Russian-operated pipelines under the Baltic Sea was carried out last September at the direction of U.S. President Joe Biden.

The White House has dismissed the report as "utterly false and complete fiction."
And yet, previously top US officials have in so many words openly admitted that they welcomed the news of the Nord Stream pipeline explosions. Recent statements such as in the following Senate testimony by Under Secretary of State Victoria Nuland are quite revealing...
At a Senate hearing, top US diplomat Victoria Nuland celebrated the Nord Stream 2 pipeline bombing:

"Senator Cruz, like you, I am, and I think the administration is, very gratified to know that Nord Stream 2 is now, as you like to say, a hunk of metal at the bottom of the sea." pic.twitter.com/KS5OM4N165

— Aaron Maté (@aaronjmate) January 27, 2023
Nuland bluntly saying that the pipeline sabotage left the administration "very gratified" should have been featured in every major newspaper across the US and world, yet has been given almost zero attention by establishment media and the big news networks. But this only goes to Hersh's point in his latest interview: his own reporting and exposing of US government secrets going all the way back to My Lai is often initially ignored or even fought against, until it becomes impossible to ignore, and only much later is near-universally lauded when the truth is belatedly and grudgingly acknowledged. 
Loading...