---
Billionaire Zelensky-Backer & Ex-Minister Among Ukrainian Officials Targeted In More Anti-Corruption Raids
In yet another case of curious timing, given it comes a day after the US Treasury issued a (dubious) statement saying US authorities have found no evidence of misuse of the billions in US aid funds flowing into Ukraine, Wednesday has witnessed more anti-corruption raids on a number of prominent government-linked figures. 
Among the homes raided by Ukraine's security agency, the SBU, included that of the former interior minister Arsen Avakov, as well as one of the the country's richest men with ties to Zelensky, Ihor Kolomoisky.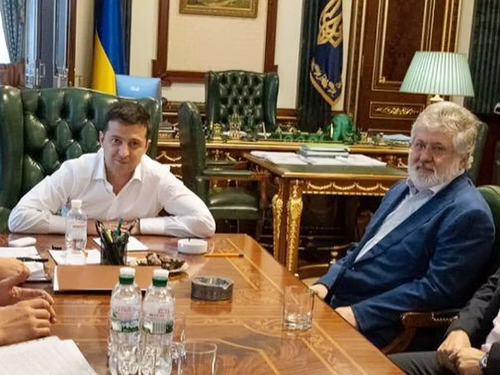 In Kolomoisky's case, state security services released photos of the Ukrainian billionaire's home being searched. The probe is reportedly related to massive embezzlement and fraud cases centering on Ukraine's two largest oil firms. 
"In a statement that made no mention of the tycoon, the economic security bureau said it had exposed large-scale embezzlement schemes and tax evasion worth 40bn hyrivnia ($1bn; £880m) by the former management of Ukraine's two biggest oil firms, Ukranafta and Ukrtatnafta," BBC reports.
Kolomoisky had already long been under US sanctions over "significant corruption" allegations during his time as governor of the wider Dnipropetrovsk region in 2014.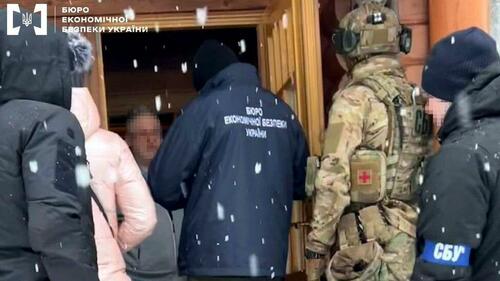 His money has reportedly been instrumental in bolstering anti-Russian defense militias in the Donbass. He's also well-known as a powerful backer of President Volodymyr Zelensky, as various reports now point out:
Mr Kolomoisky is also a wealthy businessman involved in Ukrainian media, oil and banking. His TV channel gave Mr Zelensky his break with the comedy series Servant of the People, before he backed the former actor's bid for the presidency.
It's clear that Zelensky is now feeling pressure from Europe and Washington to 'get tough' on corruption, given in some cases popular support in the West for the tens of billions in foreign and defense aid being funneled to his government's coffers is beginning to wane.
It appears the proverbial 'house is being cleaned'... much too belatedly, when it comes to entire central government offices, following last week's mass resignations of at least ten high level officials and multiple more regional officials related to widespread corruption:
Referring to the latest anti-corruption swoop as "spring landings", Mr Arakhamia listed further investigations, including the dismissal of the entire leadership of the customs service. MP Oleksiy Honcharenko said the acting head and two deputies had been fired.

The main tax office in Kyiv was also raided.
Very significant news on Ukrainian corruption. Ihor Kolomoisky is an oligarch who has been credibly accused of stealing $5.5 billion- that's not a typo: five and a half billion dollars- from the depositors of PrivatBank, which he co-owned...1/nhttps://t.co/ZKHP0XFU7U

— Griboyedov (@Griboyedov1) February 1, 2023
US authorities have long pressed Kiev authorities to seize Kolomoisky's assets and take expansive legal action against the oligarch...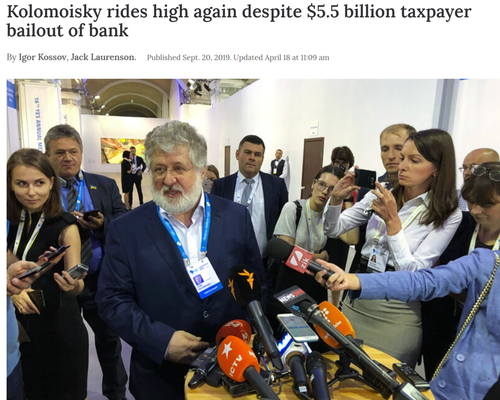 As for the investigation of former Interior Minister Avakov, it relates to government purchases of six French-made helicopters in 2018. An inquiry into the deal urgently began after last month's crash of one of the helicopters in a residential area which killed over a dozen people, including top ministry officials, significantly among them Interior Minister Denys Monastyrskyi.
Avakov while confirming his home was raided on Wednesday firmly rejected any wrongdoing: "The investigation took interest in the contracts on the purchase of Super Puma (Airbus Helicopters H225) helicopters by the Interior Ministry," he said in a statement.
⚡️ #Ukraine: Law enforcement officers searched the former head of the Ministry of Internal Affairs, Arsen Avakov, regarding the helicopter crash in Brovary https://t.co/vltB3bwr3T

— 🇺🇦Paula Chertok🗽 (@PaulaChertok) February 1, 2023
"The investigators behaved properly although the reasonability for such an investigative action looks a bit stupid six years after the conclusion of the contract," he complained, according to Interfax.
Loading...