---
Blinken Abruptly Cancels Lavrov Meeting As Ukraine's President Calls Up Reserve Forces
Two notable events late in the day Tuesday strongly suggest further escalation is on the horizon. First, US Secretary of State Antony Blinken has announced he canceled his planned meeting with Russian Foreign Minister Sergey Lavrov which had for days been set for Thursday.
He cited as reason for the cancelation Russia's "invasion" of Ukraine. He said this invasion is in progress due to the Kremlin authorizing troops to go into the two breakaway republics of the Donbas region. "Last week, I agreed to meet Russian Foreign Minister Sergey Lavrov this week, on Feb. 24, to discuss our country's respective concerns about European security. But only if Russia did not invade Ukraine," Blinken said while standing alongside his Ukrainian counterpart FM Dmytro Kuleba.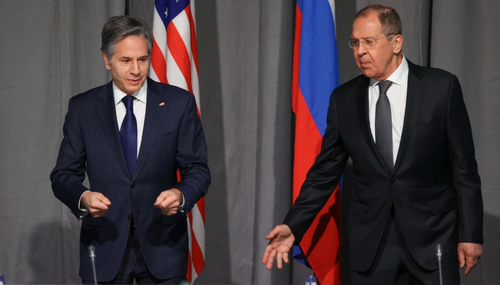 "Now that we see the invasion is beginning and Russia has made clear its wholesale rejection of diplomacy, it does not make sense to go forward with that meeting at this time," the US top diplomat continued. "I consulted with our allies and partners. All agree. Today I sent Foreign Minister Lavrov a letter informing him of this," Blinken said.
Moscow has continued to insist that it is not "invading" Ukraine, nor does it have plans to, after a senior White House official lodged the accusation during a morning CNN interview. 
Despite the apparent rejection of face-to-face talks at this point, Blinken indicated diplomacy remains open - though it's increasingly not looking that way. Blinken said the US "remain committed to diplomacy if Russia is prepared to take demonstrable steps to provide the international community any degree of confidence that it's serious about de-escalating and finding a diplomatic solution."
Also alarming is that French Foreign Minister Jean-Yves Le Drian said the same day that his own meeting with Lavrov which had been set for Friday is now canceled. 
The second alarming development is that Ukraine's president has called up reserves, but is also assuring that there won't as yet be a general mobilization of forces. 
"Russia's long-previewed invasion of Ukraine has begun and so has our response," says Daleep Singh, the deputy national security advisor. pic.twitter.com/HZWDpQWjPd

— Steve Herman (@W7VOA) February 22, 2022
President Volodymyr Zelensky of Ukraine described the reserve forces as being called up for "military training" - but stressed the diplomacy would continue.  "We desire peace and calm but if we are quiet today then tomorrow we will disappear," he said. 
He emphasized that he continues to believe "there will be no war" - thus it appears Kiev still views Russia's intent as limited in scope. "With regards to being on a military footing, we understand there will be no war," Zelensky said. "There will not be an all-out war against Ukraine, and there will not be a broad escalation from Russia. If there is, then we will put Ukraine on a war footing," he said earlier in the day. 
Loading...