---
Blinken Hints At More Russia Unrest To Come: "We Haven't Seen The Last Act"
Authored by Dave DeCamp via AntiWar.com,
Secretary of State Antony Blinken suggested on Sunday that the US was expecting more unrest in Russia following Wagner chief Yevgeny Prigozhin's two-day uprising.
"I think we're in the midst of a moving picture. We haven't seen the last act. We're watching it very closely and carefully," Blinken told CBS News on Sunday.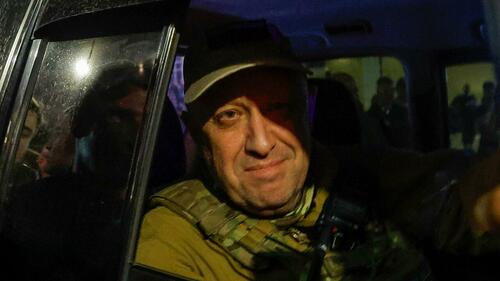 When asked if the US was in touch with Russia about the crisis, Blinken said he instructed his team to engage with Russia to ensure "they understood their responsibilities in terms of protecting our own personnel."
There's no sign Blinken has attempted to speak with Russian Foreign Minister Sergey Lavrov about the incident.
Blinken said Prigozhin's dissent showed "real cracks" in Russia. "It was a direct challenge to Putin's authority. So this raises profound questions. It shows real cracks. We can't speculate or know exactly where that's gonna go. We do know that Putin has a lot more to answer for in the weeks and months ahead," he said.
French President Emmanuel Macron made similar comments on Sunday, saying the mutiny shows "the divisions that exist within the Russian camp, and the fragility of both its military and its auxiliary forces."
Macron said the crisis justifies Western support for Kyiv, while stressing the West must remain vigilant regarding its posture of readiness to support Kiev:
"All this should make us very vigilant, and fully justifies the support that we are giving to the Ukrainians in their resistance," he said.
Also on Sunday, President Biden spoke with Ukrainian President Volodymyr Zelensky about the situation in Russia. "Yesterday's events exposed the weakness of Putin's regime," Zelensky said, according to a press release from his office.
Still unclear what the actual terms of the agreement are that Prigozhin reached with the Kremlin.

This public messaging might be a means of trying to force Prigozhin to abide by them—whatever they are—by threatening criminal proceedings. https://t.co/2xom0qSqWP

— Rob Lee (@RALee85) June 26, 2023
"I am grateful for your readiness and the readiness of the American people to stand side by side with Ukraine until the full liberation of all our territories within internationally recognized borders," Zelensky added.
Loading...