---
Blinken Plans To Visit China In Coming Weeks, Follows "Candid" Dialogue
Amid attempts to reset normal relations, given the two sides have been engaged in tit-for-tat accusations going back to at least February, US Secretary of State Antony Blinken will travel to China in the coming weeks, Bloomberg was the first to report Tuesday.
CNN is also reporting that the trip is expected, though a precise date hasn't been specified, citing unnamed US officials. The trip was supposed to happen in February, but that was abruptly canceled (or perhaps just "postponed"), following the Chinese "spy balloon" shootdown incident early that month and ensuing war of words and Chinese denials of wrongdoing.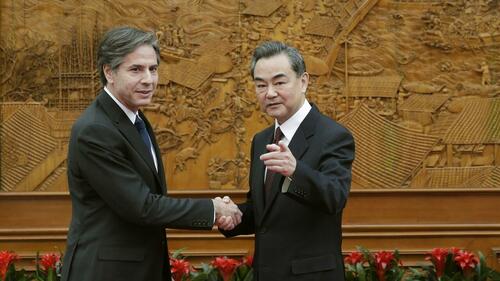 The State Department is keeping mum on the reports, however, with a spokesperson saying Tuesday, "We have no travel for the Secretary to announce; as we've said previously the visit to the People's Republic of China will be rescheduled when conditions allow."
But Biden admin officials have been busy trying to rescue spiraling relations with Beijing. The State Department earlier described "candid" and "productive" meetings between US officials and their Chinese counterparts in Beijing Monday:
Assistant Secretary of State for East Asian and Pacific Affairs Daniel Kritenbrink and NSC Senior Director for China and Taiwan Affairs Sarah Beran, accompanied by US Ambassador to China Nicholas Burns, met with Ministry of Foreign Affairs Executive Vice Foreign Minister Ma Zhaoxu and Director General of the North American and Oceanian Affairs Department Yang Tao.
"The two sides exchanged views on the bilateral relationship, cross-Strait issues, channels of communication, and other matters. U.S. officials made clear that the United States would compete vigorously and stand up for U.S. interests and values," an official readout said.
In a statement ahead of the 34th anniversary of the #TiananmenSquareMassacre, US Secretary of State Blinken issues a statement recalling that the government of #China sent tanks "to brutally repress peaceful Chinese pro-democracy protesters and bystander… https://t.co/CJPi3Hw9hx

— Steve Herman (@W7VOA) June 3, 2023
Over the weekend Chinese Defense Minister Li Shangfu told the Shangri-La Dialogue security summit that any potential future conflict between the United States and China would bring "unbearable disaster for the world".
But he said both rival powerful countries should be able to grow together and to avoid confrontation. His words came as the US condemned what it called unsafe and aggressive maneuvers by a Chinese PLA Navy warship in the Taiwan Strait as the American destroyer USS Chung-Hoon conducted a 'freedom of navigation' transit on Saturday.
Loading...