---
Blinken Tells Congress Ukraine Won't Regain All Territories By Military Means
US Secretary of State Antony Blinken has given rare words of advice to Ukraine while letting slip that Washington is not very optimistic on the prospect of regaining all territory now controlled by the Russians.
"I think there's going to be territory in Ukraine that the Ukrainians are determined to fight for on the ground; there may be territory that they decide that they'll have to try to get back in other ways," Blinken said in what's clearly a reference to negotiations and the need for future diplomacy, during Congressional questioning.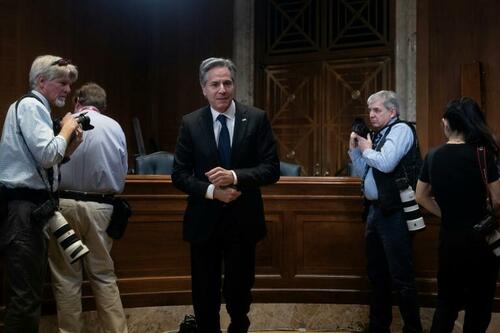 But he again emphasized these are decisions for Ukrainian leadership. He said "these have to be Ukrainian decisions about what they want their future to be and how that lands in terms of the sovereignty, the territorial integrity, the independence of the country."
The US top diplomat had responded to Republican Representative Chris Stewart's question about Crimea.
"If our commitment and our agreement with Mr Zelenskyy is that we will support you for whatever you want to achieve, including no Russian presence at all in Crimea, then we're asking for a world of hurt," Stewart said.
Blinken appeared to agree that the cost would be too high, and the potential for sharp escalation with Russia too dangerous, to encourage any Ukrainian retaking of Crimea, which has been under Russian sovereignty since 2014.
And coming days after the visit to Moscow of Chinese President Xi Jinping where he discussed Beijing's 12-point peace plan with President Putin, Blinken added the US wants to avoid a situation which "simply invites the Russians to reset, rearm and then re-attack" in the wake of any possible future negotiations. The US accused China's plan of seeking to allow Russian forces to regroup.
Currently, Ukraine is continuing to pour steady resources and manpower into defending Bakhmut, a strategic city in Donetsk region. Previously the Russian advance there, with Wagner group reportedly leading the way, was rapid but in recent weeks has slowed. 
Wagner sniper team in Bakhmut with a MTs-566 sniper rifle. https://t.co/pj5h5zJaJa pic.twitter.com/cGMjGlR0Ru

— Rob Lee (@RALee85) March 15, 2023
Ukraine's military leadership is meanwhile teasing that a major counteroffensive is coming. Col Gen Oleksandr Syrskyi, the top ground forces commander, told Western media on Friday, "Very soon, we will take advantage of this opportunity, as we did in the past near Kyiv, Kharkiv, Balakliia and Kupiansk."
Loading...