---
BoJo Launches Investigation Into Cameron's Lobbying On Behalf Of Greensill
For British PM Boris Johnson, the fallout from the collapse of Greensill has been akin to being gifted a golden saucer filled with excrement. At the time, BoJo apparently didn't see anything wrong with facilitating the lobbying objectives of one of his predecessors, former PM David Cameron. But now that the British tabloid press has sicced the hounds on  the PM, he has apparently realized it's time for some damage control.
To wit, the FT reports that Downing Street and the Cabinet Office have launched a wide-ranging investigation after acknowledging that there was "significant interest in this matter."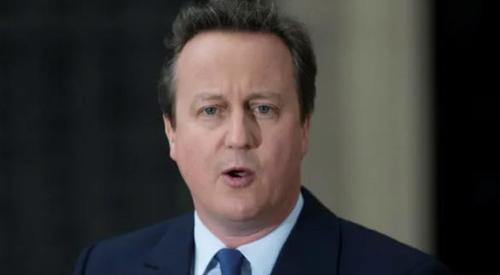 What's more, leaders fro the opposition Labour Party accused the Tories of launching yet "another cover-up" and said the party "can't be trusted to yet again mark their own homework".
Rachel Reeves, the shadow Cabinet Office minister, said that "just as with the inquiry into Priti Patel's alleged bullying, this is another Conservative government attempt to push bad behaviour into the long grass and hope the British public forgets." She added:
"We need answers on Greensill now - that means key players in this cronyism scandal like David Cameron, Rishi Sunak and Matt Hancock appearing openly in front of parliament as soon as possible to answer questions."
The Nigel Boardman-led inquiry will examine "issues of supply chain finance and the role Greensill played", along with "the way contracts were secured." The formal "terms of reference" for the inquiry were published Monday.
As we have tried to explain in the past, the practice of trade finance can sometimes resemble fraud if investigators aren't careful. Particularly, the practice of lending to companies on the basis of "prospective receivables" appears particularly shady. Even Sanjeev Gupta, the executive chairman of GFG Alliance, struggled to explain the concept in a letter to the FT published last week.
As part of those programmes, Greensill selected and approved companies with whom its counterparties could potentially do business in the future. Greensill then determined, at its discretion, the amount of each prospective receivables purchase and its maturity. Therefore, although RPS Siegen GmbH was a company identified as a potential customer of Liberty Commodities, it is not one currently. We note that, as reported in the financial press, Bluestone has described similar arrangements with Greensill in its public court filings in the US. We look forward to seeing Greensill's response to Bluestone's complaint.
As the FT pointed out, the decision by a current PM to authorize an investigation into the lobbying conduct of a prior PM is unprecedented in modern times.
Despite leading the Conservative Party, readers shouldn't expect BoJo and Cameron to go easy on each other. In fact, the two have a long-standing rivalry that dates back to their college days. The last investigation authorized by BoJo was a probe into alleged bullying by Home Secretary Priti Patel.