---
Pound Slips As BoJo Threatens To Cancel Next Round Of Brexit Talks
Update (1220ET): Apparently, BoJo's Friday morning press briefing didn't do enough to convince Brussels that the UK really is prepared to walk away from the table, because the PM is reportedly threatening to do so once again.
The UK's chief Brexit negotiator, David Frost, reportedly told his Continental counterpart, Michel Barnier, that as of now, there is "no basis" for another round of talks, which had been set for London next week (with another "final" round set for the last week in October).
NEW: UK chief negotiator David Frost has spoken to Michel Barnier and told him there is no basis to continue #Brexit talks until there's a change in the approach and "there was accordingly no basis for negotiations in London as of Monday."

The pair will talk early next week.

— Shehab Khan (@ShehabKhan) October 16, 2020
They're set to speak again early next week.
The pound knee-jerked lower on the headline, which seems to have rattled the market's conviction that a last-minute deal remains the most likely outcome.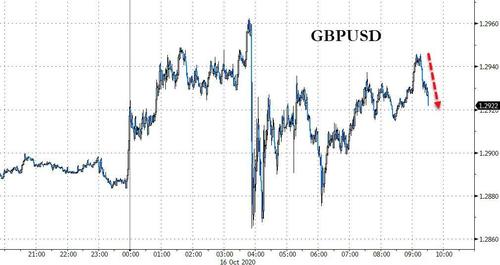 The UK is set to leave the customs union and single market come the new year.
Once again, it's likely that Johnson's threats are another example of his "hard-nosed" approach to negotiating.
* * *
Not even 24 hours after Brussels and London agreed to two more rounds of trade talks - one in London next week, and another in Brussels the week after - UK Prime Minister Boris Johnson told the British people that he would seek a "no-deal" Brexit unless there is a "fundamental change of approach" from the EU.
Sterling sank to a session low against the dollar as Johnson warned Britons to "get ready for no-deal", though it quickly rebounded off its low of the day and has since been swinging around in volatile trade.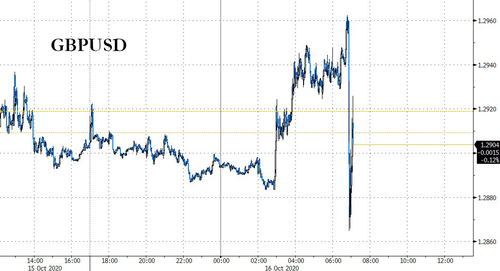 BoJo accused Brussels of failing to negotiate "seriously" as he ratcheted up the pressure for more concessions to come from the Continental side. Since it's clear that Brussels doesn't want a more comprehensive "Canada-style" deal, BoJo said his office would instead seek an "Australia"-style deal, a far less "comprehensive" option.
"I have to make a judgement about likely outcome...given [EU] have refused to negotiate seriously for much of the last few months and given this summit appears explicitly to rule out Canada style deal, I've concluded we must get ready for arrangements like Australia's."

"Unless there's a fundamental change of approach, we're going to go to the Australia solution, and we should do it with great confidence," Johnson said.
He then warned businesses across Briton to prepare for "no deal".
"Now is the time for our businesses, hauliers and travelers to get ready... and of course we are willing to discuss practicalities"
To be sure, BoJo said that he'd be willing to hear from Brussels if they came back with a "fundamental change of approach". Otherwise, the UK will leave the single market and customs union without a deal on Jan 1.
Bojo's remarks follow tweets from his lead negotiator, Lord David Frost, who expressed disappointment in the EU's negotiating position."
1/3 Disappointed by the #EUCO conclusions on UK/EU negotiations. Surprised EU is no longer committed to working "intensively" to reach a future partnership as agreed with @vonderleyen on 3 October.

— David Frost (@DavidGHFrost) October 15, 2020
2/3 Also surprised by suggestion that to get an agreement all future moves must come from UK. It's an unusual approach to conducting a negotiation.

— David Frost (@DavidGHFrost) October 15, 2020
3/3 PM @BorisJohnson will set out UK reactions and approach tomorrow in the light of his statement of 7 September.

— David Frost (@DavidGHFrost) October 15, 2020
The pound's bounce off the daily lows following the speech merely underlines the fact that many traders already expect this thing to go down to the wire, with a last-minute deal still the base case.