---
BoJo Imposes 1-Month Lockdown On England As UK COVID-19 Cases Top 1 Million: Live Updates
Summary:
Portugal restrictions on movement
BoJo announces 1 month lockdown
UK COVID-19 cases top 1 million
NY Gov announces new quarantine rules
BoJo weighs one-month lockdown
US reports record new cases
North Dakota worst-hit state
New cases in Iran fall
China reports 33 new cases
Poland reports 21k new cases
Brazil strikes deal to buy Chinese vaccine
* * *
Update (1550ET): Minutes after BoJo finished his press briefing announcing an England-wide one-month lockdown, Portugal just announced that it is extending its restrictions on movement to more cities and towns beginning Wednesday. Restrictions will now apply to 12 municipalities, according to newswire reports.
* * *
Update (1540ET): As the UK's confirmed cases topped the 1 million mark, British Prime Minister Boris Johnson has announced the nationwide lockdown affecting all of England (the three other constituent nations of the UK can set their own independent policy).
Beginning Thursday, bars, restaurants and nonessential stores will close, and people will be ordered to stay home with a few limited exceptions, including work, school and exercise.
PM Boris Johnson announces the UK will lock down due to COVID spread "from Thursday until the start of December." pic.twitter.com/kfwLGLfRXm

— The Recount (@therecount) October 31, 2020
BoJo said during an afternoon news conference that schools will remain open, confirming that the UK's lockdown of England will follow roughly the same rules as the lockdowns in France and Germany, with schools remaining open, instead of closing like they did in the spring.
"We've got to be humble in the face of nature. In this country, alas, as across much of Europe, the virus is spreading even faster than the reasonable worst-case scenario of our scientific advisers," he said.
The move is hardly a surprise, and was preceded by press trial balloons which we reported on earlier today. It comes as the UK and the 27 members of the EU have reported, on average, 195,000 new cases a day over the last 7 days.
* * *
Update (1200ET): New York Gov Andrew Cuomo has just shared NY's latest COVID-19 stats, and also announced a confusing new policy for people traveling to the Empire State the requires them to be tested twice (once before and once after arriving) if they want to avoid the whole 2 week quarantine. However, every new arrival will still need to quarantine for three days after arriving in the state, regardless of whether they are on the state's travel warning list.
NEW: @NYGovCuomo announces NYS is shifting from a quarantine list to a testing policy.

➡️ Get a negative test within 3 days BEFORE arriving in NYS.

➡️ Once you arrive in NYS, wait 3 days and then take a test on the 4th day (or after).

✅ If both are negative, no quarantine.

— Jack Sterne (@JRSterne) October 31, 2020
NY reported another 2,049 new cases on Saturday.
Today's update on the numbers:

Of the 136,962 tests reported yesterday, 2,049 were positive (1.49% of total).

Total hospitalizations are at 1,121.

Sadly, there were 8 COVID fatalities yesterday. pic.twitter.com/8briKkbF8e

— Andrew Cuomo (@NYGovCuomo) October 31, 2020
Today's update on the numbers:

Of the 136,962 tests reported yesterday, 2,049 were positive (1.49% of total).

Total hospitalizations are at 1,121.

Sadly, there were 8 COVID fatalities yesterday. pic.twitter.com/8briKkbF8e

— Andrew Cuomo (@NYGovCuomo) October 31, 2020
The state's positivity rate in its "cluster zones" however, was 2x as high at 3%.
Notably, the new rule announced by Cuomo on Saturday morning doesn't apply to neighboring states or people who commute into the city every day. Enforcement, Cuomo said, will be carried out by local health departments.
He added that the rule was intended to try and avoid a surge in cases from the Thanksgiving holiday. "People are going to travel for Thanksgiving. We're having issues with small gatherings, which is almost a psychological issue," Cuomo said.
* * *
As countries across Europe continue to step up COVID-19-related restrictions (most recently, Belgium announced what might be the Continent's most restrictive lockdown  since the start of the second wave), UK Prime Minister Boris  Johnson is reportedly considering a month-long national lockdown across England, which would start next week.
According to British press reports, Johnson will meet with his top advisors and government officials on Saturday to discuss the pros and cons of such an arrangement. The return to restrictions in accordance with the country's 3-tiered system has already inspired significant public anger, particularly in the Greater Manchester area and other pockets facing Tier 3 - ie the most restrictive - rules.
Hospitalizations have surged across the UK, while deaths have started to creep higher. Though it trails Spain and France in overall cases, the UK is on the verge of crossing the million-case mark. After reporting another 24,418 cases, yesterday, the UK has a total of 992,878.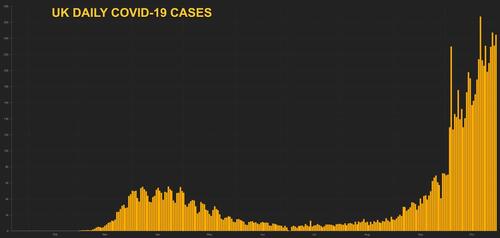 Across the pond, the situation wasn't much better. The US reported 99,325 new cases Friday, the most for any country in a single day as infections and hospitalizations surged in the runup to Tuesday's election. The total number of cases in the country exceeded 9 million. North Dakota continues to show the highest rate per 100,000 residents, though its overall numbers are still relatively low compared to its low population. The state reported 1,357 new confirmed cases of COVID-19 on Friday, eclipsing the record set one day earlier by 135 cases. Total deaths, meanwhile eclipsed the 500 mark with 13 new deaths reported Friday.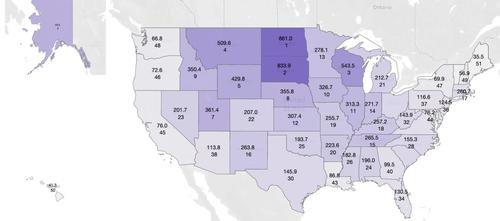 Source: mSightly
As we reported yesterday, the US passed the 9 million case mark yesterday after reporting a record 99,321 new cases, according to Johns Hopkins.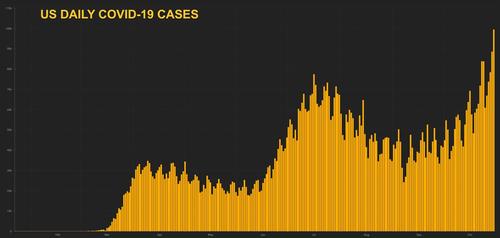 As we head into the weekend, here's some more news from Saturday morning and overnight:
With the U.S. reporting almost 100,000 new cases on Friday just days ahead of the election, North Dakota led the increase in infections with a 6.8% rise in cases to almost 43,916, according to data compiled by Johns Hopkins University and Bloomberg. Wyoming, South Dakota, Montana and Missouri had the next-biggest increases, ranging from 4.2% to 3.1%. Colorado, Kansas and Wisconsin all showed 2.4% increases. Texas reported the most new deaths at 109 (Source: Bloomberg).
The number of new infections in Iran fell for a second day to 7,820 after reaching a record on Thursday. The Health Ministry reported 386 more deaths from Covid-19 overnight, taking the total to 34,864. The country's national coronavirus taskforce announced a series of closures across Tehran and two dozen other major cities (Source: Bloomberg).
Greece is taking further steps to contain the spread of the coronavirus after a surge this week saw daily cases surpass 1,000 for the first time since March. The country will be divided into two zones -- high risk and under surveillance -- with northern Greece and the capital, Athens, and its region in the first category. "We must act now before intensive care units bend under the weight of endangered lives," Prime Minister Kyriakos Mitsotakis said (Source: Bloomberg).
Belgium reported 1,105 patients in intensive care units on Saturday, up 48 from the previous day and near the peak reached during the first wave of the outbreak. The nation of 11 million people, which hosts the European Union's main institutions and the North Atlantic Treaty Organization, announced a lockdown Friday amid fears that its healthcare system could be overwhelmed (Source: Bloomberg).
Infections in Poland increased by 21,897 on Friday, and deaths rose by 280 to 5,631, according to the Health Ministry. More than 500,000 people are in quarantine in the country. The increases come after government employees were ordered to work from home for two weeks, with private companies also encouraged to send staff home (Source: Bloomberg).
Mainland China reports 33 new COVID-19 cases on Oct. 30, up from 25 a day earlier, the country's national health authority said on Saturday (Source: Nikkei).
A "politically intoxicated" environment makes it difficult to probe the origins of the new coronavirus first identified in Wuhan, says the World Health Organization's top emergency expert, Mike Ryan (Source: Nikkei) .
Brazil's government will "of course" buy a Chinese COVID-19 vaccine that is being tested in the country, Vice President Hamilton Mourao said on Friday, in the latest example of him contradicting President Jair Bolsonaro (Source: Nikkei).