---
BoJo's Government In Crisis As 4 Aides Quit After "Pedophile" Jab
As the BoE warns about back-breaking inflation and HMG scrambles to subsidize the heating bills of millions of Britons due to soaring LNG demand that's rapidly draining reserves, Prime Minister Boris Johnson has just seen his government engulfed in another crisis as four top staffers quit late Thursday in London.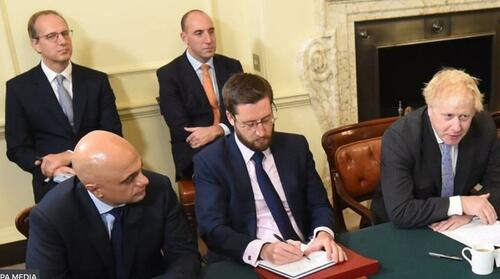 With the Metropolitan Police still investigating 'partygate', BoJo's hoped-for reprieve with the release of the Sue Gray report (which was released in heavily redacted form) has been delayed because of the police investigation. As a result, he has continued to see his support drain away prompting many to wonder if this might actually be the end for the Tory PM who took power after leading conservatives to an outright Parliamentary majority in a snap vote called to end the deadlock of the Theresa May era.
His MPs falling away is one thing, but when 4 senior staff can stomach it no more…the writing is surely on the wall? His protectors are withdrawing @BorisJohnson #GoNow https://t.co/hhWGuJCPhq

— Melanie Henwood (@MelanieHenwood) February 3, 2022
What has been a trickle of resignations of senior Downing Street staff suddenly escalated into a torrent when director of communications Jack Doyle confirmed his exit shortly after the departure of policy head Munira Mirza. Those two were quickly followed by chief of staff Dan Rosenfield and senior civil servant Martin Reynolds.
They were followed by the chief of staff Dan Rosenfield and senior civil servant Martin Reynolds, BoJo's principal private secretary.
But according to the BBC, the most damaging departure was that of Mirza, one of his longest-standing allies, who quit as head of Johnson's policy unit in protest of a "scurrilous" remark the prime minister made about opposition rival Keir Starmer, when the PM accused Starmer of failing to prosecute notorious pedophile Jimmy Saville.
"I think you were wrong to insinuate this week that Keir Starmer was personally responsible for allowing Jimmy Savile to escape justice," Mirza wrote in his letter, first published by the Spectator. "It wasn't the usual cut and push of politics; it was an inappropriate and partisan reference to a horrific case of child sexual abuse. You have tried to clarify your position today but, despite my insistence, you have not apologized for the misleading impression you have given."
Even Chancellor Rishi Sunak has distanced himself from BoJo's remark, saying that he personally wouldn't have said it. BoJo made the remark during PMQs on Monday when he said that Starmer "spent most of his time chasing reporters and not chasing Jimmy Savile, as far as I know" when the Labour leader was head of public prosecutions.
The crisis engulfing Boris Johnson's government deepened as four top aides quit, with one of them unleashing a devastating attack on the UK prime minister's judgment.
The premier's chief of staff, Dan Rosenfield, and his principal private secretary, Martin Reynolds both resigned late on Thursday, following the departure of his director of communications Jack Doyle. 
Doyle told his fellow staffers that the "recent weeks have taken a terrible toll on my family life," but that he had always intended to leave after two years.
Public opinion polls show that BoJo's popularity has continued to plummet. With a sizable number of Tory backbenchers having already expressed their lack of confidence to his leadership, the British PM has never appeared more vulnerable than he does today.