---
Bolsonaro Outperforms Polls, Sends Brazil Presidential Race To Run-Off
The United States isn't the only place where opinion polls understate the strength of right-wing candidates.
The same dynamic was on display in Brazil on Sunday, as President Jair Bolsonaro's performance on election day far exceeded pollsters' consensus and shocked pundits.
Heading into the election, the final major poll pointed to left-wing former president Luiz Inacio Lula da Silva winning by a 14% margin. However, with 99.9% of votes counted, Lula only led Bolsonaro by 5.2% -- 48.4% to 43.2%.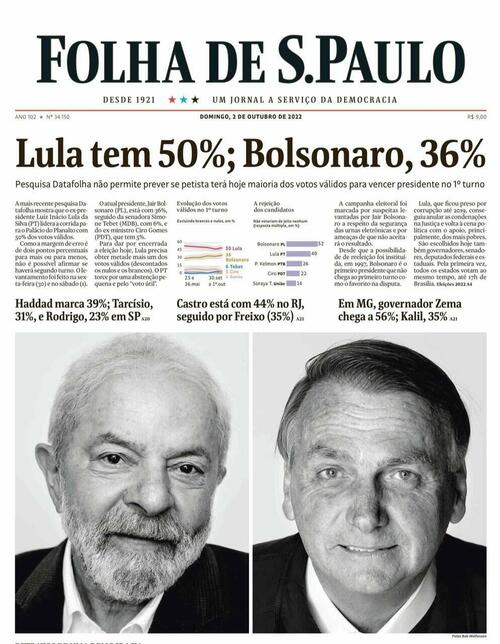 Bolsonaro's outperformance was particularly evident in São Paulo, Rio de Janeiro and Minas Gerais -- three more densely-populated states in the country's southeast. 
Interesting how Brazil's election map is shaping up. With 85.55% of the districts reporting, Lula (red) has 46.64% while incumbent Bolsonaro (blue) has 44.73%. There's a clear east-west geographic divide here.

We may be heading to a runoff. pic.twitter.com/jTiJSqdMO9

— Enzo De Borja (@EnzoDeBorja) October 2, 2022
With neither candidate winning a majority, the two are headed for a run-off on Oct 30, minus nine other candidates who participated in the first round. Of 27 Senate seats in play on Sunday, Bolsonaro's right-wing allies won 19, feeding a sense that momentum is on Bolsanaro's side. 
"The extreme right is very strong across Brazil. Lula's second-round victory is now less likely. Bolsonaro will arrive with a lot of strength for re-election," Carlos Melo, a political scientist at the Insper Institute of Education and Research in São Paulo, told Reuters. 
Brazilian markets are expected to rise in response to Bolsonaro's surprising performance. Even if Bolsonaro doesn't rally to win the run-off, many anticipate that Lula's underperformance will nudge him toward more centrist and market-friendly policy stances.    
The "results signal that if Bolsonaro wins, the reform agenda will continue," Luiz Fernando Figueiredo, a partner at Maua Capital and former central bank director told Bloomberg. "But if Lula wins, it should be a more pragmatic government, which should be positive for investors."
Lula, a former union leader who was president from 2003 to 2010, was convicted in 2017 on money laundering and corruption charges and spent 19 months in prison. Last year, the country's Supreme Court reversed the controversial convictions. 
Loading...