---
Brazil, Argentina Holding Talks Over Possible Common Currency
Authored by Katabella Roberts via The Epoch Times,
Brazil and Argentina plan to advance talks about a common currency for financial and commercial transactions in an effort to improve economic integration, leaders of the two nations said on Jan. 21.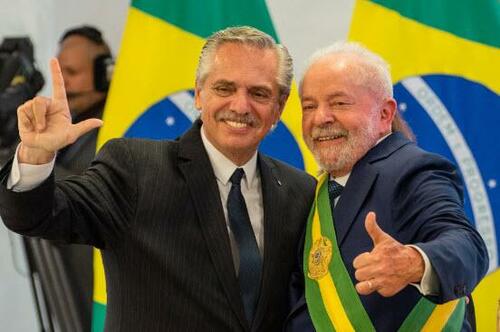 Brazilian President Luiz Inacio Lula da Silva, who was sworn in on Jan. 1, and Argentine leader Alberto Fernandez shared details about the talks regarding a shared currency in a joint article published on the Argentine website Perfil, CNBC reported.
"We intend to overcome the barriers to our exchanges, simplify and modernize the rules and encourage the use of local currencies," the two leaders wrote.

"We also decided to advance discussions on a common South American currency that can be used for both financial and commercial flows, reducing costs operations and our external vulnerability," the article said.
Argentina's economy minister Sergio Massa told the Financial Times that the two nations - South America's two largest economies - will announce this week that they are beginning preparatory work on the common currency.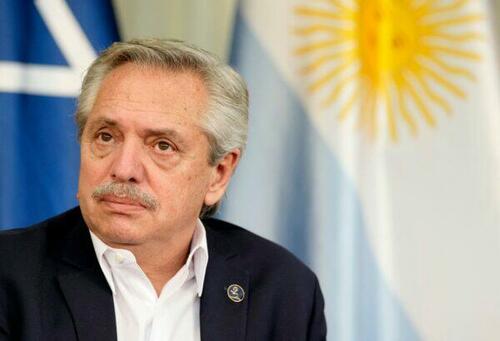 Argentina's President Alberto Fernandez is pictured during a bilateral meeting with the German Chancellor on the sidelines of the G-7 summit at Elmau Castle, southern Germany, on June 27, 2022. (Markus Schreiber/POOL/AFP via Getty Images)
Other Latin American Nations Will Be Invited
"There will be …. a decision to start studying the parameters needed for a common currency, which includes everything from fiscal issues to the size of the economy and the role of central banks," Massa said.
Massa also noted that Brazil and Argentina would invite other nations in Latin America to join in the common currency, but stressed that he didn't want to create any "false expectations" and that the talks between the countries are "the first step on a long road which Latin America must travel."
Brazilian finance minister Fernando Haddad initially raised the idea of a common currency in an article published last year but ultimately nothing materialized.
The talks come as inflation in Brazil slowed down at the end of 2022 from its previous double-digit highs throughout the year amid the government's aggressive monetary policy tightening.
The nation's inflation rate eased to 5.79 percent in December 2022, according to statistics agency IBGE, down from 5.90 percent in November but still higher than the 5.60 percent median forecast in a Reuters poll of economists.
In December, Brazil's Congress approved Lula's $33 billion spending plan for this year which includes boosting paycheck for lower-income households and raising the minimum wage, just some of the pledges the new president made during his campaign.
Meanwhile, Argentina is battling the highest inflation in over three decades as prices almost doubled in December compared to a year prior. Inflation stood at 5.1 percent month-on-month in December and was up 94.8 percent year-on-year.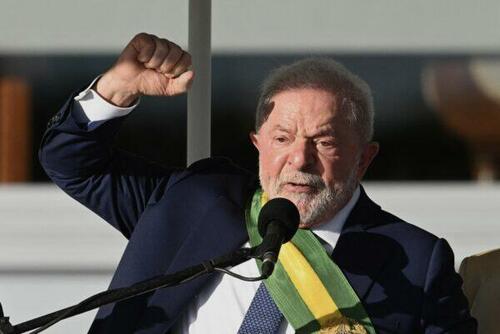 Brazil's new President Luiz Inacio Lula da Silva delivers an inaugural speech at Planalto Palace after his inauguration ceremony at the National Congress, in Brasilia, Brazil, on Jan. 1, 2023. (Evaristo Sa/AFP via Getty Images)
Argentina Trade Falling, Finance Minister Says
Argentina has also been largely cut off from international debt markets after it failed to pay a roughly $500 million interest payment on foreign debt in 2020 and still owes the International Monetary Fund more than $40 billion from a 2018 bailout. That could pose problems when it comes to creating a common currency with its neighbor.
Haddad recently told reporters in Buenos Aires that Argentina is trying to "boost trade, which is falling a lot," Bloomberg reported.
A common currency for financial and commercial transactions, which could reduce reliance on the U.S. dollar, could also help with the current decline in trade, according to Haddad.
"We're analyzing many possibilities," Haddad said.

"Something that allows us to increase trade because Argentina is one of the countries that buys manufactured goods from Brazil and our exports here are falling."
If successful, the common currency could potentially eventually create the world's second-largest currency bloc, after the European Union. The euro is the official currency of 20 of the 27 member states of the EU. However, it took over 35 years to create the euro.
Lula is currently in Argentina where he is set to attend a summit of the Community of Latin American and Caribbean States, which Brazil left in 2019 under former leader Jair Bolsonaro.
Businessman Elon Musk weighed in on Brazil and Argentina's potential shared currency on Jan. 22, writing on Twitter that it is "probably a good idea."
Top economists dismissed the creation of a common currency by Argentina and Brazil, saying the idea floated by the presidents of both countries on Sunday faces too many practical obstacles for it to become reality.
Mohamed El-Erian, chief economic adviser at Allianz SE and Bloomberg Opinion columnist, wrote on Twitter that South America's two largest economies are in no position to make the idea succeed given their current conditions, and that the implementation of a common currency is "far from probable."
Olivier Blanchard, a former International Monetary Fund chief economist, called the proposal "insane" while former US Treasury Secretary Larry Summers labeled it "highly problematic given the differences in the economies."
I'm surprised by idea of a common currency for Brazil & Argentina. This seems highly problematic given the differences in the economies, histories of problematic populism in both places,relatively thin political connection btw them & both countries problems w fixed exchange rates

— Lawrence H. Summers (@LHSummers) January 23, 2023
Even if it's hard to see a unified Argentina-Brazil currency any time soon, the idea still triggered a cascade of different comments on social media. Brian Armstrong, chief executive officer of Coinbase, a publicly traded crypto exchange, suggested the South American countries should instead adopt Bitcoin in the long term.
Loading...