---
Brazil Charges Glenn Greenwald With Cybercrimes
Prosecutors in Brazil charged American journalist Glenn Greenwald with cybercrimes on Tuesday for his role in spreading embarrassing text messages that exposed corruption within the Brazilian judicial system, according to the New York Times.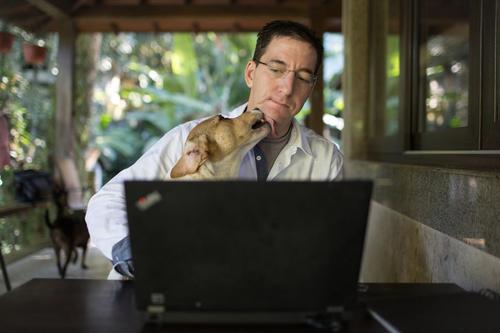 In a 91-page criminal complaint made public on Tuesday, Greenwald is accused of participating in a "criminal organization" that spread text messages which called into question the "integrity, professionalism and motives of key members of Brazil's justice system — particularly of figures directly involved in the investigation of a vast corruption scheme that resulted in the imprisonment of powerful business and political figures."
Greenwald - who moved to Brazil in 2005 with his husband David Miranda - now a congressman, went beyond simply receiving the texts and publishing newsworthy information according to prosecutors.
Citing intercepted messages between Mr. Greenwald and the hackers, prosecutors say the journalist played a "clear role in facilitating the commission of a crime."

For instance, prosecutors contend that Mr. Greenwald encouraged the hackers to delete archives that had already been shared with The Intercept Brasil, in order to cover their tracks.

Prosecutors also say that Mr. Greenwald was communicating with the hackers while they were actively monitoring private chats on Telegram, a messaging app. -New York Times
Greenwald - an attorney, rose to international prominence in 2013 for his role in the release of classified documents revealing America's extensive NSA surveillance apparatus, after National Security Agency whistleblower Edward Snowden leaked documents to Greenwald, who worked for The Guardian at the time.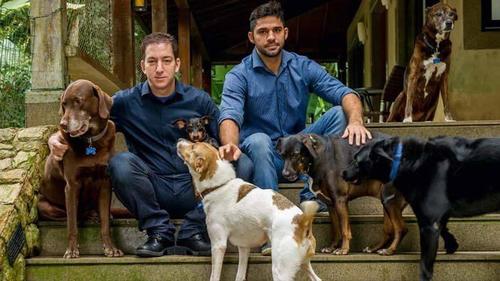 In 2016, Greenwald launched The Intercept Brasil, which began publishing articles based on the leaked text exchanges last June.
The articles raised questions about the integrity, professionalism and motives of key members of Brazil's justice system — particularly of figures directly involved in the investigation of a vast corruption scheme that resulted in the imprisonment of powerful business and political figures.

Among the revelations in the articles, for instance, were chats in which Sérgio Moro, a former federal judge who handled the prosecution of former President Luiz Inácio Lula da Silva in 2017, provided strategic guidance to prosecutors, in violation of legal and ethical norms. Mr. Moro is now Brazil's justice minister. -New York Times
Note from Glenn Greenwald about the grave attack on a free press by the Bolsonaro government — in obvious retaliation for the exposés we've been publishing since June revealing grave revelation by his Minister of Justice and Public Security Sergio Moro: pic.twitter.com/IBxrj5baHB

— Glenn Greenwald (@ggreenwald) January 21, 2020
Solidarity with @ggreenwald against the fascist Brazil regime. Lot of liberal hacks have been drooling to see Greenwald to get stomped, maybe now some of them will come to their senses.https://t.co/vGFTlsI6AF

— Mark Ames (@MarkAmesExiled) January 21, 2020
Snowden, meanwhile, recommends we read this thread:
The claim by prosecutors is that one line of conversation in which Glenn allegedly says to the alleged hackers "we have already saved everything...I think there's no reason, no motive for you to save anything, understand?" is proof that he is a criminal collaborator. Wrong.

— Andrew Fishman (@AndrewDFish) January 21, 2020
Folhapress from Dec: "Glenn Greenwald, founder of Intercept, is not charged with any crime. The PF points out that the journalist, in more than one dialogue with the hackers, as sources, was cautious about not participating in the execution of the crime." https://t.co/4RYKdTAgBs

— Andrew Fishman (@AndrewDFish) January 21, 2020
More from Mendes ruling: "The constriction of individual freedoms of the journalist with the purpose of unveiling his source confidentiality, even when it occurs through institutionalized means of persecution, can come to constitute an unequivocal act of censorship."

— Andrew Fishman (@AndrewDFish) January 21, 2020
Note: This is the same federal prosecutor, Wellington Divino Marques de Oliveira, that attempted to charge the president of the Brazilian Bar Association (OAB) for libeling Justice Min. Sergio Moro. That similarly spurious case was rejected by a judge. https://t.co/hzvDznD5L0

— Andrew Fishman (@AndrewDFish) January 21, 2020
"Journalists can also ensure chronological sequence of their relationship with the source is recorded, to prove that the hack was prior to the contact w the journalist. This protects the journalist...and does not criminally associate him with the hacker." https://t.co/68EkEI2Lhl

— Andrew Fishman (@AndrewDFish) January 21, 2020