---
"Brutal War Of Attrition": Latest Armenia-Azerbaijan Truce Broke Down Within Hours
A tenuous ceasefire took effect Saturday night between Armenian and Azerbaijani forces - the second ceasefire since the start of the conflict in the disputed autonomous region of Nagorno-Karabakh last month.
But the truce had crumbled a mere few hours in, with the resumption of full fighting and artillery fire by early Sunday morning, and both sides blaming the other for breaking it.
The prior weekend a Russia-brokered temporary ceasefire held long enough for the Red Cross and other emergency responders to gather bodies of the deceased, but then shelling resumed also hours after.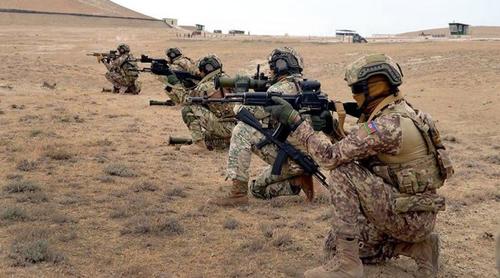 On Sunday the Defense Ministry of breakaway Armenian ethnic Nagorno-Karabakh announced the death toll among its military has risen to 710, also with likely hundreds or possibly thousands more casualties among national forces from the Armenian Army as well as civilians in the region. The Azerbaijan side has not been releasing its death toll.
On Sunday the United Nations urged the warring parties to respect the truce — statements made even as it was already fast unraveling:
UN chief Antonio Guterres has called on Armenia and Azerbaijan to respect the truce and condemned attacks on civilians in fighting over Nagorno-Karabakh.

Guterres singled out one of the deadliest attacks on civilians so far, when a missile hit a residential area of Azerbaijan's second city Ganja on Saturday, killing 13 people including children.
Despite the prior high hopes that a ceasefire might hold long enough to lead toward Russia mediated talks between Armenia and Azerbaijan, the conflict is now being widely seen as a "brutal war of attrition". 
It appears the two sides have used the two brief ceasefire to jockey for better battlefield positions:
Video surveillance devices of the Artsakh Defense Army recorded the exact location and time of how the enemy launched an offensive in the direction of the Armenian positions in the early morning hours of October 18, violating the agreement for ceasefire. pic.twitter.com/XjSCvq6tle

— Shushan Stepanyan (@ShStepanyan) October 18, 2020
A New York Times correspondent who recently witnessed the front lines described the following: 
On the front line, the stench is overwhelming. The remains of fighters have been lying there for weeks.

In the trenches, there is fear. The Armenians are defenseless against the Azerbaijani drones that hover overhead and kill at will.

At the military graveyard, bulldozers have scraped away a hillside. It is already lined with two rows of new graves, along with soon-to-be-filled, freshly dug, rectangular holes.
Meanwhile, Turkey has become more vocal in its political support to Azerbaijan, amid broader accusations that it's supplying Syrian mercenaries as well as F-16 fighters to the conflict on the Azeri side.
President Erdogan is said to be livid that Russian attempts to mediate the dispute have by and large cut Ankara out so far.