---
Buffett's Berkshire Hathaway Fined For Violating Iran Sanctions
While 'shocking' headlines these days are becoming so ubiquitous as to become numbing to market participants, news that Warren Buffett's Berkshire Hathaway has agreed to a $4.1 million settlement after a subsidiary in Turkey appeared to violate U.S. sanctions on Iran, perhaps wins the day (so far).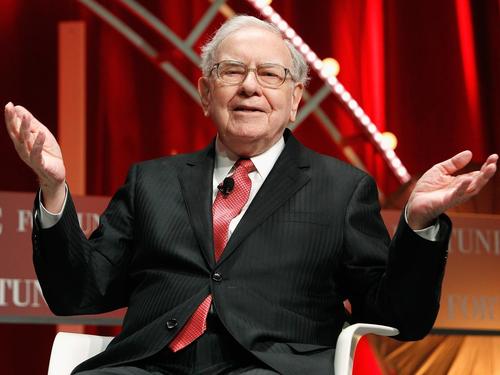 The US Treasury Department enforcement release explains that Berkshire Hathaway has agreed to pay $4,144,651 to settle its potential civil liability for trade-related transactions and exports to Iran engaged in by its indirectly wholly owned Turkish subsidiary, Iscar Kesici Takim Ticareti ve Imalati Limited Sirket ("Iscar Turkey").
Iscar Turkey sold cutting tools and related inserts to two third-party Turkish distributors knowing that such goods would be shipped to a distributor in Iran for resale to Iranian end-users, including several entities later identified as meeting the definition of the Government of Iran, in violation of Berkshire's compliance policies. Iscar Turkey took steps to obfuscate its dealings with Iran, including concealing these activities from Berkshire.
Treasury explains that Iscar Turkey's conduct in this matter, as further detailed below, represents particularly serious apparent violations of the law calling for a strong enforcement action.
From on or about December 2012 to on or about January 2016, Iscar Turkey, through the actions of certain employees, knowingly engaged in transactions, directly or indirectly, with persons subject to the jurisdiction of the Government of Iran that would have been prohibited pursuant to the Iranian Transactions and Sanctions Regulations, 31 C.F.R. part 560 (ITSR), if engaged in by a U.S. person or in the United States. Specifically, Iscar Turkey sold cutting tools and related disposable inserts to two Turkish intermediary companies knowing that those goods would be supplied to an Iranian distributor for resale to Iranian end-users, including several end-users later identified by Berkshire as meeting the definition of the Government of Iran. Iscar Turkey completed 144 orders of goods that were ultimately resold and shipped to Iran with a total transactional value of $383,443 in apparent violation of § 560.215 of the ITSR (the "Apparent Violations"). Additionally, Iscar Turkey purchased goods produced by other Berkshire subsidiaries to fulfill orders destined for Iran.

The Apparent Violations occurred under the direction of certain Iscar Turkey senior managers despite Berkshire and other Berkshire subsidiaries' repeated communications and policies sent to Iscar Turkey regarding U.S. sanctions against Iran and the application of the ITSR to Iscar Turkey's operations. The General Manager for Iscar Turkey reportedly believed it was inevitable that U.S. and European Union sanctions against Iran would be lifted, and sought to be well positioned to sell in the Iranian market. To capitalize on this potential easing of sanctions, the General Manager for Iscar Turkey established in 2012 a small-volume commercial relationship with an Iranian distributor so that, if sanctions against Iran were eased, Iscar Turkey would be well positioned to expand its sales to Iran. The General Manager and his employees took certain steps to conceal Iscar Turkey's activities and plans with Iran such as: utilizing private email addresses that bypassed the controls and visibility of the corporate email system to communicate about orders from Iranian customers; utilizing false names in internal records of Iscar Turkey to conceal transactions; providing false assurances in response to compliance inquiries; providing fraudulent evidence of a compliance training session; and, when the internal investigation was initiated, lying to interviewers and counseling others to lie.

On June 11, 2012, Iscar Turkey's Sales Manager and two other Iscar Turkey employees travelled to Iran after Iscar Turkey was approached by an Iranian company regarding a potential large order of cutting tools. Iscar Turkey's General Manager authorized the trip to Iran. During the trip, Iscar Turkey employees met with senior managers of an Iranian distributor. Following the meeting, Iscar Turkey established a business relationship with the Iranian distributor and used two independent Turkish companies as distributors (the "Turkish Distributors") to conceal that the goods were ultimately destined for Iran.

In January 2013, Iscar Turkey provided one of the Turkish Distributors with an open-ended authorization letter that certified it as an authorized distributor responsible for selling in the region all Iscar Turkey products as well as products from four other Berkshire subsidiaries. This letter was specifically used for sales in Iran by the Turkish Distributors.

To obfuscate Iscar Turkey's dealings with Iran, the Iranian distributor made payments in cash and denominated in Euros. Subsequent transactions were paid through the formal banking system denominated in Euros. The Turkish Distributors also entered into arrangements with other Turkish companies to issue false invoices, falsely giving the impression that goods were going to other Turkish companies rather than Iran. Furthermore, Iscar Turkey's employees caused Iscar Turkey to list incorrect end-customer names for the majority of its orders arising from the Apparent Violations in an apparent attempt to mask the Iranian end users and conceal from Berkshire and its subsidiaries that sales to Iranians were occurring. At least one entry used a fake name created by an Iscar Turkey employee for a non-existent company. Starting in 2014, Iscar Turkey personnel used private email addresses not tied to the company or the employees' actual names to further conceal the Apparent Violations and prevent others within Berkshire and Berkshire's subsidiaries from detecting the Iran-related activity. Iscar Turkey's Sales Manager instructed employees to open private email accounts and to use those accounts to communicate about the orders destined for Iran.

Despite the efforts taken by Iscar Turkey's employees to conceal their Iranian activities, employees of certain other Berkshire subsidiaries received specific information in emails that could have revealed that orders placed by Iscar Turkey may have been destined for Iranian end users and in contravention of their respective corporate policies and procedures. For example, these Berkshire subsidiaries received emails: (1) containing an Iranian address in the email chain indicating that the distributor was in Iran; or (2) referencing a customer in the email chain known to a subsidiary to be located in Iran. Despite these warning signs, only one Berkshire subsidiary informed Iscar Turkey that an order was for an Iranian customer and that such transactions were prohibited; the others did not.
*  *  *
To its credit, Berkshire voluntarily self-disclosed the apparent violations to OFAC in May 2016 after receiving an anonymous tip in January 2016 regarding the apparent violations, and Treasury reports that Berkshire took appropriate measures upon learning of Iscar Turkey's dealings with Iran, to include replacing personnel involved in the Apparent Violations and enhancing compliance procedures for its foreign subsidiaries.
Still, quite a headline!