---
ByteDance Breaks Off TikTok Deal Talks As Game Of 'Political Chicken' With Beijing Intensifies
During what has already been a tense day for Beijing's deteriorating relationship with the West, a day that has seen the CCP slap sanctions on nearly a dozen GOP lawmakers & China hawks, while arresting a pro-democracy media tycoon with dual British citizenship in Hong Kong, Beijing has just sent the clearest signal yet that it will oppose the sale of TikTok to Microsoft, and likely any other US buyer.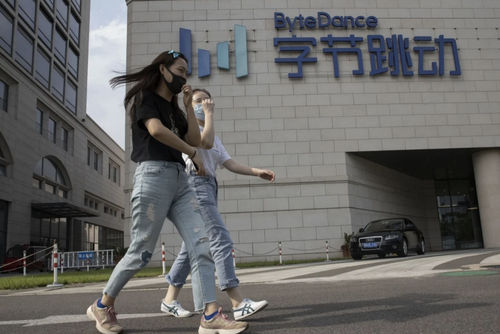 The decision comes amid intense pressure from the Trump Administration pressing ByteDance to sell TikTok, which is believed to have 100 million users in the US, a fraction of its total global user base, or face a ban from the Apple and Android US app stores, an almost-unprecedented move that would severely limit the popularity of the breakout Chinese social media platform.
And the fact that the news is being published by the SCMP, an English-language newspaper controlled by Alibaba founder Jack Ma, who has already been outed as a member of the Communist Party, suggests that this is Beijing's new official negotiating line. It's part of a complex and opaque strategy of using leaks to state-controlled and state-sympathetic media and reporters around the world.
Instead of kowtowing to Trump, ByteDance plans to sue the Trump Administration (which we reported a few days ago) and aggressively fight for the right to continue operating. Part of its lawsuit seeks to repudiate the administration's claim that the app represents a national security threat.
Then again, according to the SCMP, a deal isn't entirely out of the question: The chances of Microsoft buying TikTok are now "less than 20%". And the chances of ByteDance striking a deal with Twitter are even smaller.
Meanwhile, ongoing talks with potential suitor Microsoft, as well as reported preliminary talks with social media giant Twitter, are unlikely to end in a deal, said one of the people who has been briefed on the talks but who declined to be named as the information is not public.

The person said the probability of Microsoft buying TikTok is "not higher than 20 per cent" since the initial price offered by the US software giant was akin to "robbing the owner when his house is on fire".

And the chances of Twitter buying TikTok were said to be even smaller, according to the person, as the US social media platform "just doesn't have enough money."

ByteDance declined to comment when approached about the talks with Microsoft and Twitter.
Microsoft was reportedly trying to buy TikTok in the US, Canada and Australia for a price of between $10 and US$30 billion, while other reports claimed Microsoft was considering a deal that would have handed it the entire global business ex-China (to be sure, the China-facing business is run through a separate app, called Douyin).
But since the SCMP can't come out and say that the deal will be scuttled by opposition from Beijing, as TikTok becomes a political football, the paper reports that the decision not to sell comes from BD's founder and CEO, Zhang Yiming, an up-and-coming tech superstar in China. Apparently, giving away his golden goose would cripple the company's ability to grow, dashing Zhang's dreams of building ByteDance into a global tech conglomerate to rival US behemoths.
"Yiming's dream is to create a global business," the person said, referring to Zhang Yiming, the 37-year-old founder of ByteDance. "But if he is set to lose TikTok in the US market either by selling it to a potential competitor or a forced exit, he will have nothing else to lose. Of course he will try every possible way to fight back."

Meanwhile, the second person familiar with the situation said the Beijing-based company is preparing to harden its legal opposition to US demands, reflecting frustration with previous efforts to accommodate US concerns and public opinion in China which wants it to fight back.

"The initial response of ByteDance to Trump's threats has earned it a nickname of Byte-kneel [to the US]," the person said. "It's time for ByteDance to push back since there's really no room to step back now."
The Trump Administration has given ByteDance until Sept. 15 to sell TikTok or risk a "national security" ban (which would likely be struck down by the courts anyway). It looks like the company is doing exactly what we expected: Instead of playing ball, it's fighting back. In theory, it's a win-win: If TikTok loses, then Beijing can credibly denounce the American courts as corrupt and fundamentally discriminatory toward foreigners.