---
Texas Suffers Record Jump In COVID-19 Deaths, Brazil Reports Record 67k New Cases: Live Updates
Summary:
Texas sets new daily death record
Brazil reports 60k plus cases
35 of 58 California counties on no-school 'watchlist'
Ohio Gov signs mandatory mask order
California reports another daily record of 12,807
World passes 15mil covid cases
Arizona reports 1,926 new cases
NY sees fewer new cases than yesterday
California passes NY in COVID-19 case total
US pays $2BN for 100M doses of Pfizer-BioNTech vax candidate
Florida releases latest numbers
* * *
Update (1730ET): We have a few more alarming COVID-19 headlines out of the Americas following today's US market close.
The biggest news is out of Texas, where the state just reported a new record daily death tally of 197. The state also reported 9,879 new cases, below 10k, but still in line with recent 7-day and 14-day averages.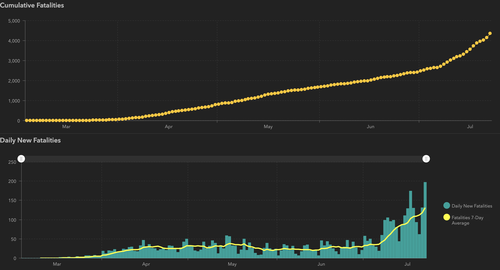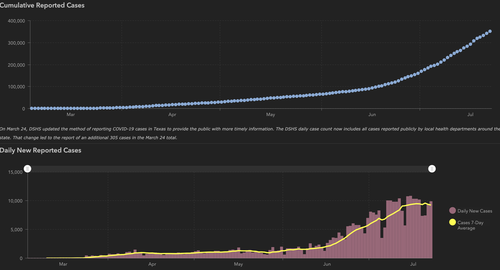 The statewide positivity rate for Wednesday's numbers is 14.18%.
Meanwhile, Brazil reported 67,860 new cases and 1,284 new deaths in just 24 hours, a new record for the country with the world's fastest growing outbreak. That's more than today's total from the US (so far at least).
* * *
Update (1515ET): Now 35 of California's 58 counties have been added to the state's watchlist.
CALIFORNIA NOW HAS 35 OF ITS 58 COUNTIES ON VIRUS WATCH LIST
All counties on the watchlist must keep schools closed.
California Gov Gavin Newsom said during a press briefing after announcing the state's biggest daily jump in COVID-19 cases, he said this total was "the highest in the nation." The previous record was 11,694, on July 7.
Newsom said 35 counties in the state (up from 33) are on the state's no-school watch list.
The 7-day positivity rate of tests in California is 7.6% roughly even with last week.
California now has 413,576 confirmed cases of COVID-19, and 7,870 deaths. The number of COVID-related deaths increased by 1.5% from Monday's total of 7,755. The number of COVID-19 diagnostic tests hit 6,664,419, up 127,487 from Monday. The rate of positive tests over the last 14 days is 7.4%.
California's hospitalizations due to COVID-19 increased by 79.
The record jump comes just days after Newsom loosened some restrictions on Monday (after forcing hundreds of thousands of businesses to close down or cut back again). Now, Newsom plans to adjust some of the workplace closure guidelines it issued last week, specifically those around hair salons and barbershops and the "personal care services industry," which he previously said could operate outdoors.
* * *
Update (1430ET): In a series of back-to-back COVID-19 headlines, California reported its largest daily jump yet with 12,807 new cases, while Ohio Gov Mike DeWine issued an executive order requiring masks to be work in all public places indoors and outside when social distancing isn't possible.
CALIFORNIA REPORTS DAILY RECORD OF 12,807 NEW VIRUS CASES
OHIO TO REQUIRE MASKS STATEWIDE AS OF 6 P.M. THURSDAY
OHIO GOVERNOR DEWINE REQUIRES MASKS WORN IN PUBLIC STATEWIDE
Here's more on the Ohio order, per Gov DeWine's twitter account:
Beginning tomorrow at 6:00pm, citizens in all Ohio counties will be under a mandatory mask order while out in public. pic.twitter.com/UqLEzT3Mly

— Governor Mike DeWine (@GovMikeDeWine) July 22, 2020
Masks must be worn at all times when:
➡️At an indoor location that's not a residence
➡️Outdoors, when unable to keep 6ft social distance from those not in your household
➡️When waiting for, riding, driving, or operating public transportation -taxi, car service, private rideshare

— Governor Mike DeWine (@GovMikeDeWine) July 22, 2020
This order only requires those who are 10 years old or older to wear a mask. In addition, the following do not need to wear a mask: pic.twitter.com/xv9CX8itYi

— Governor Mike DeWine (@GovMikeDeWine) July 22, 2020
Wearing masks will make a difference. It will determine what our fall looks like. We want kids to go back to school, we want to see sports -- to do that it's very important that all Ohioans wear a mask. #MasksOnOhio

— Governor Mike DeWine (@GovMikeDeWine) July 22, 2020
Ohio's decision follows a similar move by Washington DC Mayor Muriel Bowser earlier on Wednesday.
* * *
Update (1300ET): Global COVID-19 cases have surpassed 15 million as of 1230ET, according to data from Johns Hopkins University, widely seen as the most credible tracker of the virus worldwide. The JHU tally reached 15,000,424 as of 12:35ET.
Last night, we reported that the US passed 1,000 daily COVID-19 deaths for the first time since late May/early June (depending on whose numbers one uses).
Globally, the virus has caused 617,832 confirmed deaths.
The US is the world leader, with 3,915,780 cases, followed by Brazil with 2,159,654 and India with 1,193,078.
The US leads with more than 140k confirmed deaths, followed by Brazil with more than 80k and then the UK in third. The UK still has counted 45,586 fatalities, a heavy toll that has been linked to poor protections in nursing homes and other long-term care facilities (also a shortcoming cited for the steep death toll in New York State).
Arizona, meanwhile, reported 1,926 new cases, the latest indication that the outbreak in the state is in retreat.
Yet more evidence that Arizona cases are falling, and the Florida's have peaked. Clear good news.
Chart updated for today's numbers. pic.twitter.com/RZ2uVK4RRg

— Ian Shepherdson (@IanShepherdson) July 22, 2020
The daily positivity rate, meanwhile, was at 12.5%.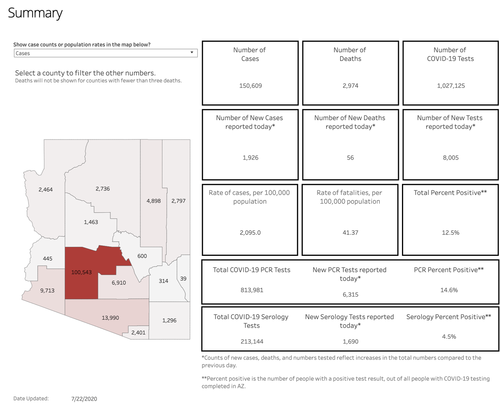 * * *
Update (1130ET): New York Gov Andrew Cuomo has just released the latest numbers for his state, the first since it sunk behind California in the national rankings maintained by the AP. Happily, NY showed a drop DoD in the number of newly confirmed cases
Today's update on the numbers:

67,659 tests were performed yesterday. 705 tests came back positive (1.04% of total).

Total hospitalizations fell to 714.

Sadly, there were 9 COVID fatalities yesterday. pic.twitter.com/3N7hIsqFcV

— Andrew Cuomo (@NYGovCuomo) July 22, 2020
As we noted earlier, Florida reported 9,785 new coronavirus cases and 139 new deaths on Wednesday, suggesting that the elevated pace of deaths has yet to slow. Statewide, there have now been 379,619 infected and 5,345 Florida residents killed.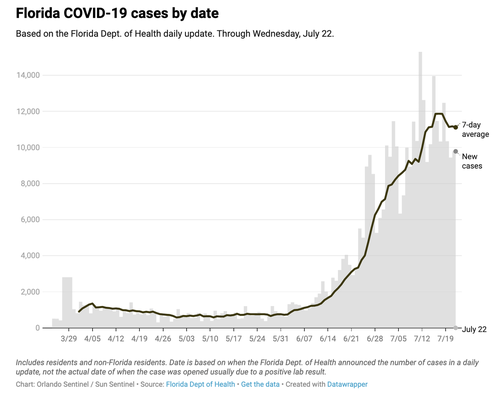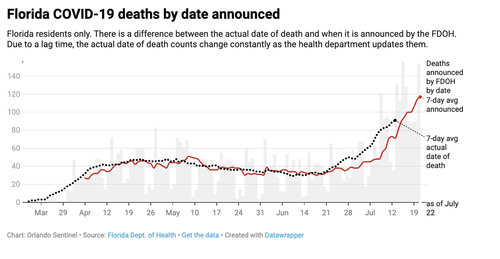 To date, 22,243 people have been hospitalized in Florida, 463 more than the prior day. Across the state, 9,492 patients were currently hospitalized with COVID-19 as of 1100ET. The statewide positivity rate declined to 10.5%. South Florida remains the hardest-hit part of the state, with Miami-Dade and Broward Counties among the worst hit. The region has recorded 163,598 total, including 4,513 new cases reported Wednesday from Miami-Dade, Broward, and Palm Beach counties.
* * *
After suffering the biggest single-day jump in deaths since May 29...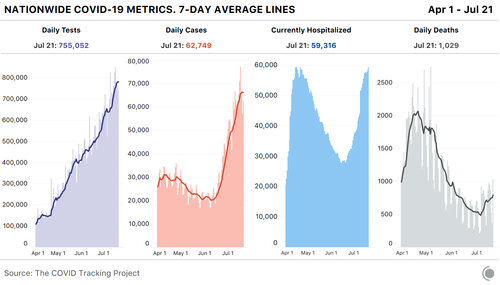 ...the US has reached yet another disappointing COVID-19 milestone as California's case tally has officially passed that of New York, meaning the most populous state in the US is now also the state with the biggest COVID-19 outbreak.

According to the AP's count, California's confirmed coronavirus cases have hit 409,370, surpassing New York's total (note: totals differ between different sources). JHU data showed Cali's Wednesday morning total was 1,200 more than NY's.

However, New York's 72,302 death toll is far larger than California's. In fact, it's not just larger, it's 9x larger than California's tally. NY's infection rate per 100,000 people is also twice California's (which is unsurprising since Cali has 2x the population). California is far and away the most populous US state, with nearly 40 million people, while New York has about 19.5 million.
After California and New York, Florida occupies the No. 3 spot with about 370k cases, and Texas comes in 4th with 350k. In other news, Florida has just reported its latest daily COVID-19 tallies.
FLORIDA COVID-19 CASES RISE 2.6% VS. PREVIOUS 7-DAY AVG. 3.5%
The other piece of major COVID-19-related news from this morning: the US has agreed to pay $2 billion for 100 million doses of an as-yet-unproven COVID-19 vaccine from Pfizer and BioNTech.