---
CCP Asks China's Banks To Dig Up More 'Dirt' On Jack Ma & Ant Group
It looks like the CCP is again beating the bushes and shaking the trees to find more incriminating evidence of corruption and illegality - and other 'dirt' - involving Ant Group and its founder, Jack Ma. About a month ago, Ma and Ant Group were implicated in one of China's biggest corruption scandals in recent memory: it involved a former top CCP official in Hangzhou, the city where Ant got its start.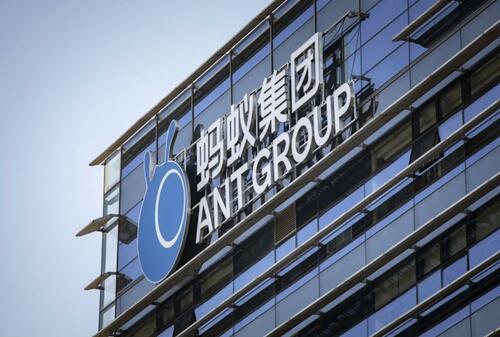 Now, the CPP has ordered the country's banks and other firms to scour their records for any more 'evidence' of any potentially corrupt dealings involving Ant. Beijing has been seeking to punish the company since it abruptly scrapped its planned IPO back in the fall of 2020, before taking steps to limit the company's growth potential.
Since then, CEO Jack Ma has become something of a ghost, occasionally disappearing from public view for long stretches of time. News that China's National Audit Office is leading what has been described as "by far the most thorough and wide-ranging look into deals with Ant" suggests authorities are looking to quickly build another case against the company.
Here's more from Bloomberg.
Multiple regulators, including the banking watchdog, recently told institutions under their oversight to closely examine all exposure they had to Ant, its subsidiaries and even its shareholders up to January, said the people, asking not to be identified as the matter is private. Those people described this as by far the most thorough and wide-ranging look into deals with Ant and said institutions were told they must report findings back as soon as possible.

It was unclear what triggered the new scrutiny or whether it will lead to any actions or conclusions by regulators, the people said. The National Audit Office is leading the initiative, two of the people said. The China Banking and Insurance Regulatory Commission and the top auditor didn't immediately respond to requests seeking comment. Ant declined to comment.

More than a year after the Chinese government snuffed out the biggest initial public offering in history by Ant, Beijing has showed no letup in a crackdown that has snowballed into an assault on every corner of China's technosphere. Officials have handed out billions of dollars in antitrust fines to end the domination of a few heavyweights as President Xi Jinping pushes for more "common prosperity."
Chinese banks have been paring back their work with Ant since the crackdown, and thanks to government insistence that Ant form a bank holding company so it could be regulated "like a bank" - forcing it to keep a much larger amount of customer capital on its balance sheet. The new restrictions have caused the amount of assets held in Ant's money market-like products to shrink by one-third.
Chinese tech giants like Meituan, Tencent and Alibaba - the latter two of which own a stake in Ant Group  - saw their share prices drop on the news as investors feared Beijing might be gearing up for another crack at the country's biggest tech giants, which have been facing unrelenting government pressure since shortly after the death of the Ant IPO. Chinese authorities have doled out billions of dollars in fines to tech giants as part of President Xi's "common prosperity" plan.
It's also bad news for Charlie Munger, who told the audience at his City Journal conference the other week that he's still optimistic about investing in China. He even praised the CCP for its extremely brusque handling of Ma. Speaking of the Ant Group IPO, Munger said: "The Chinese communists did the right thing they just called him up and said 'you aren't going to do it, sonny.'"