---
CDU Anoints Merkel's Successor In Party Leadership Vote
Ever since Angela Merkel's protege, Annegret Kramp-Karrenbauer, resigned as minister of defense and Merkel's hand-picked successor as leader of the CDU 11 months ago after defying Merkel's ban on working with the far-right AfD (Alternative for Germany) party (the two parties worked together to install a conservative, pro-business candidate as premier), Germany, and its European allies, have been eagerly anticipating the election of her successor.
The wait is now over. On Saturday, Armin Laschet, prime minister of the German state of North Rhine-Westphalia, has officially been elected to lead the CDU. With Merkel set to retire at the end of the year, Laschet has roughly 10 months to convince Germans that he could be a responsible steward, since - as he made clear in his first post-election remarks - "continuity" is the name of the game.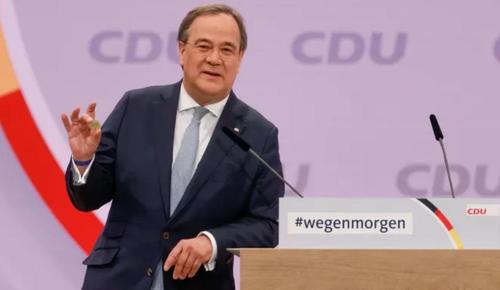 Laschet is now the front-runner in the race to succeed Merkel at the close of her 15+ year Chancellorship, during which time she has emerged as the de facto protector of the European political status quo. He won the vote for party leader on Saturday by a solid margin, beating Friedrich Merz, the former chairman of BlackRock Germany, by 521 votes to 466 in a poll held digitally, since Germany is in the middle of a strict lockdown.
Analysts at Goldman wrote in a recent note that Laschet has "styled himself as a safe pair of hands with executive experience who can appeal to conservaties and more centrist voters."
Among his top policy positions, Laschet has called for the return of the "black zero" - Germany's balanced budget rule at the federal level - to be reinstated by 2024.
In terms of European integration, Laschet and his 'running mate' Jens Spahn, Germany's health minister, who is expected to stand for deputy party leader, would support the idea of a multi-speed European Union based more on majority voting (which might mean he's more amenable to working with EU rebels Poland and Hungary).
The FT lays out Laschet's appeal, which calls for protecting the CDU's status as a big tent party.
His win marks a triumph for the liberals and centrists in the CDU, who want it to continue the moderate, middle-of-the-road policies pursued by Ms Merkel in her 16 years as chancellor. Mr Merz was backed by those who want the party to tilt the right. Mr Laschet, 59 years old, won with an emotional speech that emphasised his humble beginnings — his father was a coalminer — and conveyed a message of conciliation and compromise.

The next CDU leader must, he said, have the "ability to unify". "We'll only win if we remain strong in the centre of society," he said in his speech, which was viewed online by the 1,001 delegates. "We must ensure that this centre continues to have faith in us."

An easy-going Rhinelander, Mr Laschet wants to preserve the CDU's status as Germany's last-remaining Volkspartei, a broad church bringing together hardcore conservatives, green-tinged city dwellers and Merkel-ite liberals that has governed Germany for 51 of the past 71 years.
Of course, Laschet must still win during September's federal elections. Unfortunately, Laschet still has an uphill battle, since the CSU's Markus Söder has an edge in the polls.
Germany's next chancellor won't necessarily be decided by this weekend's vote, however. A YouGov poll taken in early January shows Markus Söder, the president of Bavaria and member of the CDU's Bavarian sister party, the CSU, as by far the top choice; 26 percent of those polled supported Söder, while Merz came a distant second with 8 percent. Tellingly for September's elections, 47 percent said either none of the above or were undecided.
The next leader will also have a tough act to follow, since Merkel is essentially the darling of the globalist Davos set For the third year running, Germany topped a Gallup poll where respondents were asked to rate their approval of a country's leadership. Another Pew poll cited by Foreign Policy showed Merkel's approval is at an all-time high, thanks to her handling of the coronavirus.
But Merkel and the rest of the German political establishment might have a serious problem on their hands. The AfD, Germany's conservative, anti-immigrant party, has been gaining in popularity as Europe's economy continues to struggle, problems that will undoubtedly be exacerbated by the latest lockdown.
Here's a rundown of Laschet and Merz, and the other expected candidates for Chancellor courtesy of a team of analysts at Goldman Sachs:
Friedrich Merz. The former head of the CDU faction in the Bundestag is widely seen as the most socially conservative option with a pro-business penchant, whose candidacy was endorsed by the economic and business association of the CDU. He narrowly lost to current party chair Annegret Kramp-Karrenbauer in the 2018 CDU leadership election after campaigning at the time to win back conservative voters that the CDU had lost to right-wing AfD amid the migration crisis.
His current campaign focuses on the digitisation of government, incentives for innovation and investment, and the green transition of the German economy. That said, Merz identifies high energy costs—along with tax burdens—as key impediments to the international competitiveness of German businesses. He has criticised German finance minister Olaf Scholz for planning another record deficit for 2021 and called for the debt brake to be respected as of 2022, although he anticipates a drawn-out impact of the Covid crisis on German public finances. While an advocate of close ties between Germany and US as well as deeper EU integration, especially in the areas of foreign and security policy, Merz has cautioned against joint EU debt issuance, suggesting that the EU's Recovery and Resilience Facility needed to remain a temporary institution.
Armin Laschet. The minister president of the state of North Rhine-Westphalia, endorsed by his state's CDU members and the party's employees' association and a favourite among the current party leadership, styles himself as a safe pair of hands with executive experience who can appeal to conservative and more centrist voters alike. Like Merz, Laschet sees the digital and green transformations as key challenges for Germany, but emphasizes the economic and social challenges associated with switching away from traditional energy sources, such as coal in particular. He has called for the 'black zero'—the balanced budget rule at the federal level—to be reinstated by 2024. In terms of European integration, Laschet and his 'running mate' Jens Spahn—Germany's health minister, who would stand for one of the deputy party leader seats in the event of a Laschet win—support the idea of a multi-speed European Union based more on majority voting.
Norbert Röttgen. The former minister for environment under Merkel and current chairman of the Bundestag's Committee on Foreign Affairs is seen as another centrist candidate. Röttgen broadly agrees with his competitors on fiscal issues—such as a return to the debt brake and eventually a balanced federal budget—and foreign policy— with calls for a more unified EU foreign policy, especially towards China. But he has sought to differentiate himself in the area of environmental policy, demanding a more ambitious climate policy and emphasizing economic opportunities offered by new industries rather than transition costs.
* * *
Source: Goldman Sachs