---
COVID-19 Records Shattered Across Europe As France Tops 40k New Cases: Live Updates
Summary:
Gilead receives FDA approval for remdesivir
Spain, Portugal also suffer records
France, Italy report new records
France expands curfew to cover 2/3rds of the population
Netherlands, Denmark suffer records
Chicago orders 'business curfew'
Sweden caps night club attendance
Florida cases top 5,550
Ohio suffers new record
Germany, Romania, Poland and Hungary report new records
US hospitalizations at 2 month high
Brazil says AZ-Oxford trials to continue
EU puts pressure on WHO for more transparency
South Korea sees rise in cases
Spain warns outbreak "out of control"
* * *
Update (1600ET): Despite WHO research showing the drug doesn't work to treat COVID-19, Gilead Sciences has managed to get FDA approval for remdesivir.
Gilead has, of course, disputed the data, but nobody notable in the scientific community have spoken up to defend the drug.
* * *
Update (1530ET): Spain just reported 20,986 new cases, making it the latest European nation to report a new record on Thursday. Earlier, neighboring Portugal reported a record 3,270.
* * *
Update (1500ET): More records are being set in Europe Thursday.
France reported more than 40,000 new cases on Thursday (41,622 to be exact), a new record, as French health authorities prepare to expand restrictions beyond Paris and the eight other metro areas where the virus is gaining momentum.
The new curfew measures will cover 2/3rds of the population, doubling the number affected to roughly 46 million.
Ireland, meanwhile, is beginning its 6-week lockdown on Thursday.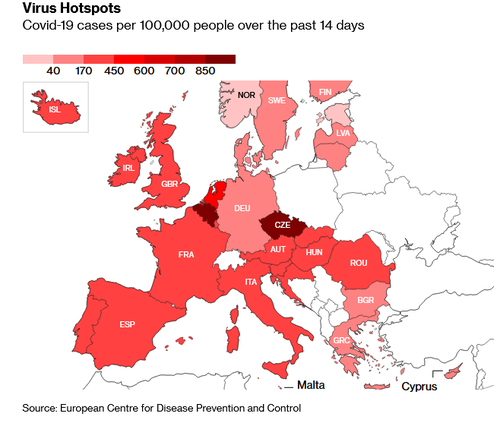 New highs were also reported in the Netherlands and Greece on Thursday. In Greece, Prime MInister Kyriakos Mitsotakis announced on Thursday that there would be a curfew in place between 1230 and 0500 in Athens and second-city Thessaloniki.
The Netherlands reported 9,283 new infections, topping 9k for the first time, while in Denmark, officials reported 760 new cases over the last 24 hours, also a record.
Finally, after photos of people partying in Stockholm caused a stir, the Swedish government has enacted a cap on the number of patrons allowed inside nightclubs at 50.
Greece reported a third straight record with 882 new cases bringing the total to 28,216. It also reported 15 more deaths, bringing its death toll to 549.
Florida posted 5,558 new cases on Thursday, its highest daily tally since mid-August.
* * *
Updates (1400ET):  As COVID-19 cases continue to climb across the Midwest, Chicago Mayor Lori Lightfoot announced Thursday that the city would be imposing a "business curfew" on bars and restaurants preventing them from serving anybody after 10pm. All nonessential businesses, in fact, will face a 6am to 10pm curfew.
Lightfood said the surge in Chicago's positivity rate over the past week, from just 4.6% to 7%, has given her no other choice. She added that she would "not be shocked"  if growing case numbers forced her to implement more emergency measures as time went on.
Elsewhere in the Midwest, Ohio Gov. Mike DeWine reported a single-day record for the state.
Today we are reporting 2,425 new cases since yesterday. This is the highest number we have ever reported on a single day. Of the 10 highest days of new cases reported, eight have occurred in just the past nine days. Nine have occurred in the month of October alone. pic.twitter.com/NYlQHWsjZw

— Governor Mike DeWine (@GovMikeDeWine) October 22, 2020
Gov. DeWine also announced five new "red" counties, bringing the total number of 'red' counties to 38, the largest number yet in the state, as cases and hospitalizations soar.
The new red counties are: Allen, Crawford, Geauga, Hardin, Lake, Lorain, Ottawa, Tuscawaras and Wayne.

Five of these counties are red for the first time: Crawford, Geauga, Lake, Ottawa and Tuscawaras.

— Governor Mike DeWine (@GovMikeDeWine) October 22, 2020
92.8% of Ohioans are living in a county that is red or high incidence. We cannot let our guard down. pic.twitter.com/TW53qSJOvr

— Governor Mike DeWine (@GovMikeDeWine) October 22, 2020
The governor blamed social gatherings and family get-togethers as the primary drivers of the spread, which doesn't bode well ahead of the holiday season.
COVID-19 cases have been surging across the American Midwest, and Europe, which also saw a number of Central European countries, among the hardest hit on the continent, report fresh records on Thursday.
* * *
Thursday is shaping up to be another rough session for Europe in terms of COVID-19, as Germany just reported more than 10,000 new cases (a new record) for one of Europe's best performers, along with Hungary, Romania and Poland, which all reported fresh record numbers of new cases as well.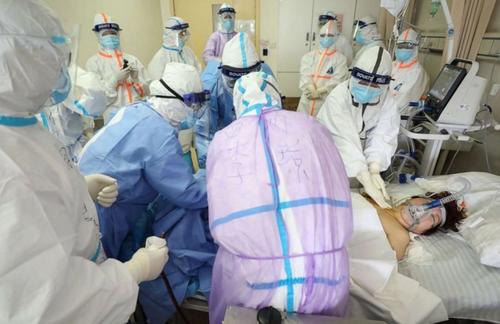 While cases continued to decline in India, the state of West Bengal notably bucked the trend on Thursday when it reported 4,069 new cases, its biggest daily tally yet, after a major Hindu street festival brought thousands together across the region. All told, India reported just 55,639 new cases in the past day, up from 54,044 the day before. India's death toll jumpd by 702 to 116,616.
Finally, in the US, the number of COVID-19 patients occupying American hospitals hit 40,000 for the first time since August, according to a Reuters tally. The milestone comes as midwestern states like Wisconsin, North Dakota and South Dakota lead the third wave of the US outbreak. Hospitals have seen the number of patients climb 36% over the past 4 weeks. New York reported more than 2,000 cases in a day yesterday for the first time since May.
After a patient enrolled in AstraZeneca's COVID-19 vaccine trial reportedly died, authorities in Brazil said they wouldn't pause the trial, run by AZ and the University of Oxford, after the death of the volunteer. The volunteer was said to be a Brazilian who had received the placebo, suggesting that his death wasn't related to COVID-19 or the trial.
Here's some other big COVID-19 news from overnight and Thursday morning:
German Health Minister Jens Spahn tested positive for the coronavirus, the health ministry says, adding that he had placed himself in home quarantine (Source: Nikkei).
The European Union wants the World Health Organization to become more transparent about how countries report emerging health crises, a draft proposal on reforming the U.N. agency says, according to Reuters. The paper, drawn up by the German government after discussions with other member states following criticism of China's initial handling of the COVID-19 pandemic, is the latest to outline the EU's monthslong plans to address WHO's shortcomings on funding, governance and legal powers (Source: Nikkei).
Tokyo reports 185 new infections, up from 150 the previous day and bringing the capital's total to 29,520.
India's COVID-19 tally tops 7.7 million after 55,839 new cases were reported in the past 24 hours, up from 54,044 the previous day. The death toll jumped by 702 to 116,616.
South Korea confirms 121 new cases, up from 89 a day ago. Total infections reach 25,543 with 453 deaths.
Romania reported a record 4,902 new coronavirus cases in the past 24 hours, bringing the total number of infections to over 196,000. It also registered 98 deaths, the highest daily toll so far. The total number of fatalities stands at 6,163 (Source: Bloomberg).
India's government has set aside about 500 billion rupees ($7 billion) to vaccinate the world's most populous nation after China against the coronavirus, according to people with knowledge of the matter (Source: Bloomberg).
Poland registered 12,107 new coronavirus cases in the past 24 hours, a 21% jump from the previous record set a day ago, according to data published by the Health Ministry on Thursday. The death toll in the country of 38 million rose by a record 168 to 4,019. The government is due to announce further restrictions on Thursday in its battle against the pandemic. Slovenia reported a record 1,663 daily infections while the number of hospitalized patients doubled in the past 10 days to 357 (Source: Bloomberg).
One day after becoming the first European country to top 1 million cases, Spain warned that the spread of coronavirus is out of control in certain parts of the country, according to Health Minister Salvador Illa. "We are in the middle of a second wave, it's no longer a threat but rather a reality," Illa said in an interview on Madrid-based Onda Cero radio. "In some parts of our country the epidemic isn't under control, so we need to take more drastic measures (Sources: Bloomberg).