---
Chilean Right Triumphs In Key Vote On Attempt To Impose 'World's Most Progressive' Constitution
Chilean assets gained Monday morning on the news of a major conservative-led political shakeup, after Sunday's vote to elect advisers to draft a new constitution saw the Chilean right come out on top. It's being widely dubbed an earthquake in Chilean politics: the ultra-conservative Republican party has won 22 of 50 seats for the body tasked with overseeing a rewrite of the country's Pinochet-era constitution, giving it clear veto power.
Led by conservative firebrand and former presidential candidate Jose Antonio Kast, the Republican party has long staunchly opposed a drastic revision of the Pinochet document. Mainstream English-language media has long dismissed Kast as a "far-right radical".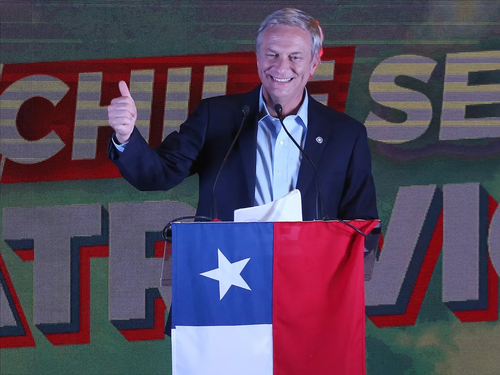 Simultaneously, the vote was a huge blow to the Left, especially at a time when center-left President Gabriel Boric's limps along with a popular approval rating of about 30%. The constitution rewrite vote is being seen as a referendum on his government.
EuroNews is reporting that "The preliminary count suggested left-leaning coalitions would not reach the 21 seats necessary to veto proposals or force consensus on certain issues."
Kast lost to Boric in 2021, but is now promising a rightward shift for Chile: "Today is the first day of a better future, a new start for Chile," he said in a triumphant speech in Santiago. "Chile has defeated a failed government."
Left-wing critics of the existing constitution, who have led the charge for a drastic rewrite, had pushed a vision of putting issues like gender and environmental protection at the core of the proposed document, as well as issues like rights and protections of the indigenous population. The media had labeled it a push for 'the world's most progressive constitution'. 
Chile's millennial socialist President led a movement that successfully got a mandate to rewrite the country's constitution.

His party wrote a socialist constitution on par with Venezuela and Cuba. It was presented to the Chilean people, and they voted it down.

So elections…

— Dr. Benjamin Braddock (@GraduatedBen) May 8, 2023
For example a year ago as the new draft was pushed forward, The Guardian quoted progressives as follows:
María Elisa Quinteros, the president of the gender-equal, 154-member assembly will formally present the draft at a ceremony in the port city of Antofagasta on Monday afternoon.

"This is an ecological and equal constitution with social rights at its very core," she said in an interview.

Among the long list of rights and freedoms the draft enshrines, the new constitution makes higher education free, ensures gender parity across government and makes the state responsible for preventing, adapting to and mitigating climate change.
One social media commentator noted the progressives' rewrite plan ultimately backfired in spectacular fashion...
Socialists in Chile attempt to rewrite the constitution
It backfired so hard they give the right-wing parties a supermajority in parliament 
Socialists effectively handed the mandate to rewrite the country's constitution to a bunch of Pinochetists
This "new vision" has been roundly rejected with Sunday's vote. It was largely independent and left-wing constituents which had drafted that first attempt at a major overhaul, following previous mass street protests against inequality which demanded drastic reforms.
Loading...