---
China Affirms "Friendship" With Ukraine, Vows To "Never Attack" Amid US Accusations
On Thursday China's foreign ministry said it formally backs remarks of its ambassador to Ukraine Fan Xianrong who expressed "friendship" with the country as it comes under Russian attack. The comments mark the most supportive Beijing has been thus far to Ukraine, coming at a moment China has stood accused by the Biden administration of opening backdoor cooperation on weapons resupplies and sanctions evasion. 
According to a press release on the Lviv government's website the Chinese ambassador had told Lviv Governor Maksym Kozytskyi within recent days that China remains a "friendly country for the Ukrainian people" and would "never attack Ukraine."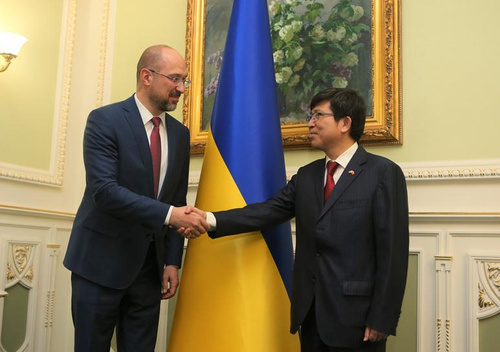 Asked about the remarks in a daily press briefing Thursday, Foreign Ministry spokesman Zhao Lijian said: "China surely supports these remarks by our ambassador in Ukraine. China supports all efforts that are conducive to easing the situation and for a political settlement."
The ambassador's prior remarks had been generally supportive of the Ukrainian people's 'unity' in the face of Russia's invasion...
"I, as an ambassador, can say with responsibility that China will always be a force for good for Ukraine in the economic and in the political sense," Fan told Lviv officials, according to the Ukrainian statement. "We will always respect your state, will develop relations on the basis of equality and mutual benefit. We will respect the path chosen by Ukrainians because this is the sovereign right of every nation."
According to Bloomberg's commentary, the surprisingly positive and supportive words given to Ukraine's government could be taken as a Chinese pledge that it won't provide military aid to Russia to help advance its invasion of the country:
It was unclear whether Fan's pledge to "never attack" could be read as a guarantee China wouldn't provide military aid to Russia. Zhao sidestepped a request for clarification Thursday, saying: "It's illogical for you to make such connections and interpretations."
On Tuesday Zhao in a daily briefing when asked if China fears US sanctions amid charges that it's quietly supporting Russia's war effort in Ukraine: "The Chinese side has repeatedly expressed its position regarding sanctions. Beijing discourages the use of sanctions to settle problems and even more opposes unilateral sanctions that lack international legal grounds," according to the prior statement.
China's ambassdor to #Ukraine has praised the strength of the Ukrainian people and promised to respect the choices of its sovereign government.

If China isn't bluffing, this is a big big deal and a body blow to Putin.https://t.co/EgTRqGBoIa

— David Yankovich (@DavidYankovich) March 17, 2022
And separately Chinese Foreign Minister Wang Yi China in a phone call to his Spanish counterpart stressed that "China is not a party to the crisis, nor does it want sanctions to affect China." Wang said in the Monday statements discussing the Ukraine crisis.. "China has the right to safeguard its legitimate rights and interests."
The White House is now gearing up for an announced Friday phone call with Chinese president Xi Jinping. A US statement said the call will focus on "managing the competition between our two countries as well as Russia's war against Ukraine and other issues of mutual concern."