---
China Announces Export Controls On Two Metals Used In Chips, Citing "National Security"
China announced export controls on two rare earth metals, gallium and germanium, starting on August 1. According to the Ministry of Commerce, the move is to "safeguard national security and interests."
The Ministry of Commerce said Gallium-related items and germanium-related items are prohibited from export unless a license is obtained: 
"Export operators should go through export licensing procedures in accordance with relevant regulations, submit an application to the Ministry of Commerce through the provincial commerce department, fill out the application form for export of dual-use items and technologies and submit the following documents."
The ministry continued by saying the metals have a "major impact on national security," which is the reason for tighter export controls. 
What's most alarming is China controls the world's processing and refining of rare earth metals. These metals have become essential for producing electric vehicles, wind turbines, solar panels, and high-tech defense weapons. 
Gallium is most common in semiconductors, transistors, and small electronic devices. It's also used to make LEDs. As for military-grade Gallium Nitride, it's found in cutting-edge weapon technology that US defense companies produce.
Three of the most common uses for germanium are rectifiers, transistors, and weapons-sighting systems.
Here's a breakdown of rare earth metals used in US defense weapons.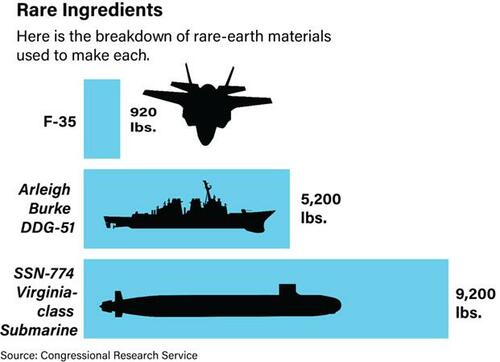 Meanwhile, China has already placed Lockheed Martin and a unit of Raytheon Technologies on an "unreliable entities list" over weapon sales to Taiwan. 
Suppose China intends to limit the export of rare earth metals crucial for manufacturing high-tech chips for the US defense industry. In that case, this is a major wake-up call to the military-industrial complex that would need to quickly rejigger its supply chains and or boost domestic spending to increase mining and refining capabilities. 
The ministry's move is likely a response to the Biden administration's chip crackdown in recent weeks and months. 
Loading...