---
China Appeals To "Kind Angels" Of Biden Administration, Blames Trump For "Burning Bridges"
China is hoping for a rapid 'reset' of sorts with Washington now with President Joe Biden in the White House. After state media headlines out of China on Tuesday into Wednesday said "Good Riddance Mr. Trump" — as Xinhua wrote, Thursday's tone out of the foreign ministry was markedly different.
While essentially placing sole blame on Trump and his top officials, foreign ministry spokeswoman Hua Chunying said in the latest press briefing remarks that "kind angels can triumph over evil forces" in America.
"In the past years, the Trump administration, especially (former Secretary of State Mike) Pompeo, has laid too many mines that need to be removed, burned too many bridges that need to be rebuilt, damaged too many roads that need to be repaired," Hua began.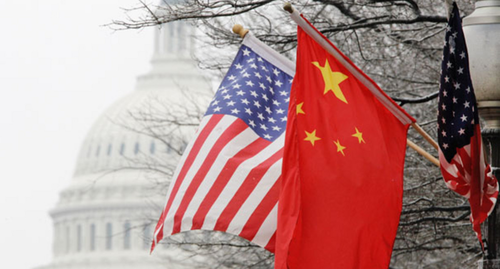 "I believe if both countries put in the effort, the kind angels can triumph over evil forces," she told a daily briefing Thursday. Her word choice was then featured across state media headlines.
Speaking specifically on Biden's inaugural speech Wednesday, Hua added:
"President Biden also mentioned in his inauguration speech that Americans have much to heal, much to restore. This is exactly what China-U.S. relations need."
However, there's little doubt that China was miffed at the fact that Taiwan's de facto ambassador to Washington had been officially invited to attend and was present for the inauguration. 
Related to growing tensions centered on both Taiwan and Hong Kong, China had slapped sanctions on a who's who of top outgoing Trump administration officials on Wednesday. Significantly, 28 Trump admin figures will be permanently barred from travel or doing business either on the Chinese mainland or Hong Kong.
Eschewing "Wolf Warrior" rhetoric (at least for now), China strikes an optimistic note - "I believe if both countries put in the effort, the kind angels can triumph over evil forces,"-Hua Chunying (Foreign Ministry spokeswoman) https://t.co/pFWtX3yeC1

— W. Gyude Moore (@gyude_moore) January 21, 2021
"China announces decision to sanction 28 U.S. figures who it alleged to have severely violated China's sovereignty, including officials in the Trump administration, according to a statement from the Chinese foreign ministry," Bloomberg reported shortly after Biden took the oath of office Wednesday.
When asked about the dramatic act of 'revenge' against the Trump people, Biden's administration called the move "unproductive and cynical," according to Reuters. But it's also very likely that many within the new administration are quietly gleeful over the severe restrictions regarding doing any business in China or Hong Kong by the targeted Trump officials.