---
Brazil Coronavirus Total Tops 1 Million, Second Only To US: Live Updates
Summary:
Brazil cases top 1 million
Texas cases spike
Spike in cases from protests never materialized
US cases climb 1.4%, compared with 7-day average of 1.1%
Arizona reports surge in new cases
WHO says global outbreak accelerating
Fla reports record jump
California reports second straight record jump
UK sees daily cases, deaths increase over yesterday
Global deaths top 450k
Cases top 8.5 million
Germany reports largest jump in cases in a month
UK lowers virus threat ranking
China releases genome showing Beijing outbreak caused by "European" strain
India reports another record jump in cases
Russia reports ~8k new cases
Singaporeans allowed to dine in restaurants for first time
* * *
Update (1700ET): As expected, Brazil reported Friday evening that the number of cases confirmed by health officials has surpassed 1 million.
The South American giant's total remains second only to the US, while its death toll, also second to the US, is nearing 50k. Brazil, which was only just beginning to emerge from a domestic economic crisis when the pandemic hit, is struggling with an increasingly tense political climate, and an economy that has unraveled even more quickly.
BRAZIL CORONAVIRUS CASES PASS 1 MILLION, DEATHS RISE TO 48,954
According to Reuters, Brazil confirmed its first case of the virus on Feb. 26, though reports later claimed COVID-19 deaths may have been confirmed even earlier. As the federal government led by President Jair Bolsonaro, perhaps the world's foremost COVID-19 skeptic, has spread relentlessly across the continent-sized country, eroding support and raising economic anxieties. Meanwhile, critics have accused the president of deliberately sowing instability to try and justify a military crackdown and the revocation of Brazil's democratic rights.
Health experts in Brazil have repeatedly warned that the true total cases in the country is likely higher than the US's total.
"That number of 1 million is much less than the real number of people who have been infected, because there is under-reporting of a magnitude of five to ten times," said Alexandre Naime Barbosa, a medical professor at the São Paulo State University. "The true number is probably at least 3 million and could even be as high as 10 million people."
By Friday afternoon, a consortium of Brazilian news outlets keeping an independent tally of COVID-19 statistics from state health officials reported the country had already passed the benchmark of 1 million confirmed cases, even as the official figures haven't actually passed that level.
Meanwhile, in the US, Texas reported another jump in daily cases.
TEXAS VIRUS CASES RISE 3.5%, EXCEEDING 7-DAY AVERAGE OF 2.9%
In other news, three Arizona casinos shut down just weeks after reopening as daily COVID-19 cases and hospitalizations surge, following on news that Apple is closing stores in the worst-hit states after reopening most of its retail locations across the US.
* * *
Update (1525ET): This headline first emerged last night, but has apparently gotten a wider airing today: But three weeks after the George Floyd protests swept the country, the feared spike in cases in the cities with the biggest demonstrations has yet to materialize, which means it probably never will.
Here are a few charts from the NYT's COVID-19 tracker, starting with New York...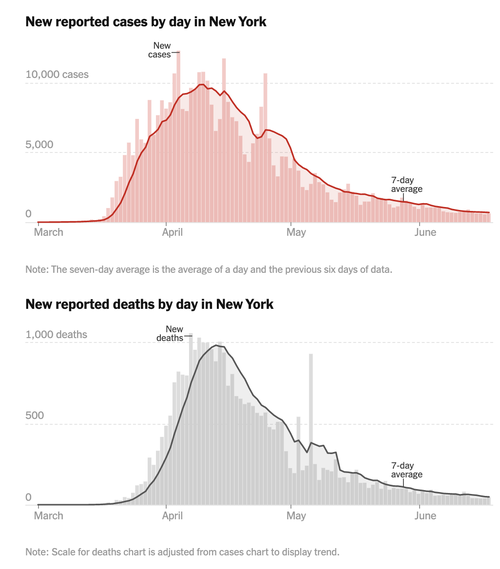 ...Georgia...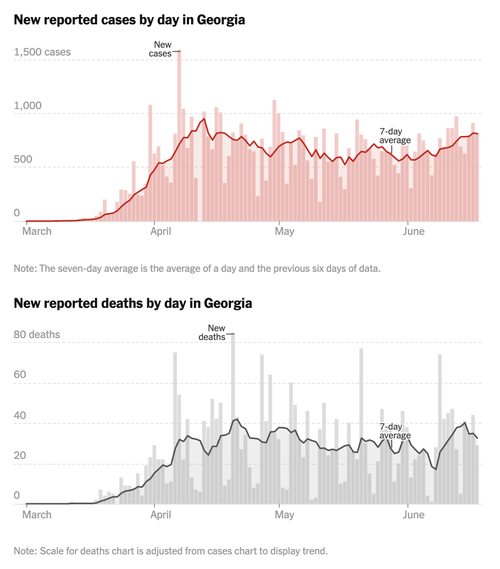 ...Minnesota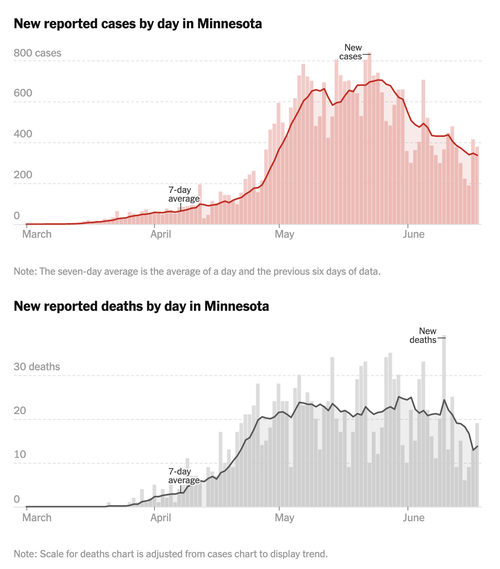 Just some food for thought for everybody freaking out about AMC's plans to not make masks mandatory upon reopening.
However, the surge in cases detailed below has finally more than offset the declines in the northeast, as the CDC said the case count in the US climbed 1.4% over the past day, faster than the 7-day average of 1.1%.
* * *
Update (1515ET): This should help put the outbreak into perspective:
Stunning: More than 20% of Arizona's COVID tests reported today came back positive.

New York is down to around 1%.

— Steven Dennis (@StevenTDennis) June 19, 2020
* * *
Update (1127ET): Cases have also surged again in Arizona, climbing 29% DoD. There were 3,246 cases reported on Friday. The state reported 3,246 on Friday vs 2,519 on Thursday. Friday's number represents the state's second record daily jump in a row.
Here's the latest statewide breakdown courtesy of a local TV station.
Number of deaths: 1,312 Number of cases: 46,689 Number of total tested: 532,697 (at both private and state labs)
Community transmission: Widespread
Case locations by county:
Maricopa: 25,999
Pinal: 2,130
Coconino: 1,470
Pima: 5,019
Navajo: 2,928
Yavapai: 417
Apache: 2,103
Cochise: 332
Graham: 59
Santa Cruz: 1,293
Yuma: 3,857
Gila: 125
Greenlee: 14
Mohave: 686
La Paz: 257
Looks like the market is taking the deluge of record case numbers, which comes after JHU determined yesterday that 10 states have 7-day averages at record highs, seriously again.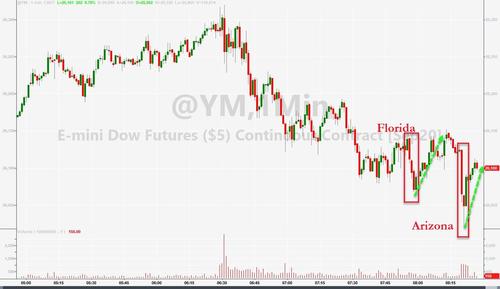 * * *
Update (1120ET): During Friday's press briefing, WHO Director General Dr. Tedros warned that the worsening situation in Latin America, the global outbreak is accelerating.
WHO CHIEF SAYS CORONAVIRUS PANDEMIC 'ACCELERATING'
* * *
Update (1030ET): Ransquawk just reported the latest official figures out of California, which appear to show another record jump in new cases, with the state reporting 4,317 Friday vs 4,084 on Thursday. That's the state's second record high in a row, and the third in the past week.
Fla. just dropped its latest numbers.
FLORIDA COVID-19 CASES RISE 3.4% VS. PREVIOUS 7-DAY AVG. 3.2%
However, newswires quickly published a correcction  showing the actual jump was 4.4% or more than 3,200 new cases. Here's what that looks like on a chart courtesy of the NYT: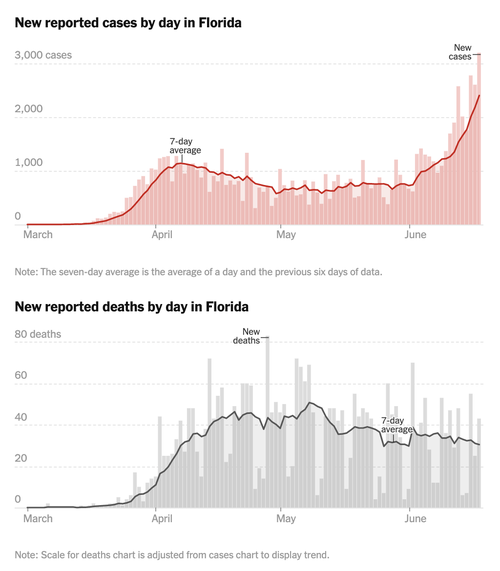 In other news, the UK numbers are out, showing DoD increases in deaths and cases.
As of 9am 19 June, there have been 7,433,114 tests, with 169,600 tests on 18 June.

301,815 people have tested positive.

As of 5pm on 18 June, of those tested positive for coronavirus, across all settings, 42,461 have sadly died.

More info:
▶️ https://t.co/xXnL3FU15k pic.twitter.com/jkxbyXBiEy

— Department of Health and Social Care (@DHSCgovuk) June 19, 2020
* * *
We imagine China's European trading partners were less-than-pleased earlier this week when the Chinese state-controlled press blamed a cluster of cases tied to southwestern Beijing's Xinfadi wholesale market on imported European salmon. Hence why, amid the flood of other COVID-19 related headlines, Chinese health officials quickly gave Norwegian salmon imports the "all-clear", before doing a complete 180 on the whole salmon narrative.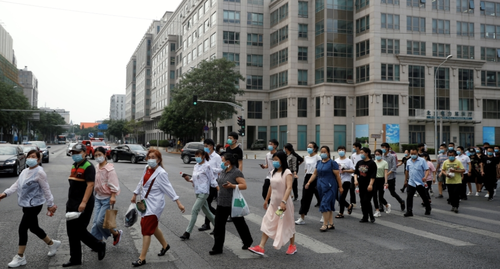 Was the salmon a false narrative planted to distract and deceive the Chinese people? One might even call it a red herring. That's certainly possible. But salmon aside, China is clearly doubling down on the insinuation that Europe is somehow responsible for this latest cluster of cases. On Friday, China released genome sequencing data for the coronavirus responsible for a recent outbreak in Beijing, with officials claiming it had been identified as a European strain based on a "preliminary" study.
As Beijing lays the groundwork to blame every future recurrence of the coronavirus on a foreign source, Twitter and other American social media companies are showing surprisingly little interest in holding Communist Party officials accountable for spreading vicious lies, like conspiracies about the virus originating in the US, even as they continue to go after President Trump.
Meanwhile, new confirmed cases of coronavirus remained stable in China's capital on Friday after a public health official declared Beijing's latest outbreak under control yesterday, as we reported.
According to the official numbers, the city recorded just 25 new cases over the prior day, an increase o just four from Thursday's total. Only 32 cases were confirmed countrywide.
"The epidemic in Beijing has been brought under control," Wu Zunyou, thein chief epidemiologist of China's Center for Disease Control and Prevention, said during yesterday's press briefing. "When I say that it's under control, that doesn't mean the number of cases will turn zero tomorrow or the day after," he cautioned. "The trend will persist for a period of time, but the number of cases will decrease, just like the trend that we saw (in Beijing) in January and February."
In Europe, a group of the UK's chief medical officers has finally conceded to lowering the UK's coronavirus threat level one notch as the country's virus curve has finally started to plateau.
To be sure, the UK had a pretty difficult time of it. The Kingdom of Great Britain and Northern Ireland has the third-highest death toll in the world, and has just eclipsed the 300k-case mark. As of Friday morning in the US (noontime in London), the UK had 301,935 confirmed cases, and 42,737 deaths, though reporting by the FT on excess deaths has shown that the total number is likely 10k-20k higher.
Because of this, the UK's Joint Biosecurity Center recommended moving the COVID-19 risk in the country from the second-highest level, 4, which means transmission is high or rising exponentially, to level 3, which means the virus is in "general circulation" - hardly reassuring, but it's progress nonetheless.
Singaporeans, meanwhile, will be allowed to wine and dine at restaurants, work out at the gym and get together in groups of no more than five people after most lockdown restrictions are lifted on Friday. The tiny city-state has managed to finally bring an outbreak spreading almost exclusively among migrant workers living in densely packed dorms under control, a major milestone for Southeast Asia, as Indonesia surpasses Singapore in the number of cases.
For an even bigger milestone, the global death toll topped 450,000, while the global case total topped 8.5 million (8,513,725 as of Friday morning in New York).
As Johnson tries to manage the reopening under an endless barrage of criticism, it appears the UK's virus curve has finally plateaued.
Russia reported 7,972 new cases on Friday, pushing its nationwide tally to 569,063. Russia's national covid response center counted 181 deaths, bringing the official death toll to 7,841.
India has recorded 13,586 newly confirmed cases today, raising its total to 380,532. Still, shops, malls, factories and places of worship have been allowed to reopen while schools and cinemas remain shuttered.
On the vaccine front, German biopharmaceutical company CureVac said Thursday that it had started its first clinical vaccine trial for its vaccine candidate. The trial is being conducted at the University of Tuebingen; it involves more than 100 test subjects aged between 18 and 60. The first trial results are expected in two months.
In other news out of Germany, the home of what was perhaps Europe's best-managed major outbreak, public health officials with the Robert Koch Institute just reported the country's highest daily jump in new virus cases in a month.
Meanwhile, in the US, despite another batch of record hospitalization numbers (out of Texas) and case numbers (in California, Florida and elsewhere), the number of states with rising 7-day averages has declined slightly to 20, according to the NY Times.

As the situation grows increasingly dire, Prime Minister Narendra Modi is extolling yoga as a way of building a "protective shield" of immunity against the coronavirus, as his nation battles a surge in infections.