---
China Calls AUKUS Sub Deal "Pure Deception" As It Means Australia Going Nuclear
China has blasted the new AUKUS nuclear submarine deal announced by President Joe Biden in San Diego on Monday alongside Australian Prime Minister Anthony Albanese and British Prime Minister Rishi Sunak. Biden sought to stress that the agreement to transfer nuclear submarine technology to Australia is not "a challenge to anybody" and that "These boats will not have any nuclear weapons of any kind of them," according to his remarks at an outdoor ceremony at Naval Base Point Loma.
But Beijing disagrees, as on Tuesday the foreign ministry blasted the US and its allies for their "Cold War mentality" which puts the region on a "dangerous path" that will "only motivate an arms race". Spokesperson Wang Wenbin additionally said that nuclear subs for Australia's military will "damage the international nuclear nonproliferation regime, and harm regional stability and peace."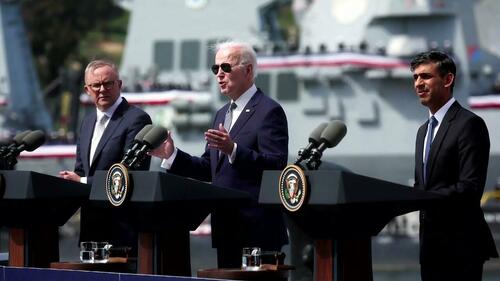 "The latest joint statement issued by the U.S., U.K., and Australia shows that the three countries have gone further down the wrong and dangerous path for their own geopolitical self-interest, completely ignoring the concerns of the international community," Wang said at a daily briefing.
This isn't the first time that China has made the charge that in Canberra procuring nuclear-powered subs it is violating its own 'nuclear weapons free' policy. Wang reiterated China's long-running assertion that it poses "serious risk of nuclear proliferation and violating the object and purpose of the Treaty on the Non-Proliferation of Nuclear Weapons."
"The three countries claim that they will abide by the highest nuclear non-proliferation standards, which is pure deception," Wang said, charging they've been engaged in "coercing" the International Atomic Energy Agency into bestowing endorsement.
Meanwhile, China certainly took notice when Australian Defense Minister Richard Marles commented on the super expensive AUKUS deal Tuesday (Australia forecasts it will spend up to $245 billion on the project by 2055). He had delivered—
..."one of the most ominous warnings" relating to the reasons behind a heavily expensive AUKUS deal, says Sky News host Laura Jayes.

"It answered the why – why we are spending so much on these nuclear-powered submarines?" Ms Jayes said.

Defence Minister Richard Marles has stated in a media conference on Tuesday, "the biggest conventional military build-up … seen since the end of the second world war" is happening in our region.

"That is all about China – not mentioned by word, but 'the biggest conventional military build-up' – well it cannot be about anyone else," she said.
Pres. Biden announces first AUKUS project will be developing Australia's nuclear-powered submarine capacity, clarifies subs will not carry nuclear weapons.

"Australia is a proud non-nuclear weapon state and is committed to stay that way." https://t.co/1SlS2LIyjK pic.twitter.com/jfXjxPYdTf

— ABC News Politics (@ABCPolitics) March 13, 2023
Also fueling Beijing's anger are recent reports that the US Navy is planning a full-service submarine hub in Australia which can be a major base overseeing all submarine deployments in the Asia Pacific.
Defense News reported last week, "The U.S. Navy envisions a submarine hub in Australia from which the service can oversee the entire range of undersea activities in the Asia-Pacific region, from boat production to repairs to missions, service Secretary Carlos del Toro said last month."
Loading...