---
China Furious As 1st US Ambassador To Visit Taiwan Since 1979 Calls It A "Country" 
Despite repeat warnings out of Beijing for Washington to stop "playing with fire" in its support to pro-democracy and independence forces in Taiwan, on Monday into Tuesday a US ambassador visited the island, marking the first time an American ambassador made an official visit to Taiwan in 42 years. 
Palau John Hennessey-Niland is the ambassador to the tiny country of Palau, an archipelago of over 500 islands in the Micronesia region in the western Pacific Ocean. The country is among 15 nations that formally recognize Taiwan over China. Amb. Hennessey-Niland accompanied a delegation led by Palaun President Surangel Whipps Jr. to Taipei early this week.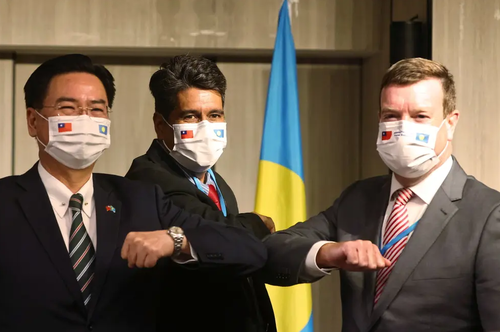 As Reuters underscores, he's now "the first US ambassador to visit Taiwan in an official capacity since former President Jimmy Carter cut ties with Taipei in favor of Beijing in 1979."
And Reuters noted further:
Whipps said the ambassador - who did not take questions from reporters - was there to demonstrate a shared commitment to democracy and freedom in the region.

"As a small nation we can easily be infiltrated and we depend on our partners to protect us and give us security," Whipps said.
On the very same day (Monday), China's air force sent another ten military aircraft to breach Taiwan's air defense identification zone, coming days after Friday's "largest ever" such incursion involving 20 aircraft. 
China's foreign ministry spokesperson Zhao Lijian lashed out when asked about the US ambassador's visit Monday, saying, "I want to stress that the one China principle is a universally recognized norm for international relations and a common consensus recognized, accepted and practiced by the vast majority of countries in the world."
What a triumvirate! Minister Wu, President Whipps & Amb. Hennessey-Niland are as one when it comes to trilateral cooperation. #Taiwan🇹🇼, #Palau🇵🇼 & the #US🇺🇸 are forces for good working together in promoting peace, security & prosperity in the #IndoPacific & around the world. pic.twitter.com/hiNt9byXgR

— 外交部 Ministry of Foreign Affairs, ROC (Taiwan) 🇹🇼 (@MOFA_Taiwan) March 29, 2021
He again laid down China's "red line"...
The US must "fully recognize that the Taiwan question is highly sensitive, and that it should abide by the one China principle and the three China-US joint communiques," the spokesman said. 
"It must stop any official interaction with Taiwan, refrain from sending any wrong signals to Taiwan independence forces, stop any attempt to cross the bottom line, and properly handle Taiwan-related issues with prudence, lest it should damage China-US relations as well as peace and stability across the Taiwan Strait," Zhao stressed.
Flailing Empire lashes out yet again with no strategy whatsoever. Popcorn out, waiting for China to pull a "Crimea" on Washington. https://t.co/ZQIQdtsmh2

— Sharmine Narwani (@snarwani) March 30, 2021
Apparently undeterred, on Tuesday Hennessey-Niland was actually cited in regional media as provocatively referring to Taiwan as a recognized country. 
"I know that here in Taiwan people describe the relationship between the United States and Taiwan as real friends, real progress and I believe that description applies to the three countries — the United States, Taiwan and Palau," he was cited in Reuters and AFP as saying.
Should such language become the "norm" at the State Department under the Biden administration, this is certain to set the US and China on a collision course in the region at a much faster rate of unraveling than previously thought was likely.