---
China & India In Major Himalayan Border Troop Build-Up Expected To "Extend To Winter"
After a summer of high level military to military talks appear to have unraveled — though they've prevented another major border breach like the June 15 brutal hand-to-hand combat clash which saw 20 Indian troops killed — multiple reports confirm a new build-up of thousands of Indian and Chinese troops on either side of the Ladakh region.
"Thousands of Indian and Chinese troops are still locked in an impasse across the mountain passes of the Himalayan region of Ladakh and the banks of the glacial lake Pangong Tso, with neither side backing down despite their foreign ministers having agreed five days ago to improve mutual trust and de-escalate tensions," South China Morning Post reported Tuesday.
And amid the blame game for the renewed mobilization of forces and the potential for more high altitude fighting, China's state-run Global Times says to expect Sino-Indian border tensions to likely "extend to winter". 
An @IAF_MCC #Mirage2000 at Leh airfield. #Ladakh.
India and China begin deployment for three months harsh winter beginning November when all the connecting roads block due to heavy snow.
China moved 10000 additional troops. pic.twitter.com/l80Wm9Hkhn

— Rishikesh Kumar (@rishhikesh) September 16, 2020
And citing Indian sources, Russia's Sputnik reports China's PLA military recently moved 10,000 more troops to the region, despite multiple rounds of talks with the Indian side briefly resulted in a pull-back from the immediate Line of Actual of Control.
"As tensions continue to soar between the two nuclear-powered rivals, China has moved an additional 10,000 troops forward since the past week along the Line of Actual Control (LAC) in Ladakh, government sources in New Delhi revealed," Sputnik wrote.
Thread.

Since tensions escalated with China this summer, India has moved thousands of additional troops to Ladakh.

That's been backed up by a massive military logistics operation.

Yesterday, we got a glimpse into how it works.https://t.co/Rdh76GdtCS

Below: A C-17 lands. pic.twitter.com/FZohkz8eMo

— Devjyot Ghoshal (@DevjyotGhoshal) September 16, 2020
"The additional hauling of People's Liberation Army (PLA) to the border has taken the Chinese deployment to approximately 52,000 with 150 fighter jets and surface-to-air missiles (SAM)," the report added. 
There does appear to be heightened build-up in the area based on both local reports and social media videos circulating.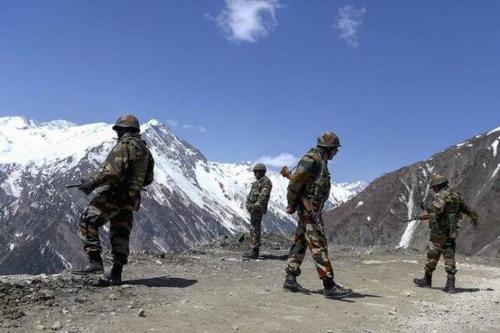 Meanwhile Reuters has cited India's defense minister to say the conflict "remains unresolved" with "fears of a broader conflict" remaining high as ever, given that "the scale of deployment of troops and the number of disputed areas was much more than in previous years," according to the report.
Reuters cited Indian defense minister Rajnath Singh in an interview as saying Tuesday:
As of now, the Chinese site has mobilized a huge number of army battalions and armaments along the LAC and inner areas. Our armed forces have made appropriate counter deployments in response to the actions by China, in eastern Ladakh and [INAUDIBLE] and Kongka La and Pangong Lake's north and south banks, and many areas where there is friction, so that India's security interests are fully protected.
Below is rare video showing Indian troops and supplies being transported into the difficult to reach region:
In recent months, the military has brought vast quantities of ammunition, equipment, fuel, winter supplies and food into Ladakh - more than 150,000 tonnes, via two highways and a fleet of large transport aircraft.

You can spot two below. pic.twitter.com/QPuTz0L3XO

— Devjyot Ghoshal (@DevjyotGhoshal) September 16, 2020
The Indian side is busy conducting a large-scale logistical operation observed resupplying Indian troops in the high, remote region.
The fact that on both sides troops and supplies have been seen pouring into the region strongly suggests we're in for a long haul. When winter hits, all roads leading to the area are blocked. It appears the rival militaries are digging in for the long harsh winter.