---
China Launches First Independent Probe Bound For Mars In Major Milestone For Beijing's Space Program
As its geopolitical tussle with the US intensifies, and the novel coronavirus continues to ravage the world (though Beijing is working diligently on a vaccine to fix all that), China on Thursday succeeded in launching its first independent probe bound for Mars at 1241 local time on Thursday.
It's a major step in Beijing's aspirations to build a space program to rival the US's.
According to Chinese media, the probe, named Tianwen-1, was launched via a Long March-5 rocket.
China's Mars probe consists of an orbiter, a lander and a rover. When the time comes, the lander and rover will make a soft landing on the surface. Afterwards, the rover will take samples of, and analyze, bits of Mars' surface, atmosphere, ionosphere and magnetic field.
The probe's name "Tianwen" means "questions to heaven" in Mandarin, and was inspired by an ancient poem written by legendary Chinese poet Qu Yuan. According to the government line, the mission represents the will of the Chinese people to explore further in space.
This is actually the second time China has tried to send a probe into Mars' orbit. Back in 2011, China, working in cooperation with Russia, helped send the Yinghuo-1 spacecraft to orbit Mars. Unfortunately, the spacecraft got stranded in orbit because of a technical failure and was later declared lost by the China National Space Administration.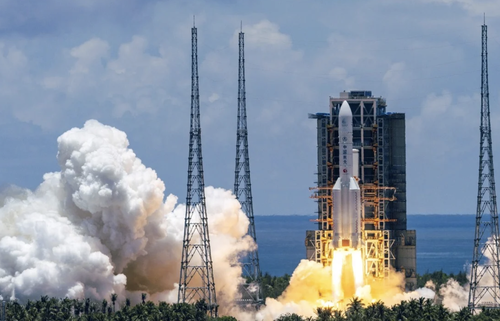 It's expected that, upon landing successfully, the probe is expected to work for at least 90 Mars days, which is longer than three months on Earth. Bao Weimin, an academic with the Chinese Academy of Sciences, told Xinhua in June that the landing would be the most difficult part of the journey. The four-step process will take 7-8 minutes, and any mistake could scuttle the whole mission.
Footage shared with the BBC showed the rocket blasting off from its launch pad on Hainan Island, part of China's southernmost province, Hainan, which consists mostly of a series of islands in the South China Sea.
The probe propelled by the rocket is expected to enter Mars' gravitational field in February 2021. The 5-ton probe successfully reached its predetermined orbit and started its Mars exploration mission after the carrier rocket flew for more than 36 minutes, according to State Media.