---
China Q3 GDP Disappoints, Retail Sales Signal Domestic Rebound Alive
With China's yuan pushing back to 27-month highs, the market has already confidently expressed its view that China will show the world tonight the recovery from COVID-19 is more than possible, as the rest of the world - which appears to be following the same mask-and-lockdown protocols that China did - are struggling with new lockdowns.
Source: Bloomberg
GDP is expected to print a healthy +5.5% YoY for Q3 helped by an unexpectedly strong rebound in global trade.
"Right now, China has basically put Covid-19 under control," People's Bank of China Governor Yi Gang said on Sunday in a webinar organized by the Group of 30.

Source: Bloomberg

"In general, the Chinese economy remains resilient with great potential. Continued recovery is anticipated which will benefit the global economy."
China has so far relied on exports and manufacturing (inventory restocking by the rest of the world), but tonight's industrial production, retail sales, investment, and unemployment will gives a clearer picture of the domestic recovery, as Bloomberg's chief Asia economist Chang Shu notes that:
"Improving consumer sentiment and consumption likely also boosted private demand. Leading indicators indicate demand is coming back at a faster pace than production at this stage of the recovery."
Simply put, if tonight's data meets expectations, that'll mean the world's second-largest economy - and the first to suffer from the virus shock - will have regained all the ground in growth it lost in the first half.
Of course, given the lies, deception, and deceit involved with the virus, who knows what to believe in the data? As Bloomberg's Enda Curran notes, as always, today's numbers will be greeted by scepticism among those who argue that China's GDP reading is smoothed for political purposes. Chinese authorities themselves have cracked down on provincial level governments for massaging the numbers. That said, most economists we speak to say the overall trend is clear: the rebound is real even if the numbers have their flaws.
So... drum roll please... here's the data:
China Q3 GDP YoY MISS +4.9% vs +5.5% exp vs +3.2% prior

China Industrial Production September YTD YoY BEAT +1.2% vs +1.0% exp vs +0.4% prior

China Retail Sales September YTD YoY BEAT -7.2% vs -7.4% exp vs -8.6% prior (+3.3% YoY)

China Fixed Asset Investment September YTD YoY MISS +0.8% vs +0.9% exp vs -0.3% prior

China Property Investment YTD YoY BEAT +5.6% vs +5.2% exp vs +4.6% prior

China Surveyed Jobless Rate BEAT 5.4% vs 5.5% exp vs 5.6% prior
So, while the underlying monthly data was better than expected, China Q3 GDP notably missed expectations - something very notable in the oh-so-well-managed Chinese economy...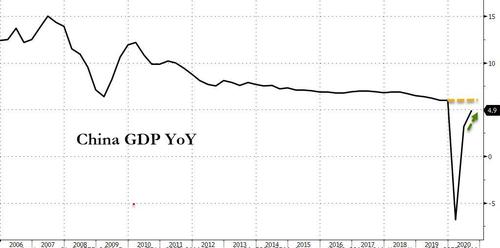 Source: Bloomberg
Despite the disappointing headline GDP data, everything improved sequentially...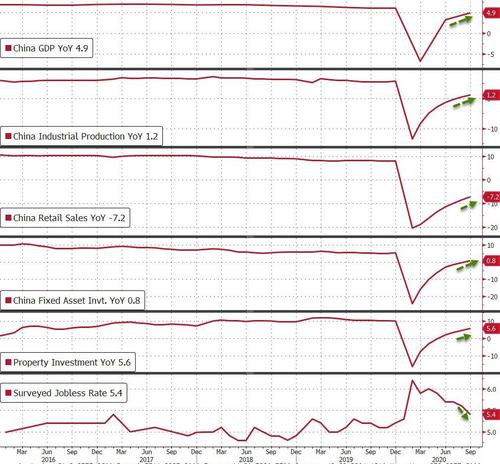 Source: Bloomberg
The strong jump in retail sales (+3.3% YoY) suggests the long-awaited consumer recovery seems to be taking root. A breakdown shows Chinese are spending more on drinks, tobacco and alcohol, medicine, office supplies and food.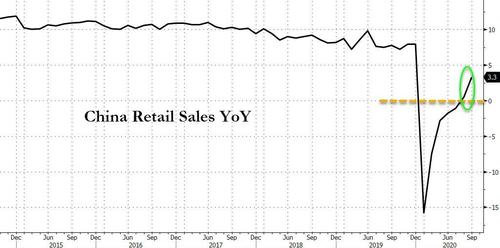 Source: Bloomberg
However, Frederic Neumann, co-head of Asia economic research at HSBC Holdings Plc in Hong Kong makes the point that because Beijing doesn't have the same appetite for borrowing that it did in the years after the financial crisis, its stimulus will have a different impact on the rest of the world this time round.
"So while China is seemingly holding up the world, once again, the growth impulse it imparts to markets far and wide will fade more quickly this time than during the world's last big crisis."
So, will the world's growth impulse rotate back to the US (post-election)?
Furthermore, as the rest of the world hopes exuberantly for a vaccine, Goldman has warned, "It's even possible that China's economy could be a net loser from vaccines, as the limited further boost to domestic services activity might be offset by softer goods exports and increased outbound tourism. "