---
China Responds To US Warship Presence With Large-Scale Exercises Off Taiwan
China is intensifying its military presence near Taiwan coming days after the US sailed a warship through the Taiwan Strait for the first time in 2023 last week.
The USS Chung-Hoon made the provocative passage on Thursday, and three days later on Sunday China sent 28 warplanes across the median line of the Taiwan Strait. The Chinese PLA military has been semi-regularly breaching the median line by air and sea ever since Nancy Pelosi's provocative visit to Taiwan back in August.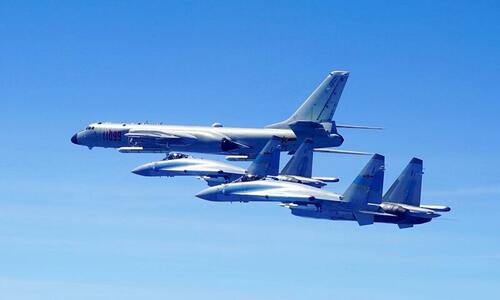 Taiwan's Defense Ministry detailed that these latest drills involved a total of 57 aircraft spotted near Taiwan, including J-10, J-11, J-16 and Su-30 fighters, as well as H-6 bombers, early warning and reconnaissance planes and multiple drones.
As is typical, Taiwan says it scrambled jet fighters to monitor the PLA warplanes, and put its land-based missile systems on alert, along with deploying naval assets. Taiwan's military said further it observed at least seven locations where the median line was breached. 
As for China, the PLA's Eastern Theater Command acknowledged the war drills in describing, "The exercise focused on land strikes, sea assaults and other subjects, aiming to test the troops' joint combat capability and resolutely counter the collusive and provocative acts of the external forces and the 'Taiwan independence' separatist forces."
China's drills around Taiwan are once again involving large displays of force, with these latest exercises coming on the heels of similar Dec.25th PLA action, which involved 71 total aircraft buzzing the self-ruled island, and among these 47 aircraft breaching the Taiwan Strait median line.
Meanwhile, the end of this week will see the start of US-Taiwan official trade delegation talks in defiance of China's condemnations being in Taipei. 
USS Chung-Hoon (DDG 93) conducted a routine Taiwan Strait transit Jan. 5 (local time) through waters where high-seas freedoms of navigation and overflight apply in accordance with international law. Read more: https://t.co/ZMjUT47Kv5 pic.twitter.com/F3g1fhN83Q

— 7th Fleet (@US7thFleet) January 5, 2023
The South China Morning Post details that "Terry McCartin, assistant US trade representative for China affairs, will lead a group of trade officials and representatives from other US agencies to Taipei from January 14-17 for negotiations on the US-Taiwan Initiative on 21st-Century Trade, the Office of the US Trade Representative announced on Wednesday."
China has in the meantime vowed it won't let Taiwan become a Ukraine situation, as the US continues to pour in arms and increasingly large defense packages for Taiwan's forces.
Loading...