---
China Sends Huge Show Of Force Across Taiwan Strait Median Line
China and Taiwan tensions have been somewhat subdued compared to the weeks-long crisis following Nancy Pelosi's August visit to the democratic island, but on Thursday Chinese military planes and warships made a huge show of force in waters off Taiwan.
The PLA military sent 39 aircraft and three warships toward Taiwan as part of new exercises that kicked off around 6am. No less than 30 of the aircraft cross the median line which serves as the de facto maritime border between the two, according to Taiwan's military.
39 PLA aircraft and 3 PLAN vessels around Taiwan were detected by 6 a.m.(UTC+8) today. R.O.C. Armed Forces have monitored the situation and tasked CAP aircraft, Navy vessels, and land-based missile systems to respond these activities. pic.twitter.com/QlyStqQWqe

— 國防部 Ministry of National Defense, R.O.C. 🇹🇼 (@MoNDefense) December 22, 2022
Taiwan's defense ministry said it scrambled an undisclosed number of fighter jets and tracked the PLA's movements with its defensive missile systems.
Among the large Chinese sortie included four bombers, as well as 21 fighter jets, alongside aerial support planes.
The Thursday large-scale show of force could be in response to the Biden administration being poised to drastically beef up US defense aid to Taiwan, related to the soon to be approved National Defense Authorization Act (DNAA) for 2023.
According to a Chinese defense analyst quoted in the South China Morning Post: 
US moves to establish a military training programme with Taiwan, including full-scale joint exercises, are a sign of Washington's "malicious attitude", according to a Chinese military analyst.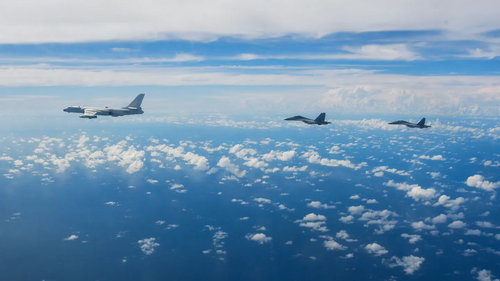 The NDAA authorizes up to $10 billion in Foreign Military Financing grants for Taiwan. And separately, the 2023 Omnibus Consolidated Appropriations Act will authorize up to $2 billion in loans enabling Taiwan to buy weapons from the US.
Loading...