---
China Warns NATO Must Not Ever Expand Into Asia-Pacific
China is furious at signals it is observing at the Vilnius summit regarding potential future NATO expansion into the Pacific region, and into China's 'own backyard' of southeast Asia.
Beijing on Wednesday vowed a "resolute response" if NATO should ever expand this far east. China's mission to the European Union issued a scathing statement following the NATO communique published Tuesday. "The China-related content of the communique disregards basic facts, wantonly distorts China's position and policies, and deliberately discredits China. We firmly oppose and reject this," China's diplomats said.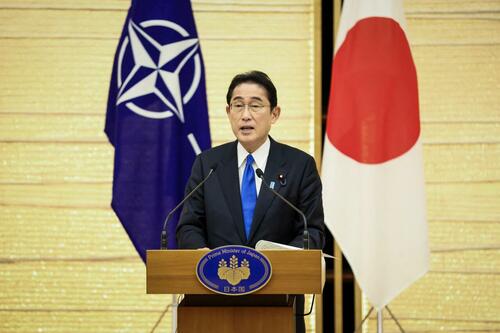 Specifically, the NATO communique said, "The PRC employs a broad range of political, economic, and military tools to increase its global footprint and project power, while remaining opaque about its strategy, intentions and military build-up."
"The PRC's malicious hybrid and cyber operations and its confrontational rhetoric and disinformation target Allies and harm Alliance security," it added. 
The Chinese mission had emphasized in its response that it opposed NATO's "eastward movement into the Asia-Pacific region," while warning that, "Any act that jeopardises China's legitimate rights and interests will be met with a resolute response."
Certainly Beijing is also very closely following the presence of four regional allies of the US, including Australian Prime Minister Anthony Albanese, Japanese Prime Minister Fumio Kishida, New Zealand Prime Minister Chris Hipkins and South Korean President Yoon Suk-yeol--all who were in attendance at the major NATO summit in Lithuania.
Starting in May, Kishida talked up future NATO membership for his country, but plans to open a NATO liason office in Tokyo were halted this week.
"Nato appears to have shelved plans to open a liaison office in Tokyo, a proposal that had been discussed as part of the western military alliance's plans to deepen cooperation with partners in the Asia-Pacific but which was strongly opposed by China," The Guardian writes Wednesday, after there was no mention of the office anywhere in the lengthy communique.
🧵 Macron's resistance to a @NATO office in Japan is a storm in a teacup, but also an opportunity for the US to clarify its expectations of all its allies in any major war. One possible result of a Taiwan war is the fragmentation of NATO. Why is this?https://t.co/nRe1hzhg94

— John Hemmings (@JohnHemmings2) July 12, 2023
A sentence acknowledging the NATO liaison office had reportedly been included in an initial draft of the communique, and survived multiple rounds of editing, but did not make it into the final publication.
With the already raging controversy over Ukraine's future in NATO (or lack thereof), perhaps the Western allies weren't ready to deal with China's wrath at this time? 
Loading...