---
Chinese Aircraft Carrier 'Seals Off' Taiwan, Sends 58 Planes To Buzz Island
China has continued its major show of force aimed at Taiwan in the wake of last week's meeting between Taiwanese President Tsai Ing-wen and US House Speaker Kevin McCarthy in California last week. 
The PLA military says it is rehearsing "sealing off" Taiwan for its third day of wargames, with Monday reports citing at least 58 planes buzzing the island as well as nine warships coming toward its territorial waters.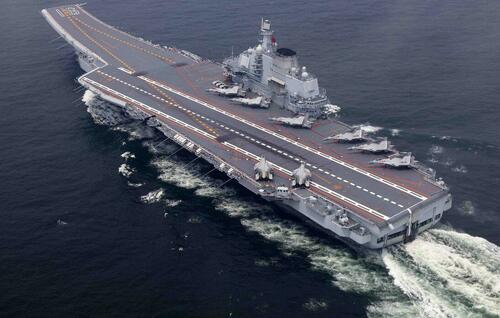 On Sunday the day saw at least 70 Chinese aircraft total breach the island's air defense identification zone and eleven military ships encircle it. This included breaches by a group of J-15 fighter jets, which is rare if not unprecedented for that particular advanced Chinese aircraft.
State broadcaster CCTV on Monday announced the drills had "simulated joint precision strikes against key targets on Taiwan island and surrounding waters", adding that forces "continued to maintain the situation of closely encircling the island."
Further, aircraft, ships and troops were sent into "the maritime areas and air space of the Taiwan Strait, off the northern and southern coasts of the island, and to the island's east," according to a PLA army statement. All of this includes simulating "maritime blockades" and "targeted ambush assaults on enemy mooring vessels."
"Forces in the command is ready for combat at all times, and will resolutely destroy any type of 'Taiwan independence' separatist or foreign interference attempts," the military statement cited in the CCTV report added.
During all of this the American destroyer USS Milius entered waters near Mischief Reef in South China Sea. China's Southern Theater Command said it did so "without permission" and subsequently tracked and monitored the US warship.
Air defense units of #ROCArmedForces remain on high alert for contingencies, steadfastly maintaining their posts 24/7, showing that we can and we will defend our skies. And we will never give up our beliefs. pic.twitter.com/cLXbVrcblE

— 國防部 Ministry of National Defense, R.O.C. 🇹🇼 (@MoNDefense) April 10, 2023
Another rarity to the drills was that all or most of the deployed Chinese fighters were launched from an aircraft. Over the last three days of drills vessels have reportedly breached the Taiwan Strait median line multiple times.
"For the first time, the Chinese navy appears to have simulated strikes by aircraft carrier-based warplanes on Taiwan, as drills around the island wrapped up on their third day," CNN reports of the Chinese navy aircraft carrier Shandong.
While last Wednesday's meeting between President Tsai and McCarthy was presented by the allies as a show of democratic solidarity, Beijing had warned of "resolute measures" while deploying its aircraft carrier strike group off the self-ruled island's coast.
Loading...