---
New York COVID-19 Cases Top 2,000 For First Time Since May: Live Updates
Summary
NY new cases top 2k for first time since May
NYC unveils vaccination plan
Spain becomes sixth country to top 1 million COVID-19 cases
Czech Republic imposes new restrictions on business, movement
Global cases top 40.8 million
Deaths top 1,125,000
India sees cases slow below 60k for yet another day
Chinese begins accepting 'applications' for priority vaccine
Tokyo says Olympic volunteers worried about illness
Czech Republic suffers another record day
* * *
Update (1430ET): NY Gov Andrew Cuomo took a break from bashing his colleagues in charge of CT and NJ to reveal Wednesday that NY's daily numbers have topped 2,000 for the first time since May.
Today's update on the numbers:

Of the 124,789 tests reported yesterday, 2,026 were positive (1.62% of total).

Total hospitalizations are at 950.

Sadly, there were 7 COVID fatalities yesterday. pic.twitter.com/w5XytHYXgN

— Andrew Cuomo (@NYGovCuomo) October 21, 2020
Total hospitalizations, meanwhile, were steady at 950.
* * *
Update (1220ET): NYC Mayor Bill de Blasio has just unveiled his plan for distributing COVID-19 vaccines to everybody in NYC, a difficult undertaking that will likely rank among the most challenging tasks.
According to the post, the mayor will launch a two-phase framework, which will begin by providing a limited number of doses for health-care personnel and other front-line workers. Presently, the city is enrolling providers in the Department of Health and Mental Hygiene's Citywide Immunization Registry.
While Phase 1 will begin as soon as the FDA delivers its emergency use authorization approval, phase two likely won't arrive until 2021 and will see more availability for the general public.
The city is recruiting and preparing "community providers" who will administer the vaccine in the city, and it will work with the state to figure out how to maximize distribution efforts to get the vaccine nto the vans.

City will work with New York state to guarantee maximum distribution of safe, effective, free vaccine
* * *
Update (1000ET): Spain has officially joined the US, India, Brazil and others in the 1 million+ confirmed COVID-19 cases club.
Six countries with more than 1 million cases of coronavirus:

=> USA, India, Brazil
=> Russia, Spain, Argentina

Combined, more than 24 million pic.twitter.com/nQxNpDoayu

— World Affairs (@GMOChannel) October 21, 2020
Across Europe, an FT analysis has found that the second wave of the virus to hit Europe is far less deadly than the wave seen back in the spring, even though the Continent and the UK largely decided against lockdowns and other more serious measures.
Finally, the Czech Republic announced new restrictions on business and movement in a bid to regain control of the coronavirus pandemic, which is growing faster in the central European nation than anywhere else in the EU. Health Minister Roman Prymula said that the new measures were necessary because in the absence of any action, the Czech health system risked being overwhelmed by early November. ;
* * *
After reporting another daily record on Tuesday, the pace of new COVID-19 cases reported worldwide slowed, with just 387,768 new cases, according to Johns Hopkins.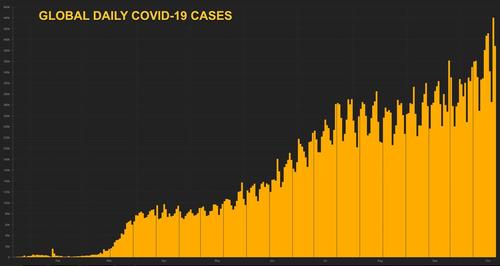 Deaths, meanwhile, remained consistent, with 6,585 new deaths reported on Tuesday, bringing the international total to 1,125,752.
Perhaps the biggest story overnight in Asia was officials from the Eastern Chinese city Shaoxing, located in Zhejiang Province, announced that they had begun accepting payments and applications from residents who wish to be dosed with a domestically developed COVID-19 vaccine. The two-dose regimen will cost 456 yuan ($68), according to state broadcaster CCTV. Around the world, no vaccine candidate has finished the final stage - known as "Phase 3" - of testing, but China allows people with urgent need, including medical workers, to receive candidate vaccines under an emergency arrangement.
Once again on Wednesday, India reported fewer than 60,000 new cases - 54,044 in the last 24 hours, to be exact - compared with 46,790 from the prior day, pushing the countrywide total to 7.65 million. India's death toll jumped by 717 to 115,914.
Nikkei Asia reported that the worsening global outbreak is threatening not just Europe and the US, but also Asia with a lingering "baby bust", yet another threat to long-term growth.
Finally, the Tokyo Metropolitan Government which revealed that 79% of volunteers for next summer's Olympics and Paralympics are concerned about the spread of the coronavirus. More than 13,400 registered volunteers responded to the metropolitan government's survey, which was was conducted in August.
Here is some more COVID-19 news from overnight and Wednesday morning:
Australia's most heavily hit state, Victoria, logged a sixth consecutive day of new cases in the low single digits. The state government said it was on track to announce fresh easing measures over the weekend. The state hopes to revitalize outdoor dining over the summer in the hard-hit hospitality sector by allowing pop-up restaurants in public gardens and downtown parking lots.
Venezuela plans to vaccinate citizens with Russian and Chinese treatments that could arrive in December or January, President Nicolas Maduro says (Source Nikk==
China reports 11 new mainland cases for Tuesday, down from 19 a day earlier. The country has now reported a total of 85,715 confirmed cases since the outbreak began, with a death toll of 4,634 (Source: Nikkei).
Poland's prime minister Mateusz Morawiecki pledged to boost the number of hospital beds by 15,000 as the central European country reported another record daily number of coronavirus infections (Source: FT).
The Czech Republic on Wednesday reported another record number of Covid-19 cases, as the central European nation continues to battle with the fastest spread of infections in the EU. The health ministry recorded 11,984 new cases and 42 deaths from the virus, which continues to spread rapidly despite the introduction of new restrictions last week (Source: FT).