---
Chinese Foreign Minister Reminds West Beijing Will "Never Back Down" On Taiwan
Chinese Foreign Minister Qin Gang reaffirmed in Friday remarks that China would "never back down" on the issue of Taiwan - a warning to the West which came during a speech focused on China's central contributions to the global economy. 
"The Taiwan problem is at the core of China's core interests," Qin said near the end of the speech. "We will never back down in the face of any act that undermines China's sovereignty and security. Those who play with fire on the question of Taiwan will burn themselves."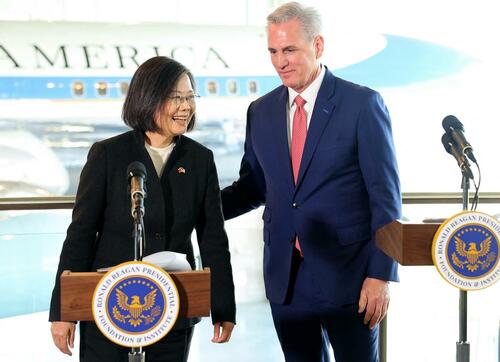 He also addressed recent and ongoing accusations that China is seeking to change the "status quo" across the Taiwan Strait. "It is not the Chinese mainland but the Taiwan independence separatist forces and a handful of countries attempting to disrupt the status quo," he asserted.
Over a month ago his words were even more forceful, and aimed directly at the United States. He said in early March, not long after taking charge as China's foreign minister at the end of December, that "If the United States does not hit the brake, but continues to speed down the wrong path, no amount of guardrails can prevent derailing, and there surely will be conflict and confrontation."
But on the other side the West isn't ready to back down from supporting Taiwan security and sovereignty either, seen especially in EU Foreign Policy Chief Josep Borrell's controversial call for the bloc's navies to patrol the the Taiwan Strait. He published the words in a French weekly, Journal Du Dimanche, on Sunday.
Borrell wrote that the self-ruled island "concerns us economically, commercially and technologically" - and urged for European navies to ensure its protection. He said, "That's why I call on European navies to patrol the Taiwan Strait to show Europe's commitment to freedom of navigation in this absolutely crucial area."
As for Beijing, it has spent years warning the West not to "play with fire" regarding the status of the self-ruled island. Officially, China's policy is to see peaceful reunification via political means, but sees Washington's frequent high level contacts with Taipei's leadership as interference.
Chinese state-owned Global Times has specifically responded to Borrell's plan as follows: "If European warships still want to show off their might in the Pacific today, the result would only be an embarrassing failure." The CCP mouthpiece added: "For the People's Liberation Army, which has powerful strength to defend its homeland, facing European warships that come to provoke and show off is not even worth raising an eyebrow. We advise them not to bring shame upon themselves."
Loading...