---
Civilian Killed After Israel Again Bombs Damascus & Aleppo International Airports
Early Sunday morning Israeli fighter jets have again targeted Syria's two international airports of Aleppo and Damascus in their third such attack from Israel in ten days.
Both the airports have once again been knocked out of commission, with one civilian worker killed and another wounded during the strikes on Damascus International Airport.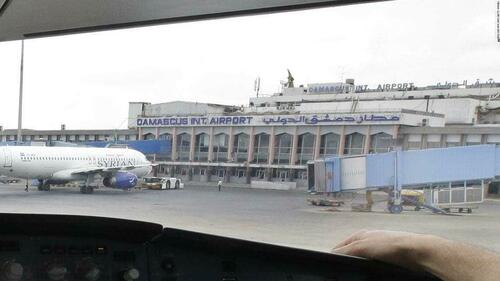 Syrian state-run SANA confirmed that "At about 05:25 am on Sunday, the Israeli enemy simultaneously carried out an aerial act of aggression with waves of missiles from the direction of the Mediterranean Sea west of Lattakia and from the direction of the occupied Syrian Golan targeting Damascus and Aleppo international airports," according to a military source.
The statement added: "The aggression led to the martyrdom of a civilian worker at Damascus Airport, the injury of another worker, in addition to causing material damage to the runways of the two airports, putting them out of service."
The damage to runways at both airports was significant enough to halt all inbound and outbound flights. Some were diverted to the regional commercial airport in Latakia.
The runways are expected to remain unusable for at least two days; however, the pattern of late has been that as soon as they are repaired, they are attacked again. 
Earlier this month, following the Oct.7 Hamas attack on southern Israeli settlements and the music festival, Israel had first attacked Syria's airports the day before Iran's foreign minister was expected to arrive in Damascus. This was seen as a message ultimately aimed at Hezbollah and Iran.
But Western press has been silent while Israel's military without warning or provocation mounts brazen acts of military aggression against Syrian civilian infrastructure.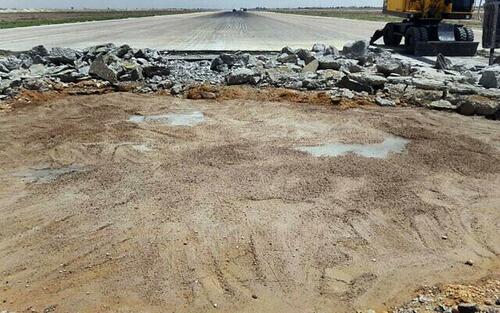 There has been sporadic fighting along Israel's northern border with Lebanon, as Israel continues bolstering forces there, ahead of a possible full-scale war with Hezbollah. Fears are growing that given Iran's closeness with the Lebanese paramilitary group, this would liken the chances of war between Iran and Israel, likely also involving Syria.
Loading...