---
Violent Protests Spread Across Europe, Virginia Gov Unveils Plan To Remove Statue Of Robert E Lee
Update (1930ET): As curfews draw nearer, it's becoming clear that police in NYC and Washington will be facing another night of peaceful demonstrations, mixed with bursts of violence and hooliganism.
Brooklyn right now.
BROOKLYN: 7:30 pm. "These are our streets! This is our neighborhood!" Curfew in 30 minutes. pic.twitter.com/kF9sngLAsy

— Gabriel Elizondo (@elizondogabriel) June 3, 2020
BROOKLYN: Thousands of protestors now in Bushwick. #GeorgeFloyd pic.twitter.com/ycmtanS1NU

— Gabriel Elizondo (@elizondogabriel) June 3, 2020
Meanwhile, in what appears to be the first confirmed case of actual involvement of white supremacists in inciting violence (mayors in Democratic cities around the country initially tried to blame the violence on the "far right agitators", police in Vegas have arrested a group of men tied to a far right domestic terror cell, according to the AP.
Federal prosecutors say the three white men with U.S. military experience are accused of conspiring to carry out a plan that began in April in conjunction with protests to reopen businesses closed because of the coronavirus and later sought to capitalize on protests over the death of George Floyd, a black man who died in Minneapolis after a white officer pressed his knee into his neck for several minutes even after he stopped moving and pleading for air.

The three men were arrested Saturday on the way to a protest in downtown Las Vegas after filling gas cans at a parking lot and making Molotov cocktails in glass bottles, according to a copy of the criminal complaint obtained by The Associated Press.

"People have a right to peacefully protest. These men are agitators and instigators. Their point was to hijack the protests into violence," Nicholas Trutanich, U.S. attorney in Nevada, told AP. He referred to what he called "real and legitimate outrage" over Floyd's death.
The complaint, filed in the US District Court in Las Vegas on Wednesday, claimed the group were part of a "boogaloo" movement, which prosecutors said is a term used by "extremists" to signify an upcoming race war.
In Chinatown, most of the businesses that aren't boarded up are just closed.
In Chinatown, businesses that aren't boarded up are just closed. Surreal. pic.twitter.com/8jPZOk3XiL

— Gabriel Elizondo (@elizondogabriel) June 3, 2020
And safety goggles have become the new "masks" - sold out everywhere.
safety goggles are the new mask, sold out everywhere pic.twitter.com/tgnATJ6kyv

— Kari Paul (@kari_paul) June 3, 2020
* * *
Update (1715ET): After Minnesota prosecutors announced that they were still "in the process" of bringing the three officers into custody, riots have spread to Stockholm (Sweden, notably less than a day after the architect of the country's COVID-19 response claimed that Sweden should have done more).
POLICE IN STOCKHOLM
pic.twitter.com/YxoPA3LGvc

— The_Real_Fly (@The_Real_Fly) June 3, 2020
Violence appears to be escalating in London....
SCENE IN LONDON
pic.twitter.com/oyQQBKD2gp

— The_Real_Fly (@The_Real_Fly) June 3, 2020
REPORTER IN LONDON ASSAULTED DURING LIVE BROADCAST, RUNS AWAY FROM MOB
pic.twitter.com/iwN0gHdi15

— The_Real_Fly (@The_Real_Fly) June 3, 2020
...back in the US, Washington DC just moved its curfew back to 11pm, effectively inviting protesters (and the looters and vandals who walk among them) to return for another night of chaos.
Imagine watching New York last night and thinking, "Yep, let's do that."@MayorBowser you're a clown.

— Raheem Kassam (@RaheemKassam) June 3, 2020
That's already looking like a bad move which is odd because the curfew doesn't start for hours.
#DCProtests (curfew this evening isn't until 11pm). pic.twitter.com/mukdcWdMvZ

— Steve Herman (@W7VOA) June 3, 2020
Once again, both the national guard - assisted by every deputized federal agent available - are working security, but tonight they've expanded the perimeter around Lafayette Park.
You can't get anywhere near Lafayette Park today since police expanded their perimeter. There are national guard and what look like federal corrections officers blocking 16th street, but about half these guys don't have visible insignia or badges. pic.twitter.com/U1KtRnSpVj

— Alejandro Alvarez (@aletweetsnews) June 3, 2020
Meanwhile, the Democratic Governor of Virginia, who last year faced down a black-face scandal that earned him international ridicule, is reportedly expected to announce plans for the removal of an iconic confederate statue of Robert E Lee in Richmond. Of course, Northam could remove the statue and replace it with a replica of him wearing blackface, and liberals would still unquestionably see him as the more progressive and "less racist" candidate.
Ralph Northam's "establishment" Republican opponent for governor, Ed Gillespie, ran a campaign ad on keeping up Confederate statues.

Ralph Northam could be wearing blackface right now, and he'd still be the more racially progressive choice for Virginia. https://t.co/a9n7wTiHFh

— Eric Kleefeld (@EricKleefeld) June 3, 2020
Plans to remove the statue, which has become a locus of demonstrators' ire given its association with the Confederacy and the confederacy's fight to preserve slavery...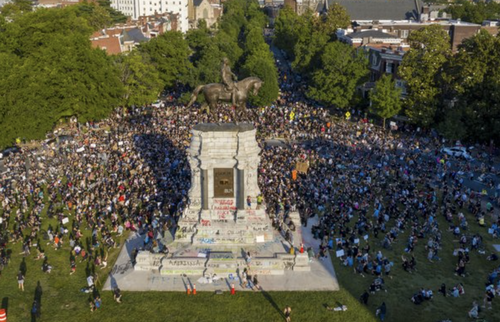 ...follow the removal of a statue of a former mayor in Philadelphia earlier this week.
* * *
Update (1515ET):  In keeping with the wishes of both the George Floyd's family and the expectations of the public, Minnesota's attorney general has just charged the three other officers seen in the video of Floyd being killed while being taken into custody, the Minneapolis Star Tribune reports.
Minnesota AG Keith Ellison, a longtime hero of the Democratic left who was closely involved with Bernie Sanders' campaign for president, has reportedly decided to elevate the charges against Derek Chauvin while also  adding charges of aiding and abetting murder against the other three officers at the scene.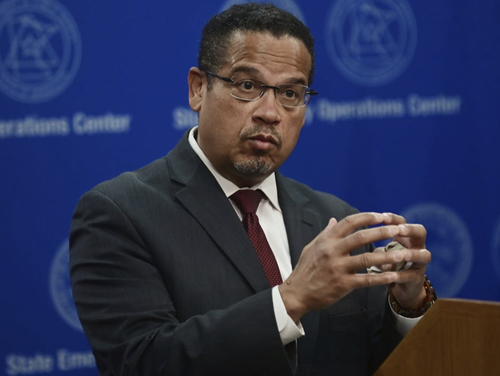 Keith Ellison
He's asked bail for all four officers to be set at $1 million each. The other officers at the scene included two white man and an Asian man, who will be charged with aiding and abetting second-degree murder, while Chauvin's charge is elevated from third-degree murder - a kinda-sorta murder charge that only exists in three states - to second degree murder, along with a manslaughter charge.
The other three officers at the scene — Tou Thao, J. Alexander Kueng and Thomas Lane — will also be charged with aiding and abetting second-degree murder, according to the sources, who spoke on conditions of anonymity. Chauvin was arrested last Friday and charged with third-degree murder and manslaughter.
The charges come just days after Minnesota's Democratic Governor, Tom Walz, asked Ellison to take over the prosecution, which at the time was being led by  the Hennepin County Attorney's Office, amid public outcry over what many saw as charges against Chauvin that were too lenient. A lawyer representing Floyd's family has said the family would like to see Chauvin face 1st degree charges, which would indicate a premeditated killing.
In other news, Chauvin is now being defended by Eric Nelson of the Halberg Criminal Defense firm, according to Marsh Halberg, the firm's chief executive. Chauvin's legal representation is being provided by the Minnesota Police and Peace Officers Association (MPPOA) which draws from a panel of about a dozen attorneys. These include Nelson, and Chauvin's prior attorney.
Floyd's killing, which occurred amid a string of other racially-tinged incidents, has set off the worst social unrest in the US in 50 years.
* * *
Update (1240ET): Reuters just reported that scuffles have broken out in front of No. 10 Downing Street as tens of thousands of people attended a rally in London Wednesday to protest the killing of George Floyd and express "solidarity" with American protesters, though they also drew attention to inequalities in British society.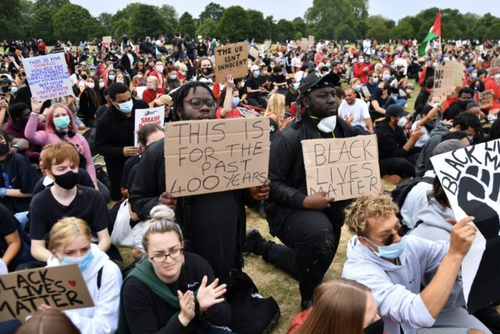 Others in London's Parliament Square peacefully knelt on one knee like Kaepernick.
The London march started in Hyde Park before winding its way to Parliament Square. Many of the protesters chanted "George Floyd" and "Black lives matter."
"This has been years in the coming, years and years and years of white supremacy," one witness said.
Elsewhere, a rally in Rotterdam got so rowdy that Dutch police on Wednesday asked several thousand protesters to go home because the anti-racism rally was too crowded and made social distancing impossible.
* * *
Update (1105ET): As more indications that last night was largely peaceful despite isolated clashes in certain cities, the great scramble to avoid blame for an attack on peaceful protesters outside St. John's Episcopal Church has now kicked into high gear with Trump claiming during a Fox News interview that he didn't order police to clear the demonstrators, which they reportedly did with rubber bullets, tear gas and other crowd control measures.
After a former colleague from the Obama era called on Esper to resign, the Pentagon chief said he didn't support the deployment of active-duty forces to confront protesters in American cities, saying that the National Guard is better suited for such purposes. Esper told reporters he knew that he would be joining the president to walk through Lafayette Park in front of the White House on Monday, but was not aware of specific plans at the church, Bloomberg reports.
"I did know we were going to the church. I did not know a photo op was happening," Esper said.
During a Wednesday morning interview on Fox News, President Trump insisted he didn't order authorities to clear protesters from a park next to the White House to make way for his photo in front of a burned church late Monday. Trump and the US Park Police have been criticized for using munitions including smoke cannisters and pepper balls to clear peaceful demonstrators so the president could stand in front of the damaged St. John's Episcopal Church while holding up a Bible for what has been disparaged as a photo op in poor taste by some.
"I didn't say, oh, move them out," Trump told Fox News host Brian Kilmeade during a radio interview.

"They didn't use tear gas. They moved them out," Trump added, denying that tear gas had been used.
The NYPD, meanwhile, said it arrested fewer than 300 people last night, something they attributed to an earlier curfew and the peaceful handling of a situation on the Manhattan Bridge that nearly erupted in chaos.
UK Prime Minister Boris Johnson denounced George Floyd's murder as "appalling" and "inexcusable" and said that while protests are legitimate, protesters should remain peaceful and obey the law.
Finally, from Walnut Creek, another example of a cop being mad extra.
"IF YOU DO NOT MOVE, YOU WILL BE DEAD" WALNUT CREEK, CA
pic.twitter.com/X6cT4peDeY

— The_Real_Fly (@The_Real_Fly) June 3, 2020
* * *
After four straight nights of anarchy and unrest across the US, demonstrations in dozens of cities across the US took on a distinctly more peaceful tone during night No. 5, as several tense situations were successfully de-escalated, while demonstrations and in some cases violent protests sprang up in Europe and around the world.
Tuesday evening was the 7th night of protests (if one counts from the first rallies in Minneapolis) and the fifth night of nationwide unrest, as demonstrations had spread to other cities by Friday.
After closing all of Manhattan below 96th street to cars, NYC Mayor Bill de Blasio called for an end to "coordinated criminal activity" and looting. Fortunately, the protests on Tuesday night were much less violent and chaotic. A clash between protesters and police was avoided on the Manhattan Bridge, where police allowed them to turn around and walk back to Manhattan. Some store owners lined the streets and "cheered on the demonstrators", CNN reported. We imagine many more stood outside their boarded up stores with makeshift weapons, ready to take matters into their own hands after the NYPD refused to intervene to stop looters in parts of the city last night.
Police in riot gear block protesters on New York's Manhattan Bridge, make arrests.

pic.twitter.com/rhxYMeMb6s

— DTCNEWS (@DTC_NEWS_2) June 3, 2020
Protesters blockaded by police on New York's Manhattan Bridge chant slogans, during a demonstration against the death of George Floyd. https://t.co/mMmiMLQm23 pic.twitter.com/23TBlLkG6V

— ABC News (@ABC) June 3, 2020
At one point, Spider-Man made an appearance.
A huge development at the Manhattan Bridge protest right now pic.twitter.com/rCH0GLDgEe

— Anya Volz (@AnyaVolz) June 3, 2020
Looting broke out in downtown Brooklyn at Flatbush Avenue and Pacific Street, an area with a lot of big box stores and the Atlantic Terminal mall near the Barclays Center. The department also said there was a shooting in Crown Heights, where a cop shot "somebody with a firearm".
Though they remained mostly peaceful, thousands of demonstrators steadfastly refused to abide by Mayor de Blasio's 8pmET curfew, likely because the mayor refused to bring in the national guard and state troopers to assist the NYPD.
"Something has to break, and it's not going to be us," Evan Kutcher, one of hundreds of demonstrators who stood outside the Barclays Center chanting Floyd's name Tuesday evening, told the AP. "We're here because something needs to change."
In Philadelphia on Tuesday, CNN noted that protests culminated in a nine-minute "moment" of silence, while city officials opted to move a controversial statue of a former mayor that had become a locus for vandalism.
Overnight, Philadelphia officials removed the statue of Frank Rizzo, the ex police chief and mayor who once told people to "Vote White" https://t.co/yXWcusWX38

— The Daily Beast (@thedailybeast) June 3, 2020
After Virginia recalled national guardsmen, clashes continued between police and rioters and demonstrators in Washington DC. Cops pepper-sprayed protesters and again shot them with rubber bullets during a protest in Lafayette Square in Washington DC. Video showed a TV camera operator being sprayed at a fence erected at the edge of the park just north of the White House.
In Tennessee, members of the national guard kneeled with protesters.
The National Guard in Tennessee put down their shields and stood with protesters. 💗🇺🇸💙 pic.twitter.com/Xyr69591hy

— Accountist 📣🗽🇺🇸🌎🎨⚜️ (@AccountistLisa) June 2, 2020
Perhaps the most interesting development on Tuesday night were the demonstrations and, in a few instances, violent clashes that broke out in Paris and other European cities.
The protests against the death of #GeorgeFloyd and police brutality continued overnight in major cities across the U.S. and Europe pic.twitter.com/nuRWMtVd0s

— Bloomberg QuickTake (@QuickTake) June 2, 2020
In central London, thousands gathered to chant "no justice, no peace" on Wednesday morning.
"No justice, no peace!"

More and more people arriving for #HydeParkProtest in London.#BlackLivesMatter pic.twitter.com/uM4JGIbIh5

— Birgit Maass (@birgit_maass) June 3, 2020
Protests even broke out in Sub-Saharan Africa, with protests staged in Kenya and Nigeria.
Pope Francis weighed in for the first time, saying "We cannot tolerate or turn a blind eye" to racism.
"I have witnessed with great concern the disturbing social unrest in your nation in these past days, following the tragic death of Mr. George Floyd...We cannot tolerate or turn a blind eye to racism and exclusion in any form and yet claim to defend the sacredness of every human life."
According to a tally from the AP that was just updated, roughly 9,300 people have been arrested in demonstrations around the world.
Instead of the spray-painting graffiti, protesters in the US capital used chalk to draw messages on the asphalt.
Protesters chanted and talked among themselves, most wearing masks, but not keeping to social distancing for the coronavirus. One protester, Mati Yiheyis, a 21-year-old college student at the University of Virginia, told the AP that many older protesters stayed away because of COVID fears
When one protester climbed a lamp post and removed a street sign, others loudly booed, per the AP.
"It's not what we're about," said protester George "TJ" Pierce.
Minnesota Gov. Tim Walz announced Tuesday that the Minnesota Department of Human Rights is launching a sweeping civil rights investigation into the Minneapolis Police Department which will look into practices of systemic racism. In a statement to the press, he said the inquiry will try to determine whether police engaged in "systemic discriminatory practices towards people of color and ensure any such practices are stopped."
Derek Chauvin, the officer who placed his knee on Floyd's neck, is expected to make his first appearance in court on charges of third-degree murder and second-degree manslaughter on June 8. Floyd's funeral is set for June 9. One last important date: Analysts at Fundstrat projected that if a surge in new cases doesn't arrive by June 11, then that would suggest the feared resurgence in infections never came to pass.
FUNDSTRAT: Protests "started 5 days ago .. and ~92% of those exposed to COVID-19 are symptomatic by day 14 (50% by Day 7). Day 14 is June 11th. So if no massive second wave starts by June 11th, we have a definitive break" in transmissability." - @fundstrat

— Carl Quintanilla (@carlquintanilla) June 3, 2020