---
Brazil Now Home To World's Third-Largest Death Toll After Another Record Daily Jump: Virus Updates
Summary:
Brazil passes Italy to claim world's third-worst death toll
Architect of Sweden's no-lockdown strategy says he has no regrets, and doesn't plan to change approach
NY to allow drive-in, drive thru graduations
Italy sees more good numbers
Pakistan reports record jump
NYC won't allow outdoor dining until next month
Florida reports most new cases since April for 2nd straight day
Global cases top 6.5 mil
Deaths top 485k
Hong Kong sees another alarming cluster
China allows foreign airlines to apply to return to service
Russia, Mexico, Brazil all see alarming jump in cases, deaths
Experts say Russia likely underestimating deaths in St. Petersburg by considerable margin
Backlash to the hydroxychloroquine backlash intensifies
* * *
Update (2115ET): As the bodies pile up and the prospect of a military takeover that would make Tom Cotton's call to send in the army look like pacifism looms large over Brazilian civil society, the country's public health officials have just confirmed that Brazil's death toll has surpassed Italy's.
Brazil's indigenous population has been particularly hard hit, as the outbreak strains health care resources in remote areas in Amazon region.
To get a sense of how quickly the situation is deteriorating, deaths caused by the virus have climbed five-fold in the past month, according to Yahoo News.
Many epidemiologists had hoped remote locations might protect the tribes, but the virus, which first took hold in Brazil's cosmopolitan state capitals of Sao Paulo and Rio de Janeiro, is increasingly devastating remote areas of the country. Brazil's coronavirus death toll climbed by 1,437 fatalities on Thursday, a new daily record, bringing Brazil's total to 34,021. Confirmed cases surged another 30,925 to 614,941, as Brazil remains the country with the second-most confirmed cases behind the US.
* * *
Update (1422ET): Las Vegas has reopened, with stringent controls to prevent new infections.
Las Vegas has been open for 45 minutes. pic.twitter.com/v3wcjYBcKe

— Ed Komenda (@ejkomenda) June 4, 2020
In other news, more promising data have been reported out of Italy today.
JUST IN: Italy reports 177 new cases of coronavirus and 88 new deaths.

Total of 234,013 cases and 33,689 deaths.

— Norbert Elekes (@NorbertElekes) June 4, 2020
Pakistan also reported a new record jump in cases:
NEW: Pakistan reports 4,688 new cases of coronavirus, 85,264 cases in total.

Pakistan's largest daily increase by far.

— Norbert Elekes (@NorbertElekes) June 4, 2020
Yesterday, the architect of Sweden's lockdown strategy, state epidemiologist Anders Tegnell,  inadvertently set off a rush by proponents of the lockdown approach to declare victory in the public debate by claiming Tegnell had admitted his approach was flawed and that he would be backing away from the strategy. But in a press briefing on Thursday, the state scientist stood by the country's approach, and admitted that while he would have made certain adjustments if he knew at the beginning what he now knows, he has no plans to change tack, Politico reports.
* * *
Update (1240ET): After pulling back curfews and taking other steps to accommodate and encouraging both peaceful demonstrations (that widely violated the city's social distancing rules) and violence and looting, Mayor de Blasio said Thursday that he likely wouldn't allow restaurants to reopen for outdoor dining until next month, virtually guaranteeing that even more small businesses will change.
The mayor is preparing for the June 8 start of "Phase One" reopening and said he anticipates reaching the second phase in July.
For the restaurants that survive, at least the city's Transportation and Planning Departments will help create "curbside restaurants" to allow eateries to convert adjacent parking spots into more seating for the first time. No permits will be needed to certify the street-side restaurants, de Blasio said.
"The restaurant industry is the wellspring for hundreds of thousands of New Yorkers," de Blasio said. More then 184,000 of the city's 274,000 food and beverage industry workers have lost their jobs due to the forced shutdown of the city. While de Blasio's plan sounds nice on paper, in our experience, most NYC restaurants don't have much - if any - space for patron parking.
By comparison, both neighboring Connecticut and New Jersey have already OK'd restaurants to reopen for limited outdoor dining. 
* * *
Update (1120ET): As deaths and new cases reported in Florida over the last few days have increased, we warned that the market would eventually wake up to the uptick in new deaths and cases in certain states. The state reported its largest daily gain in six weeks yesterday as the number of cases neared 60k. Now, on Thursday, public health officials in the state have reported another multiweek high. Florida reported 1,317 new COVID-19 cases over the last day, the highest level since April 17.
New numbers released by the Florida Department of Health officials Thursday show the state has a total of 60,183 cases, and a death toll that on Thursday climbed to 2,607. Hospitalizations across the state increased to 10,652.
US stocks sold off a little on the news, suggesting investors are starting to worry again about a recurrence of the virus.
More than half of the state's cases are concentrated in Miami-Dade, Broward, Palm Beach and Monroe counties in the southern part of the state.
Both Florida...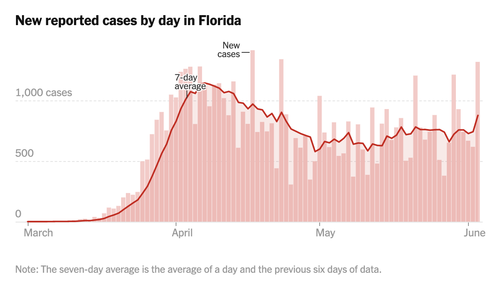 ...and Georgia...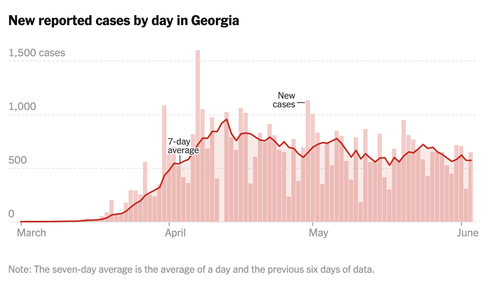 Source: New York Times
...have seen cases reported Thursday at 2x the level from the day before.
Meanwhile, in New York State, Gov Cuomo revealed that the state had expanded its testing capacity closer to its target, with the state now clocking 50k tests per day.
Watch his press briefing below:
Giving my daily press briefing now. Watch Live: https://t.co/54mzDp8WjG

— Andrew Cuomo (@NYGovCuomo) June 4, 2020
The governor who helped perpetuate racist police tactics in his state by killing a push to legalize recreational marijuana - removing much of the pretext cops often use to unnecessarily stop young black and brown men also urged protesters to get tested for COVID-19, while adding that he stands with the protesters for "meaningful" reform.
This is a moment for national change. For reform.

Change comes when it's demanded by the people.

I stand with the peaceful protesters for effective, meaningful reform.

— Andrew Cuomo (@NYGovCuomo) June 4, 2020
Is that going to include reforming your state's drug laws, Governor?
Finally, after NJ and Conn. moved to allow schools to hold graduation ceremonies starting in July, Cuomo said.
Is Andrew Cuomo out of his mind-if you R peacefully protesting, wear a mask - but for graduation - drive in & drive through only... and we will keep evaluating. Then proceeds to talk about his own child's graduation and is going to give her his watch to prove how much he cares. pic.twitter.com/fdolP0G2TP

— PatriotsDontSleep (@PatriotsDontSlp) June 4, 2020
Some couldn't help but let out a justified groan.
* * *
While investors have been too distracted by the violence and unrest unfolding in the streets of the US (and now several European cities, with more unrest expected in Hong Kong) to care much about the coronavirus outbreak. We suspect this shift in focus has helped fuel the market's astonishing rally over the last two weeks.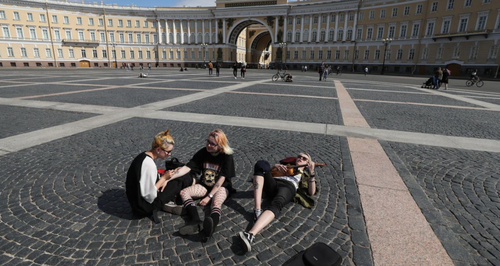 There's no question that the US has been transfixed by the tumult sparked by the police murder of George Floyd, even as the violence and looting has mostly hurt black communities and black-owned small businesses, while the legal system has dutifully proceeded with the prosecution of all four officers involved in the killing.
Investors ignore these developments at their own peril: because over the last few days, a surge in new cases and deaths reported in Russia, Brazil and Mexico has breathed new life into the international outbreak, even as many Americans speculate that perhaps President Trump had a point when he said the virus might run its course by the summer, lockdown or no lockdown.
More experts cast doubt on Russia's figures as its case total hit 441,108, as St Petersburg recorded 1,400 more deaths than average in May, according to official statistics cited by the Times of London, which which suggest that the government may have deliberately suppressed the true number of deaths. Officials say 177 people died last month of Covid-19 in St Petersburg, Russia's second-biggest city. The majority of the "excess" deaths were likely to have been a result of pneumonia caused by coronavirus, even though many were labeled simply as pneumonia.
Globally, coronavirus cases topped 6.5 million as of Thursday morning, while deaths neared 400k, at 386,464.
According to figures released Thursday morning, Russia's total number of infections passed 440,000 cases, while deaths continue to mount. The coronavirus death tolls in Brazil and Mexico have soared to new daily records, with 1,349 and 1,092 confirmed deaths reported over the past day, even as the countries begin to ease lockdown restrictions. Brazil now has more than 32,000 deaths, while Mexico ha more than 11,000.
NBC News reports that the jump in deaths in Brazil has been driven by Brazil's indigenous populations, through which the virus is spreading quickly, with deaths caused by the disease increasing more than five-fold in the past month.
At least two US senators have accused China of hiding potentially critical data from the WHO, data that could have changed the course of the outbreak abroad, even as a Chinese officias deny reports about the WHO's frustrations with prying early data from Chinese experts. 
As backlash to the hydroxychloroquine backlash intensifies, a new study published by the NEJM claimed the drug "proved ineffective" for that purpose in a study that tested people who were "in close contact with the disease". We're not sure what that means. However, the Lancet's decision to retract a warning about hydroxychloroquine elicited a triumphant editorial from WSJ, which outlines the history of how bias appears to have tinged the world's interpretation of these studies.
France's Bastille Day military parade is set to be replaced by a ceremony on the Place de la Concorde square in central Paris, President Emmanuel Macron's office announced on Thursday, angering millions of French citizens, who enthusiastically celebrate the dawn of the first French Republic every year.
China appears to have turned the other cheek after the US officially barred the return of Chinese airlines running flights in the US, China's aviation authority said that 95 foreign airlines that have suspended services in the country can now apply to resume flights. We're curious to see which airlines will get the green light.
While the UK continues to resist pressure to start reopening its borders, Spanish Tourism Minister Reyes Maroto said that all restrictions to border crossings with France and Portugal will be lifted beginning on June 22.
Hong Kong confirmed five new cases on Thursday, all of which it claimed were imported. But that number belies the alarm that prompted the evacuation of some tenants from a Sha Tin building after six people living in the building had tested positive "preliminarily". We're waiting to hear more on that.
Pakistan, meanwhile, registered its highest single-day rise in coronavirus cases for the third consecutive day on Wednesday, with 4,801 new cases taking the country's total tally to 85,264.