---
Cuba-geddon? Amid COVID Crisis, Havana Tells Citizens To "Grow Your Own Food" Or Starve
Cuba, facing one of the worst food shortages in years, is now telling its citizens to grow their own food, or literally starve. 
The pandemic has exposed the fragility of the Caribbean island's food supply chain as produce, poultry and other basic item shortages develop. 
The topic of food security has been a hot subject with the communist party. Several state media broadcasters aired televised roundtable discussions about the issue, reported Reuters. 
"Cuba can and must develop its program of municipal self-sustainability definitively and with urgency, in the face of the obsessive and tightened US blockade and the food crisis COVID-19 will leave," Jose Ramon Machado Ventura, deputy leader of the Cuban Communist Party, was quoted on state media Monday. 
Cuba imports about a third of its food, at the cost of $2 billion annually. Those imports have plunged under the Trump administration, which imposed new sanctions on the country in 1H19.
The sanctions triggered shortages of imported food and then steep declines in national agricultural production. Domestic production of rice, tomatoes, and pork plummeted 18%, 13%, and 8% respectively last year - we noted the communist party had to issue widespread rationing of staple foods last year due to shortages triggered by US trade embargo. 
Sanctions and a virus pandemic, have created a perfect storm that has crushed the nation's food supply chain and economy. 
Cuba is facing extreme #FoodInsecurity due to the #COVID19 pandemic and a loss of aid from ally #Venezuela. The government is asking people to start to grow more of their own food. Learn more. #cuba pic.twitter.com/iPVer52JMJ

— CGTN America (@cgtnamerica) June 30, 2020
"Today we Cubans have two big worries: COVID-19 and food. Both kill. We are flooded with scarcity," said Yanet Montes, a resident of Havana told Reuters. 
Montes and other residents have warned the availability of produce at markets in Havana are quickly dwindling. 
The communist party has distributed leaflets to cities and towns to inform citizens how to grow their food. 
"It's great more people are planting, but it cannot just be when there is a crisis," Marnia Briones, a sustainable agriculture enthusiast, said.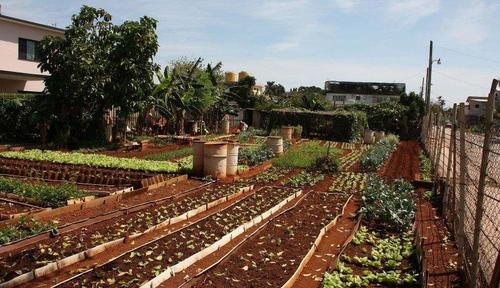 Cuban economist Omar Everleny said the communist party must push for reforms so a more robust agriculture industry can thrive, which would lessen the country's food supply chain exposure to the international community.
"I have the impression in the next few months we will see new reforms," Everleny said.