In a continuing clean-up effort amid a dangerous and potentially toxic environment, leaking chemical containers are posing a challenge to crews working to inspect and secure the Beirut port section which was site of what's being deemed the largest non-military munitions explosion in history on August 4.  
"Chemical experts and firefighters are working to secure at least 20 potentially dangerous chemical containers at the explosion-shattered port of Beirut, after finding one that was leaking, according to a member of a French cleanup team," the AP reports.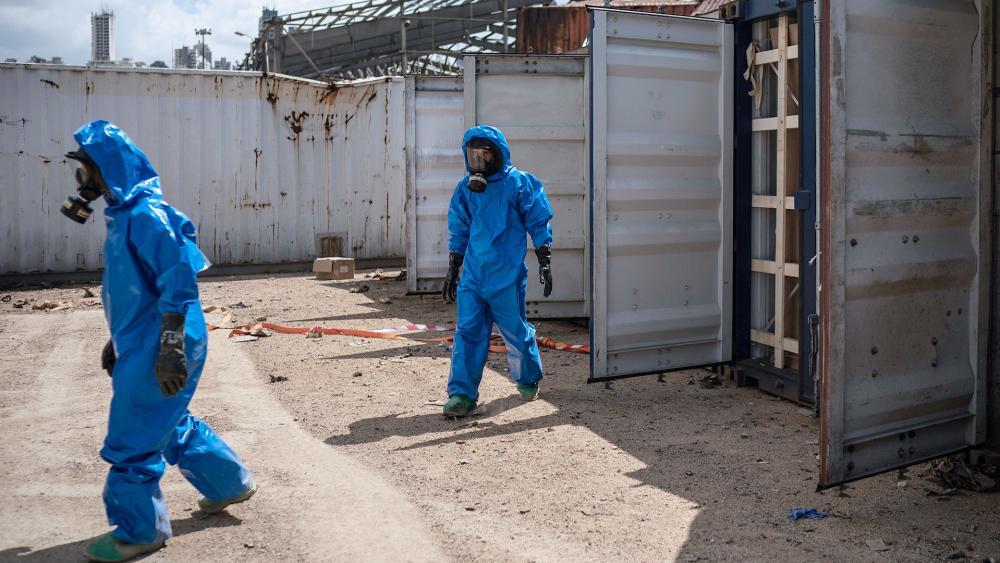 Chemical containers were in many cases found punctured following the detonation of over 2,500 tons of ammonium nitrate. 
"French and Italian chemical experts working amid the remains of the port have so far identified more than 20 containers carrying dangerous chemicals," AP continues.
"We noted the presence of containers with the chemical danger symbol. And then noted that one of the containers was leaking," one French chemical expert working at the site said. "There are also other flammable liquids in other containers, there are also batteries, or other kind of products which could increase the risk of potential explosion," he added.
An international response team working with the Lebanese government is attempting to identify and contain any leaked chemicals at ground zero for the blast — which was feared to have emitted dangerous gases into the air over the city in the wake of last Tuesday's deadly accident. The death toll has risen to over 200, including more than 6,000 injured, many of them severely.
More has been learned and confirmed about what precisely started the deadly fire which detonated the highly explosive and volatile ammonium nitrate, commonly used in fertilizer and professional explosives.
Lebanese media as well as Reuters has widely reported the fire started after welding work was done in the very warehouse containing the volatile chemical compound.
It appears the welding crew had no idea that both ammonium nitrate and (astoundingly) a cache of fireworks were being stored on site.
ROCKED: Eyewitness video shot from a boat off Beirut shows a dramatic new angle of the explosion that killed at least 160 people and injured thousands, with the Lebanese government resigning on Monday amid anger and unrest in the wake of the blast. https://t.co/6tgFYYPUPA pic.twitter.com/vjlwKm4brS

— ABC News (@ABC) August 11, 2020
It was reportedly maintenance work on the door of Warehouse 12 - now location of a huge crater which has forever altered the port and coastline.
Port officials reportedly tried to warn top government officials and the Lebanese judiciary for years that the ammonium nitrate, stored there since 2013 in unsafe conditions, was a ticking time bomb in their midst.