---
Deadly 'Occupation': Video Shows Moment Syrian Villagers Open Fire On US Patrol
A new video from the Al-Qamishli countryside was released this afternoon following a skirmish between the U.S. Armed Forces and residents of the Syrian village of Khirbat Amo, east of Qamishli in Syria's northeast.
According to a report from the Al-Hasakah Governorate, the residents of Khirbat Amo attempted to block the U.S. Armed Forces from bypassing a checkpoint belonging to the National Defense Forces (NDF) in the southern countryside of Al-Qamishli.
Below is the video of the gunfire exchange from Khirbat Amo on Wednesday:
As a result of this obstruction, two U.S. military vehicles had to be towed from the area after they became stuck in the grass.
The incident also prompted false reports of airstrikes, which were said to have been carried out by the U.S. Coalition on the Syrian military's positions in Khirbat Amo on Wednesday.
The Syrian Arab News Agency (SANA) said at least one resident of Khirbat Amo was wounded during the brief exchange. This was later updated to one civilian killed by U.S. gunfire, according to ABC News.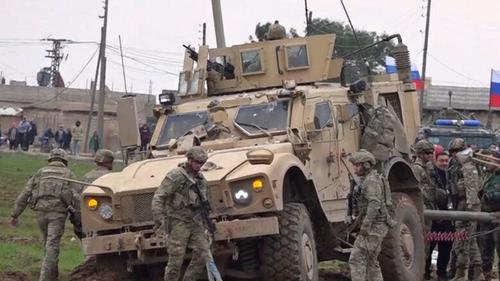 The U.S. Coalition confirmed the dangerous and rare incident:
"After Coalition troops issued a series of warnings and de-escalation attempts, the patrol came under small arms fire from unknown individuals. In self-defense, Coalition troops returned fire," an official statement by U.S. spokesman Col. Myles B. Caggins III said.
Coalition statement on the incident in Qamishli earlier today

* Came under fire from unknown individuals near a SAA checkpoint

* U.S troops fired backed

* Nothing on injuries

* Convoy returned to base

* Why is the U.S military passing though Syrian army checkpoints? pic.twitter.com/kIMIvqeEHe

— Danny Makki (@Dannymakkisyria) February 12, 2020
"The situation was de-escalated and is under investigation," the statement added.
Pro-Syrian government media sources said the villagers were outraged over an earlier skirmish that resulted in the death of a 14-year old from the town, though this is yet to be confirmed.
Locals opning fire at US military vehciles in Khirbat Amo in northern al-Hasakah today. Earlier US forces hadkilled a 14 year old teenager from the town. pic.twitter.com/fTA5NxrCMr

— Within Syria (@WithinSyriaBlog) February 12, 2020
The U.S. Coalition spokesperson later reported that one U.S. soldier suffered a superficial wound and was allowed to return to active duty following the incident.
* * *
Other local videos emerged on Arabic social media Wednesday, showing villagers confronting American troops as 'occupiers'.
"What are you doing in our country?" the local Syrian man asks while approaching the US convoy.
#الحسكة

مواطن سوري يتحدى الإحتلال الاميركي

شو عم بتعملو ببلدنا هون
شو عندكن شغل عنا هون
يلاا شيل السيارة هي

حيهم الزلم ⁦⁦✌️⁩🇸🇾⁩ pic.twitter.com/sXCp9DLvra

— ملك السلطنه (@jamlyyyyy) February 12, 2020